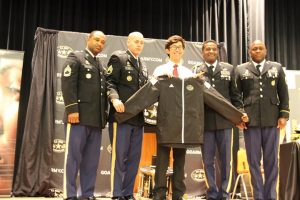 Williams Paek wanted to be part of a tradition – a tradition of musical excellence and marching mastery, a tradition that only allows 125 high school musicians from across the U.S. to join each year, a tradition that Douglas High School's Band program has been a part of for the last four years. Will is following four fellow Eagle Regiment band members by representing Douglas in the U.S. Army All-American Marching Band.
The U.S. Army All-American Marching Band features 125 top marching band members from across the United States and has been doing so since 2008. Students are nominated by their band director in the fall of their junior year of high school. These students then must submit their application and are notified of their acceptance in the summer before their senior year.
When Paek was a freshman, he found out about the Army All-American Band when Eagle Regiment members Scott Schiff and Jacob Morrison were accepted into the band. After seeing Jeremy Guttveg and Gabby Edrich get accepted into the band the following two years, he knew he had to be next – he had to keep the tradition alive at Douglas High School.
In order to audition, Paek had to complete an extensive audition consisting of musical performances, marching technique and an essay communicating his passion for music and desire to represent his school, community and country.
"I played an extremely challenging piece of literature, the Concertino by Ibert, and I feel that I impressed the judges by being able to play college level music proficiently," Paek said.
In November, Paek was honored at a pep rally in the auditorium of Stoneman Douglas, in front of Army representatives, classmates, family members and all of the Eagle Regiment members. Paek gave a speech about his accomplishments and thanked the many people who helped him with his achievement. He was then presented his Army All-American jacket by Army representatives.
In January, Paek and the other selected band members will enjoy an all-expense paid trip to San Antonio, Texas.  They will spend the week practicing, sightseeing and performing in the Alamodome at half time of the Army All-American Bowl.
When asked what advice he would give to someone who wants to try out for the Army All-American band, Paek advised auditioners to try to show off their strengths.
"If you're a fantastic marcher then show off that drum corps technique in the marching video. And if you're a great player, play a really challenging solo," Paek said. "All in all though, it's all about the quality. Make sure that everything is clean and precise because you have thousands of students applying for the same band. Lastly, have fun with it!"
Good luck to Paek and the other talented members of the Army All-American Band.  Be sure to tune into the game on Saturday, Jan. 9 and keep an eye out for our very own Douglas eagle at half time!