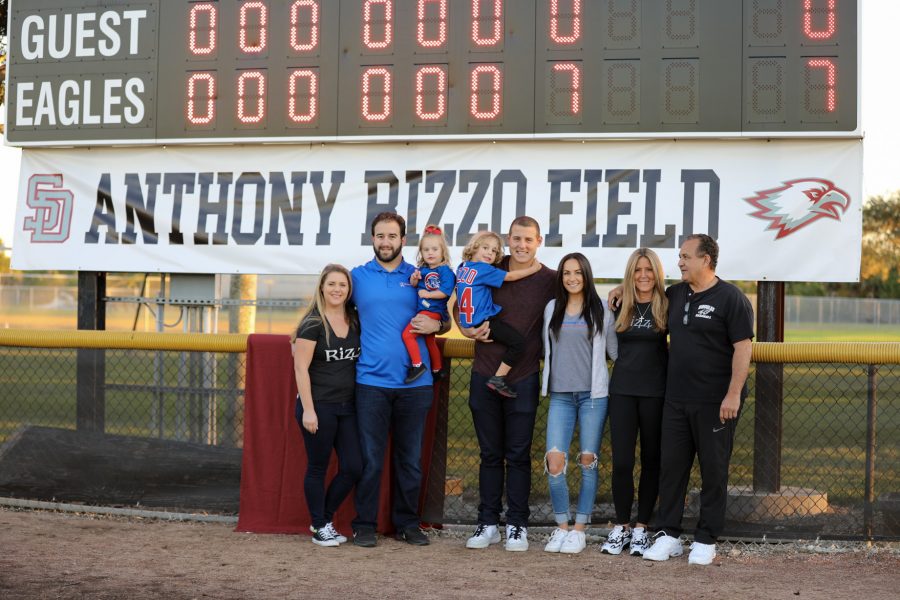 On Monday, Feb. 3, the Marjory Stoneman Douglas High School baseball field received a few new upgrades. Anthony Rizzo, former MSD Eagle, and current Chicago Cub made a guest appearance on the pitching mound of his alma mater.
In preparation for the start of the MSD baseball season on Feb. 17, Rizzo donated approximately $150,000 in order to help pay for the installation of lights on the baseball and softball fields. In addition to donating money to MSD, Rizzo also headed the fundraising efforts needed to reach the full cost of the new lights.
"Coach Fitz just worked hard for it. He got me Anthony Rizzo, who is an ex, you know, Eagle that was playing for Chicago, got him involved, and he donated some money, and you know, his, his people donate money," Athletic advisor Al Guzzo said. "And from a dream, it became a reality.
Rizzo was not the only member of the Eagle family at the fields on Monday night. Ty Thompson, the former MSD principal was also in attendance for the grand unveiling. As the lights were debuted, the baseball fields were awarded a new name: The Anthony Rizzo Field.
Coaches, students, athletes and parents alike were invited to the lighting ceremony via an automated call from Principal Michelle Kefford.
"I had the opportunity to go to this event because my older brother used to play on the MSD baseball team, so my family got invited," sophomore Sidney Jenner said. "It was really cool to be able to see Anthony, especially since he donated a lot of money to make this whole thing happen."
While Rizzo contributed to the costs of the new field lights, the total amount spent was around $400,000 and $500,000. According to Thompson, about 50 companies and over 100 individuals also donated money in order to pay for the new installation.
"It was very nice to have so many people there for the lighting ceremony, and it went really well," coach Staubly Brian said. "It was very nice to have Rizzo there because he was very instrumental in getting the lights." 
Giving back has never strayed far from Rizzo's mind, especially when it comes to his alma mater. With the new light installment and renaming of his home fields, Rizzo could not find a better way to support his fellow Eagle family.