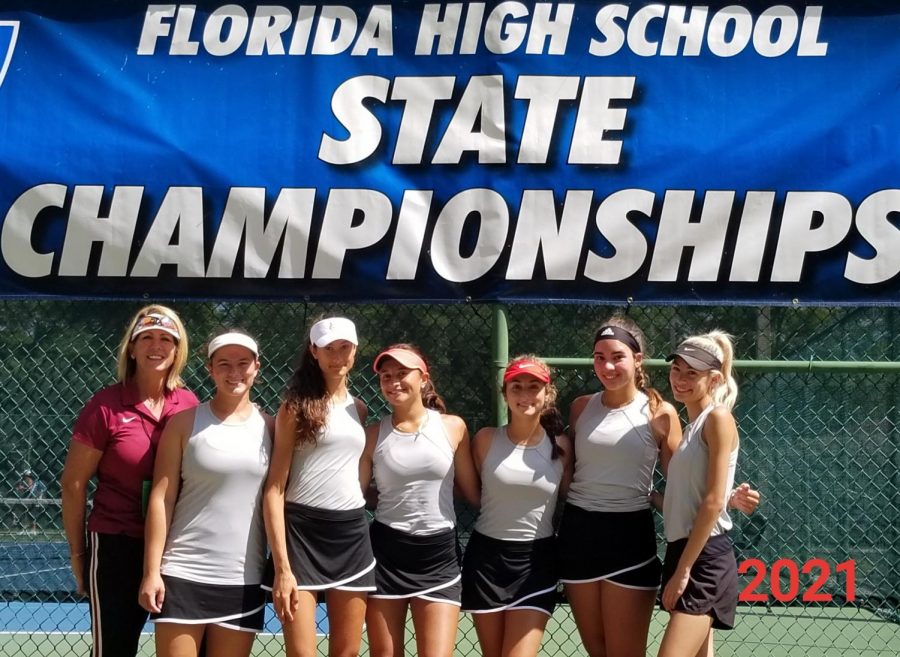 The Marjory Stoneman Douglas High School girls' varsity tennis team won the Regional Championship for the fourth time in a row last month, advancing to this year's State Tournament. The tournament consists of a tournament for singles, doubles, and teams.
The tournament was held in Altamonte Springs, starting on April 28, and the team wasted no time as they prepared for the trip.
"We worked very hard. We have individual practices and then team practices," captain Amanda Aponte said. "We put all of our energy and all of our love into this."
The Eagles won their first match of the quarterfinals as a team, beating Creekside High School 7-0.
"Winning brought a smile to all of our faces," Aponte said. "We had such a big win in our hearts and on the court. It brought all of us together as individuals."
The team then faced off against Miami Palmetto Senior High School, but ended up losing the game. Despite the loss, the team capped off another great season with a trip to states.
"Winning regionals 4 times in a row has been amazing," Aponte said. "It was very fun, it was also like a mental health break, school has been very overwhelming."
On the boys' team, seniors Toby Bower and Carlos Arvelo won districts and traveled to States as a doubles team, losing in the opening round.
"Doubles is probably more enjoyable because the atmosphere is not as competitive and you can just have fun playing with a partner," Bower said.
Amanda Aponte and Cadence Brace won states as a doubles team, and Brace became the state champion in singles.
The team ended a great season with solid individual and team performances and a strong run in the state tournament, something seniors on the team will remember.