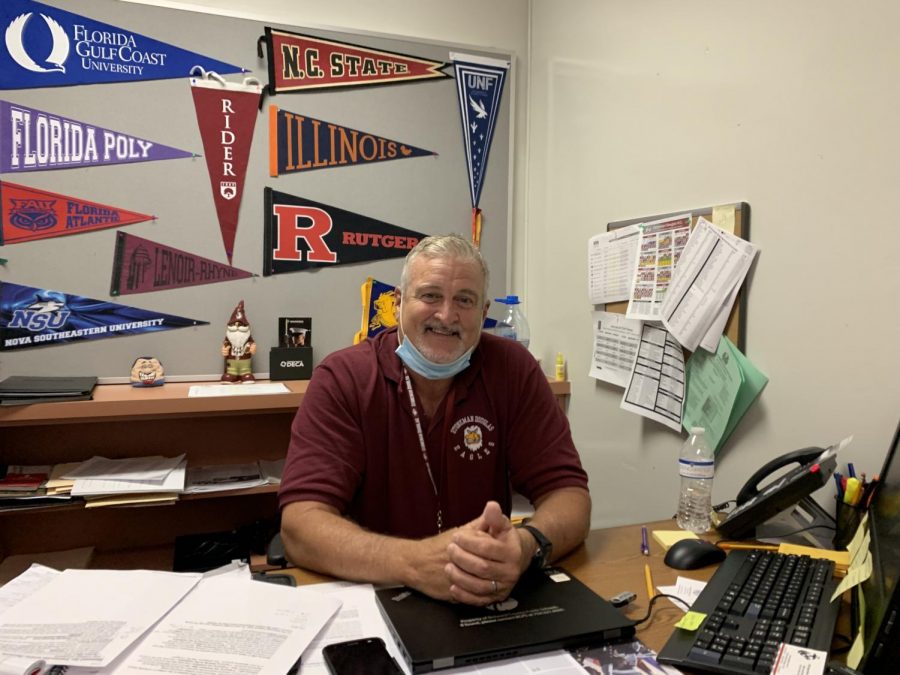 Ivy Lam
For all things college, new faculty member Randy Congdon is the one to see. Located in the guidance department, the new addition to the Marjory Stoneman Douglas High School team has worked in the education industry for over 30 years.
Congdon serves as an advisor for the B.R.A.C.E. program, or the Broward Advisors for Continuing Education. The initiative provides students across the district with information and assistance for college applications, scholarships and more. These advisors assist with post-high school decisions.
Congdon began working at MSD in April 2021. This school year is the first time he has ever worked at a high school and served as a B.R.A.C.E. advisor.
"I've been in the college recruiting process, on the other side, working for colleges for over 30 years so I'm kind of semi-retired from that," Congdon said. "Now I'm moving to the other side of the desk and working with students to actually help them go to college."
Prior to starting a position at MSD, Congdon typically worked at home. For the first time in several years, he began working out of an office, thus making his experience now much more different than his time at home.
Congdon graduated from Florida State University and majored in criminal justice. He served as a probation and parole officer for four years before he entered the education field.
"I felt that I wasn't really helping people when I was in the criminal justice field," Congdon said. "I felt I was really making an impact on students and helping change their life and direction and everything. That really kept me in this work field for so long."
Congdon chose MSD for the quality of students and for the location. Before becoming the new B.R.A.C.E. advisor, he knew his predecessor, Ana Farrand, for many years.
"When [Farrand] was leaving, she brought up to me that it would be a perfect spot [for me] at this point in my life because I was kind of transitioning out into something else," Congdon said.
Whether it is solving a problem or seeing the light come on for a student, Congdon enjoys telling people information they did not know previously. His goodwill continues to serve as a driving force for his actions throughout the years.
On the weekends, Congdon enjoys pickleball and fishing. He further believes in staying as active as he can, especially as he grows older.
Moreover, Congdon continues to try and make a positive impact on people. He practices this mentality within his daily activities and hopes to build connections with students this school year and onward.