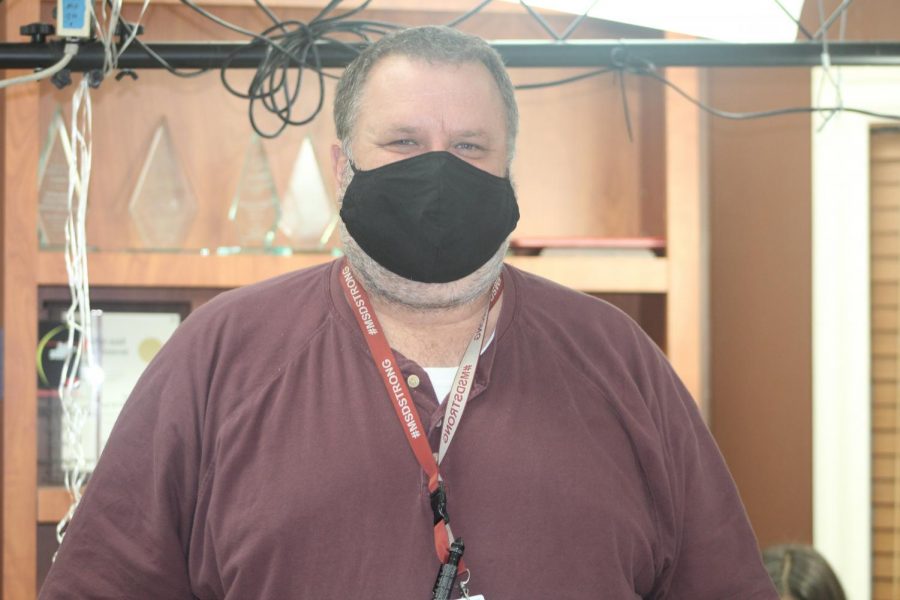 Glory Lee
Each year, Marjory Stoneman Douglas High School presents the Teacher of the Year award to one teacher to recognize their excellence. This year, on Monday., Sept. 27, MSD administration selected TV production program head Eric Garner to receive the award.
Garner has been teaching at MSD for nearly 15 years, but has been in the profession for a total of 28 years. Before coming to MSD, Garner taught English and other broadcasting related classes at South Miami Senior High School in Miami Dade County. He also worked as a news photographer. Working in television and covering stories himself, Garner felt that teaching students the skills they would need to do the same, was an obvious choice.
The process of selecting the teacher of the year involves weeks of preparation and voting by all MSD staff. is encouraged to participate in. Each staff member is encouraged to participate by voting and nominating a teacher. Once nominations are received, they make their way to the faculty council. The council, which includes 11 members, then decides to place three teachers on the ballot. This year, the finalists included English teachers Sarah Learner and Holly Van Tassel; as well as Garner.
The winner of the award at each school goes on to compete at the district level for a chance to win the Broward County Teacher of the Year award. The county winner then goes on to compete at the state level for the chance to win the Florida Teacher of the Year award.
Garner's students support his endeavors and commend him on encouraging them as they learn the importance of perseverance in the classroom. Through his guidance, Garner's students feel they leave his class forever changed.
"Garner lets us be adults. He has helped me to be more creative and work well under pressure," senior Gianna Spadavecchia said. "He prepares his students not just for the TV industry but for any career that they may pursue in the future."
Others recognize Garner for his compassion and love for his students.
"I love that he cares so much about the well-being of his students, it is such a good quality to have," senior Heidi Dumke said. "All his students know that they can ask or tell him anything, whether it is school related or not."
Principal Michelle Kefford also applauded Garner on his win. She strongly believes that the TV production program at MSD would not be as successful as it is today if not for Mr. Garner's exceptional teaching and dedication.
"Mr. Garner does a lot for the school in terms of capturing and memorializing what actually goes on at the school," Kefford said. "He's a wonderful addition to MSD and the staff speaks very highly of him."
The MSD Teacher of the Year award is not taken lightly and is truly meant to highlight the incredible work that the teachers do each year.