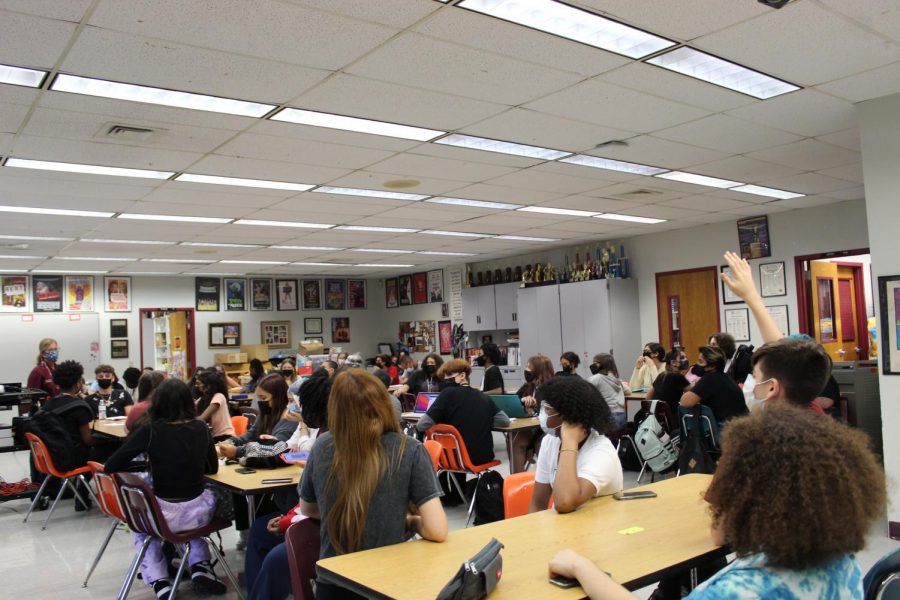 Nya Owusu-Afriyie
The consequences of growing enrollment and operating at 116% of MSD's capacity translates directly to an increase in class size, which makes it difficult to comply with state requirements for class size.
In 2002, Florida voters approved the Class Size Amendment, which amended the state constitution and limited the number of high school students in core classes to 25. The Florida Legislature rewrote the statutes to allow the 25 class cap to apply to school-wide averages, instead of each individual classroom.
In addition, the Florida Legislature passed a new law in 2011, SB 2120, reducing the number of courses that would qualify as a "core" class from 849 to 304.
Florida State Statute 1003.1 defines core classes for the purposes of class size limits as "courses in grades 9 through 12 in subjects that are measured by state assessment at any grade level and courses that are specifically identified by name in statute as required for high school graduation and that are not measured by state assessment."
It further defines extracurricular classes to include "all courses that are not defined as 'core-curricula courses,' which may include, but are not limited to, physical education, fine arts, performing fine arts, career education, and courses that may result in college credit."
Following the passing of this law, classes ranging from marine science to trigonometry and all Advanced Placement courses are considered electives and are not capped.
This has been a frustration for teachers and students for years, even before MSD's enrollment swelled to 3,570.
"I just don't think a class like AP Government or AP U.S. History should fall under 'elective choice' because they're both graduation requirement courses," AP Government teacher Jeff Foster said. "I think it's [kind of] silly that [the state government is] taking 'lower-level courses' and making them adhere to the 25 person rule, yet [they're] taking classes that are probably more in-depth and more likely to have debate and discussion, and [they're] throwing 35, 37, 38 kids in those classes; I think it's a disservice to the kids in those classes."
Most non-core classes at MSD are well over 25 students and some electives have climbed to over 40 students per period. The school administration has tried to alleviate the problem and bring down the numbers of students in each class by creating more classes or changing students' schedules from larger periods to smaller ones. Assistant Principals Jay Milmed and Tariq Qaiyim continuously monitor the sizes of rooms across campus to ensure core classes stay at around 25 students.
"What [MSD administration has] done, this year especially, we've given a lot of extra periods to teachers to try to lower class size numbers," Milmed said. "We are also hiring part-time teachers. Some of the things that we can do to mitigate overcrowding are adding classes so that we can bring down class size across periods and hiring another teacher or two, things of that nature."