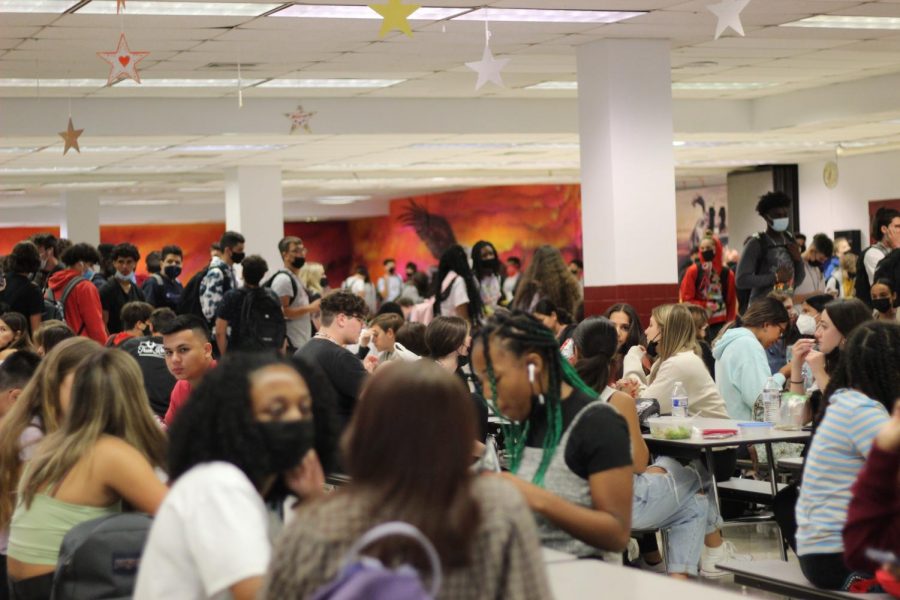 Theron Piccininni
The increase in enrollment has set off a chain reaction of problems that have not existed in recent years.
With the ongoing COVID-19 pandemic, the overpopulation is making it more difficult for students to social distance. While all students and staff on campus must wear a mask at all times and social distance when possible, that is difficult to accomplish in packed hallways, classrooms, the lunchroom and other crowded spaces.
In the Classroom
Currently, all classrooms at MSD are being used, except for three rooms that are being fixed for roof leaks. A number of teachers have large classes that are struggling to fit within the physical space of their rooms, affecting students' learning. Many teachers have classes of 30 to 40 students, which makes it hard for students and teachers to attain one-on-one attention when needed. One physical education period has 50 students.
"[The increase in students makes] it very hard to learn, especially in [AP] math when my class has 37 kids, it doesn't make teaching personal and also [makes it feel] very rushed," senior Asha Advani said.
According to Principal Michelle Kefford, some students were switched from large classes into different periods or assigned to new teachers with smaller classes. However, there is only so much the school can do with adjusting class sizes when there are no more rooms and the school tries to stay in compliance with the Florida Class Size Amendment Law in core classes. The direct consequence is an extreme increase in electives, which are not constrained by those rules.
Assistant Principal Daniel Lechtman explained that the school is currently being rebudgeted to potentially hire more teachers to alleviate the overcrowding. However, there are not any open rooms on campus to put new teachers in, which would make them floater teachers. A floater teacher would change class location throughout the day based on room availability per day or per period. Even if there were available classrooms to place newly hired teachers, schedule changes would cause major impacts on students who have already finished the first quarter of the school year.
The Between-Times
Students report struggling to travel throughout the campus. During passing periods, staircases are backed up with students. Crowds come to a standstill in the smaller hallways, making it hard for students to get to their classes on time.
"Certain intersections of school corridors become shoulder-to-shoulder traffic while everyone is transitioning to lunch, and it makes it too difficult to navigate safely with how close people are in a tight space like that," senior Logan Walsh said.
Compounding the problem, passing time between classes went from 8 minutes to 7 minutes, giving students less time to get to class than in previous years when the campus was less crowded. Transitions to and from lunches are made more difficult with half of the student body trying to go to and from the courtyard with only 6 minutes to get back to class.
This is the result of an audit of the A/B block schedule completed by the FLDOE last school year, which revealed that students, specifically seniors, did not have enough instructional hours to graduate. In order to come into compliance, the A/B block schedule was altered district-wide. Time was removed from passing periods and 1 minute was added to each class period.
A Large Lunch
The increase in students has also led to many issues during lunch. Even MSD's split lunches can't solve the problem. The increase in enrollment equals approximately 110 more students per lunch. Students are not required to wear masks while eating in the cafeteria and social distancing is nonexistent.
"I don't feel comfortable even taking my mask off at lunch because of how many people we have," senior Julie Mouhica said.
Lunch lines are often so long that students have trouble fully eating their lunch before they have to go back to class. Multiple announcements throughout the first quarter have been made by Lechtman and Kefford at the end of both lunches asking teachers to excuse students coming in late from lunch to their next period, due to the long lunch lines in the cafeteria.
The main courtyard is a popular location for students eating lunch, but with the increase in the student body, the picnic tables and benches that line the courtyard are always full.
"It is always difficult to find seats at lunch, there is almost never a place," sophomore Aneesha Nookala said. "I see many people sit on the stairs or even stand, just so they can eat."
According to Kefford, the school has ordered 20 more picnic tables paid for by MSD's Parent Teacher Student Organization at $875 per table, for the courtyard to provide more seating for the students outside and alleviate the crowd; it is unknown when they will arrive.
Getting Home
Additionally, students are having issues getting home from school in a timely fashion, including backup in the senior lot from the pickup line, underclassmen parked in North Community Park and a lack of buses.
"Traffic [is] bad to get home [after school, and it] took me 35 minutes when I live 5 minutes away," senior Zachary Valdes said.
Additionally, there is a shortage of bus drivers across the district this year, resulting in many buses taking on multiple stop numbers. This essentially doubled the amount of kids on each bus where numbers had already been increasing.
End of day announcements by administration regarding bus changes occur frequently as the BCPS Student Transportation and Fleet Services Department tries to distribute bus sizes more evenly among all the available buses. Still with an increase in students on buses, students have to sit two and three to a seat, leaving no room to socially distance.
"[The] bus loop is overcrowded, and the bus [I] take is completely filled," sophomore Arizel Corniel said.