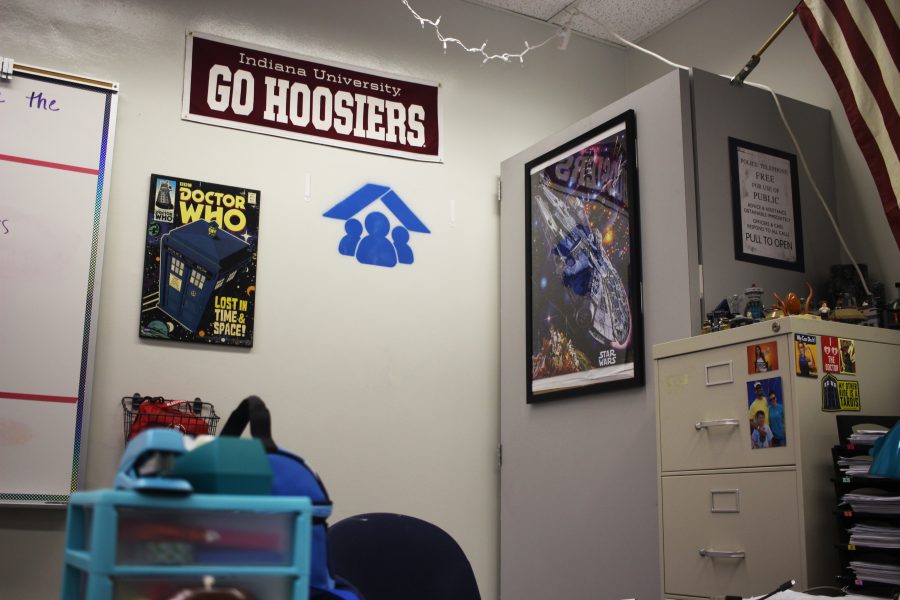 Nyan Clarke
The increasing enrollment numbers and rising class sizes beg the question: how many students are too many for safety purposes?
Every room on campus, through the MSD FISH report, has a provided square footage. According to National Fire Prevention Association Standard 101, which is adopted into code by Florida Administrative Code 69A-58, to calculate the acceptable occupancy for each room of an educational facility, the room's square footage is divided by 20 and then rounded up to the next whole number. That number is the max capacity of students that can be in that classroom for fire safety.
If you take the average size of the classrooms in MSD's 200 building, 810 sq ft and divide it by 20, the number would be 40 students.
While it might be within fire safety limits of NFPA 101, contemplating the potential of 40 students in a classroom is overwhelming for many teachers, and is likely not the best learning environment for a student, even in an elective.
"I have 30 desks already in my classroom. I cannot fit 40 desks in my class," interim English teacher Pamela Scopino, who teaches in the 200 building, said. "It would be tough, I would have to reconfigure everything and could not do that without blocking the exit and the conjoining door to the classroom next door."
BCPS follows State Requirements for Educational Facilities adopted by Florida Administrative Code 6A-2.0010 which provides instruction considerations for determining classroom capacity.
"The criteria that affects the occupancy is the intended use of the room, recommended occupancy and net square footage of the room. Once the intended use of the space is determined, SREF provides a recommended occupancy and net square footage per occupancy required in each room," Matthew Decker, Chief Fire Official for BCPS, said. "[For] example, according to SREF 2014, a general classroom senior high 9-12 recommends 25 occupants and 1 teacher and the recommended square footage is 32 per person which is 832 net square feet per room."
According to Decker, a room is truly considered not safe when the ability for students to exit a room, called fire egress, is compromised and students cannot exit the building during an emergency. Even though classes are getting larger, the school is well within compliance with the NFPA 101 for fire safety and as well as SREF recommendations for educational planning and instruction.
While school district officials and the FLDOE consider fire safety and state classroom size amendment rules when calculating acceptable capacity numbers, there are other safety conditions not considered or addressed by Florida Administrative Code or SREF: active shooters.
Unfortunately, this is a situation the MSD community knows all too well. Even though fire code would allow 40 students in 812 square feet of classroom, that number would not fit inside the designated "safer spaces" in the classrooms at MSD. These are blind corners in each classroom, out of the line of sight from the windows on MSD's classroom doors.
On Feb. 14, 2018, some students were killed and others injured when they could not fit into the "safer space" corners of the classrooms in the 1200 building.
Although MSD has not exceeded the capacity threshold that would cause a fire safety issue or an issue of compliance with state mandated class size for core classes, MSD's enrollment is still above the number of students recommended for the actual accessible instructional spaces on campus.
As elective class numbers rise, an active shooter situation would put students in larger classes in danger if the designated "safer space" is not large enough to fit all the students.