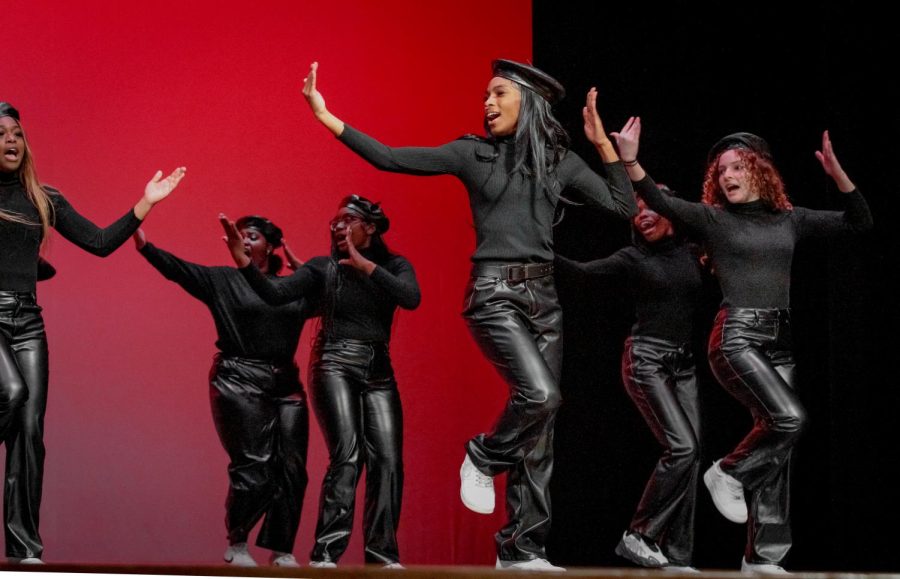 Kelsie Yon
On Friday, Feb. 3 the Black Student Union hosted the annual Black History Month showcase for the seventh year in a row. This being the first official year the club has been considered a club, it was the BSU's first year fully hosting and being in charge of the event.
The BSU had a BHM committee that planned the event, headed by senior Donfred Gerton and junior Charlene Noel. The Drama Department also helped with the event by lending their stage tech crew to help run the special effects of the show, like they do for the drama productions they put on throughout the year.
"We are incredibly grateful for our sponsors and those who stepped up to help us this year," Gerton said. "We had a BHM committee, we had writers [who] contributed to writing the script, we had our choreographers, our show runners, so it definitely took a village." 
Entitled "Rise up: A Looking Glass Into Black Culture," the show was filled with dancing, spoken word, videos, singing and music that highlights Black culture, women and struggles. The show honored the special month. Additionally, there was a performance for students during school hours and one for the general public at night. 
Students had the chance to attend the free morning performance of Act 1 during 1st period and Act 2 during 2nd period, taking place from 7:40 a.m. to 10:48 a.m. 
At 7:00 p.m. there was a night performance for students, parents, faculty and anyone else in the community. Tickets were $10 for adults and $8 for students. Drama sold $1 snacks before the show and during the 15-minute intermission.
Gerton, sophomore Syrus Davis and sophomore Holly LaForest hosted the entire night, introducing each act, giving background, cracking jokes and interacting with the audience. 
"I am the host and I am introducing and talking about some of the dances," Davis said. "I love that I am talking to everyone about what they are about to see and it is important that people learn the facts about Black culture and [their] countries."
The show opened with a contemporary dance performed by junior Amanda Amri and senior Sage Saunders to the song "Stand Up" by Cynthia Erivo. This song was originally written for the movie "Harriet," about the life abolitionist and well-known Underground Railroad figure Harriet Tubman. 
Throughout the MSD BHM show, there were several group dance performances for different countries with major Black populations; these included the Bahamas, Jamaica, Brazil, Africa, Trinidad and Haiti. Songs were from all different genres, like Bachata and Reggae, and dances, like Hip-Hop, that are deep in Black culture.
The Ladies of Destiny Step Team also performed since Step was created by Black fraternities and sororities in America and were composed of a majority Black student group. 
Two groups of students had a "dance battle" for the R&B girl groups: Destiny's Child and TLC. Each group took turns performing to their well-known songs, from "All The Women Independent," "No Scrubs" and "Say My Name."
Junior Nadia Marchena sang the solo "Halo" by Beyonce and junior Niaomi Hudson sang "A Change is Gonna Come" by Sam Cooke, a song that symbolizes power during the 1960s Civil Rights Movement. 
Junior Matthew Mckie performed two piano solos during the show, one during each act. As he played, there was a slideshow behind him of influential Black music artists, such as Ray Charles, Jackson 5, Luther Vandross, Jay Z, Montell Jordan, Alicia Keys, etc. 
Another slideshow, "The Ones We Lost," played during Act 1. This compiled all the influential and famous Black artists, activists, sports players and more who have passed away in the last two years; the highlighted icons included Katherine Johnson, one of the first Black women to work at NASA, famous actor Chadwick Boseman, author Bell Hooks, first Black U.S. Secretary of State Colin Powell and rappers Pop Smoke, Juice WRLD and XXXTentacion. 
The show included two original spoken words and a declamation piece. In Act 1, senior Anaya Murray wrote and performed "Black Lives Matter," a piece sharing the importance and necessity of the statement. She included her own personal experiences of learning to love herself in her skin and teaching her two brothers, who are currently six and eight, to keep their hands up when pulled over by a police officer. In addition, she shared non-personal experiences many other Black people face, like Black women being careful not to get "too loud" when speaking on topics they are passionate about, to prevent being stereotyped, or not wearing their hood when walking outside, to not be labeled as dangerous. 
In Act 2, senior Layla Ali performed her original spoken word "Bonnets and Durags," debunking the harmful stereotype that such hair coverings are affiliated with gangs or violence; whereas in actuality, they are used to keep Black people's hair beautiful and protected. A group of performers joined her on the stage at the end of the piece wearing their bonnets and durags in solidarity. 
"I did a poem on bonnets and durags to raise awareness about the stereotypes people have on them and why they are incorrect," Ali said. "Through society and school settings, a lot of time we aren't allowed to wear such things because they are assumed to be gang affiliated or just 'not presentable,' which is only because it was made for Black people and by Black people, so it was taught to be ghetto." 
The president of BSU, junior Noldine Belizaire, and members of BSU, junior Regine Accius, senior Rachel Georges and sophomore Ne'rya Vassell, performed the piece "Rise Up" about the Black Lives Matter Movement. They reflected on their past Black brothers, sisters and those in between who fought for their rights and equality, like Marsha P. Johnson. They discussed how we must all "rise up" against the stereotypes and discriminations of races, gender, sexuality and more.
"It was our brothers, like John Lewis, who reminded us it's okay to get into good trouble when needed," Vassell said during the piece.
The show ended with dances by the Ladies of Destiny step team and a Black women tribute video, which included multiple Black females from MSD expressing why they are proud to be Black women. The video also included dozens of famous Black role models giving words of inspiration about how vital and beautiful Black women are in society.