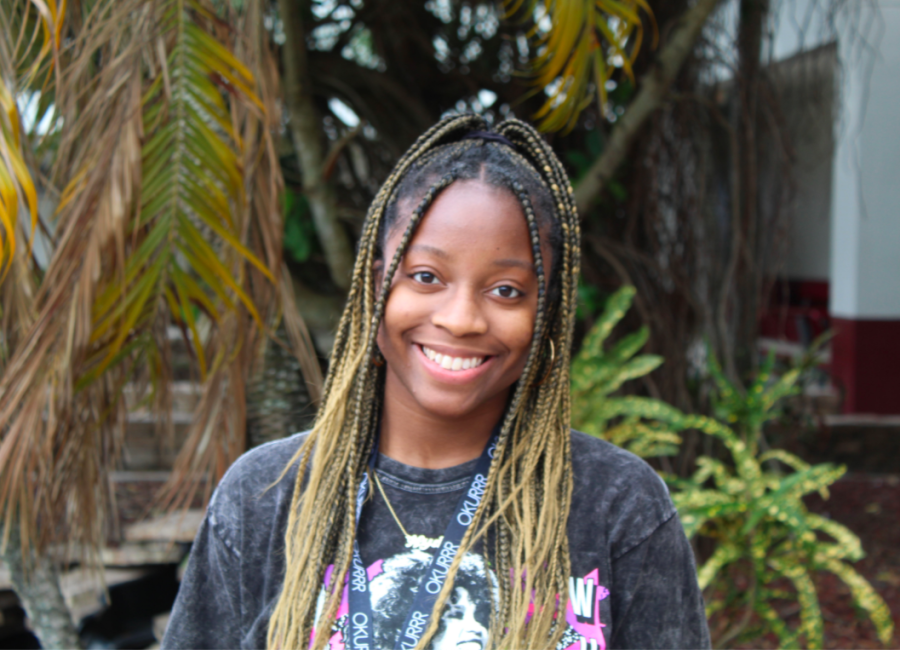 Zoe Payton
"One picture is worth 1,000 words," Fred R. Barnard once said. 
Senior Nya Owusu-Afriyie was voted for by BSU members to serve as one of the Co-Publicity officers for the 2021-2022 school year. While Owusu-Afriyie also serves as one of the photo editors for the MSD school newspaper, Owusu-Afriyie was motivated by other reasons in addition to her photography skills to seek a leadership role in the BSU.
"I wanted to become an officer for BSU because I, along with the rest of the members of the club, noticed the lack of black representation at Douglas. Whether it be walking around or directly in the classroom. I wanted to be a part of the influence that hopes to change that," Owusu-Afriyie said. 
Serving as Co-Publicity officer and Photo editor for the The Eagle Eye, the MSD student-ran newspaper, Owusu-Afriyie seeks to make the BSU a more integral part of the community. With the help of her colleagues, she seeks to collaborate with various groups to create a safe space for people of color at Douglas and in the larger Parkland and Coral Springs community. 
"It is my hope that for this year, BSU can be a well known club not only at Douglas but in the community as well. I hope that the things we are planning this year such as fundraising, the Black History Month show, possible collaborations and many other great things (to be announced) can spread awareness to other kids of color and help them understand that they have a safe space within their community," Owusu-Afriyie said
The BSU has many community projects planned for this year, all of which are intended to promote inclusion through work and the celebration of equality. Owusu-Afriyie emphasises that the only qualifier to participating in the projects that the BSU has planned is a passion for their mission and what the BSU represents. 
"BSU's goal through the projects this year is to come together as a community through volunteering, spreading awareness, etc. Your skin tone does not matter, you just have to be passionate about our mission, passionate about who we are and what we do," Owusu-Afriyie said.
Owusu-Afriyie is sharing the role of Publicity officer with Haley Jackson, another editor from The Eagle Eye. Owusu-Afriyie states that she is excited and happy to collaborate with someone, further stating that she is looking forward to creating projects with Jackson. 
"I feel great about sharing my role with my co-officer, I actually feel relieved that I am not the only one doing the job. It's good to have someone to voice ideas off of and you can do the same for them. I have gotten the pleasure to meet my co-officer and I must say, having a conversation with her is mind blowing. I am very excited about the projects we will be doing," Owusu-Afriyie said.
Owusu-Afriyie shares the goal of promoting racial sensitivity at MSD and in the larger community, but she has also expressed an interest in furthering the education of Black History in classrooms. She says that the school must do more to teach the student body on this subject, stating that the week in February that teachers are informed that they must teach an aspect of Black History is not sufficient.
"I feel BSU is helping to make MSD a more inclusive and racially sensitive environment because we are making people aware that the actions they choose to take are sometimes discriminatory and offensive. We are trying to change things both inside and outside of the classroom. The one week in February where teachers are "told" to teach us something related to Black History Month is not enough. It's the one week of school I actually am eager to learn and I'm only taught for three hours out of the school year. That's not right," Owusu-Afriyie said. 
Owusu-Afriyie and the rest of the BSU have many ideas on how to promote both the club and equality in MSD and the larger community. However, they all agree that the BSU is integral for supporting diversity in a largely white area. It will be both interesting and exciting to see the BSU support their ideals and create a safer space for people of color individuals.