Sophomore Kyra Tuesta juggles injuries, school and soccer
Early mornings for training, late nights for practices, sidelining knee injuries and the COVID-19 pandemic—these sacrifices and setbacks are enough to make anyone quit. Yet, sophomore Kyra Tuesta battles through it all when it comes to playing soccer.
Tuesta's determination to continue playing opened up new doors to exclusive competitions and programs. Tuesta, who grew up playing and watching soccer, was part of an Olympic Development Program for Florida and currently plays for the MSD women's varsity soccer team as a center-attacking midfielder or forward.
The United States Youth Soccer Olympic Development Program works to identify talented players that could increase the success of the national teams in the international arena, including at the Olympic Games. Tuesta's selection as part of the program is an indicator to both her natural talent and how much she has practiced over the span of her lifetime.
"My whole family is a soccer family, so you just get put into it [at a young age]," Tuesta said. "I'm second-generation because my family emigrated from Peru. In South American culture, soccer is a big thing. From a young age, my dad would kick around [the ball] with me and he saw I was not bad. I got put into rec at the age of 6."
The push from her family has clearly paid off, as she has competed in several elite competitions, including the 2018 Disney World Futsal Championship and the 2019 Disney 3v3 National Championship.
"I'm in the Youth National Team pool for the country," Tuesta said. "Just because of COVID[-19], everything got delayed until this year."
The Youth National Team player pool created by the U.S. Soccer's Talent Identification program, which scouts talented young soccer players with the potential to play for the United States' Youth National Teams. The scouting network allows U.S. Soccer to grow the Youth National Team player pool. The ultimate goal is to ensure a bright future for U.S. Soccer.
Players in the Youth National Team pool first play in a regional tournament, which is divided up into east, west and south. Tuesta is in the southern region and played soccer in Texas for a week.
If players make it through the regional tournament, they advance to the next tournament, where all regions are combined. The final competition is when players are further eliminated. The players remaining travel and represent U.S. Soccer.
Pandemic-related delays were only one of the struggles Tuesta has faced the past two years. In particular, Tuesta had tendinitis in her knees and was injured for a large part of 2021. Being unable to exercise, particularly during the summer, was a huge setback for her.
"Everyone had really high expectations of me, and I was previously injured for the whole year," Tuesta said. "It's been really on and off with my knees. I feel like I haven't shown my full potential yet, which is a little disappointing."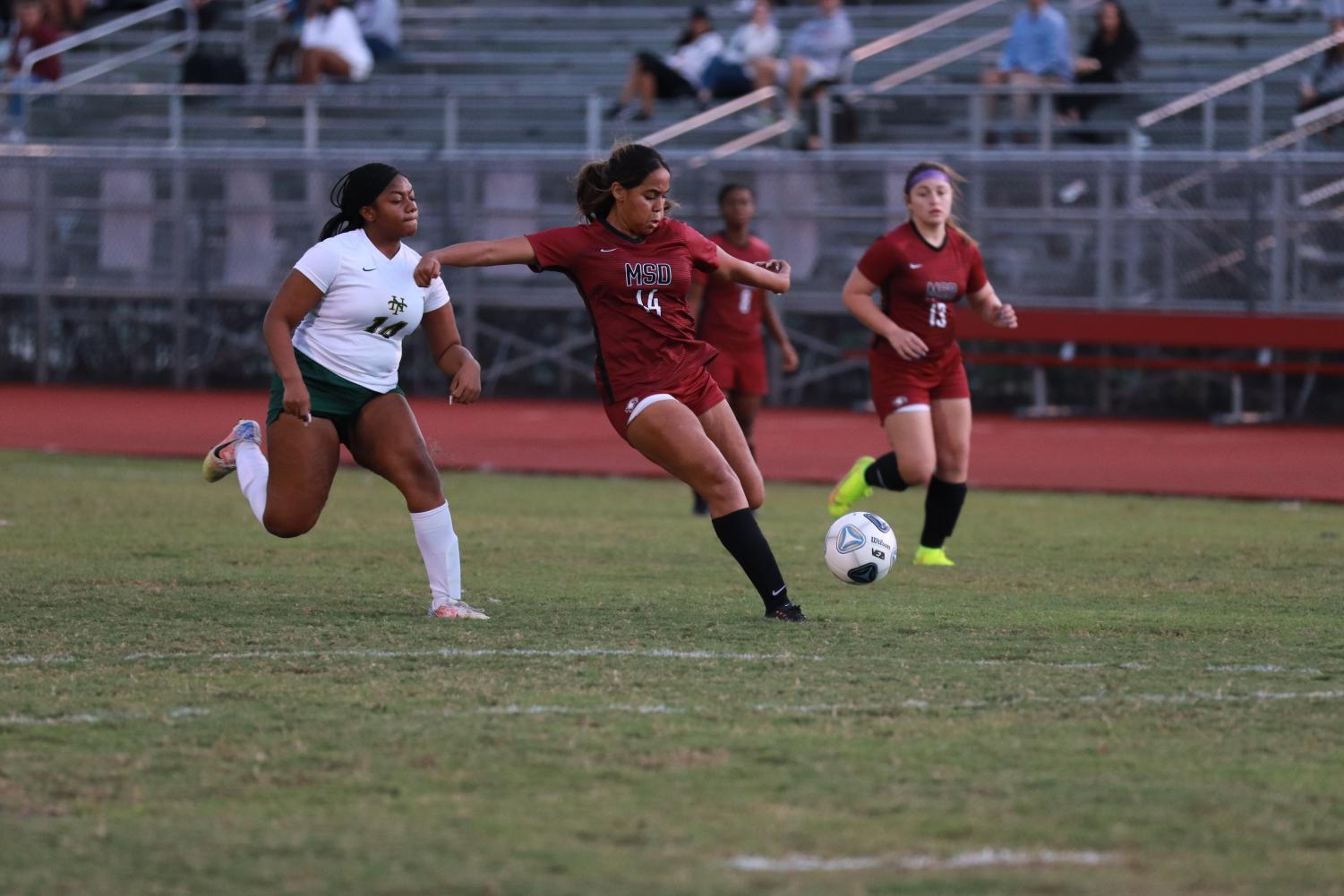 Tuesta has high hopes that she will be able to show exactly what she can do with a month and a half remaining of the soccer season and her remaining two years at MSD now that she is healthy and fully recovered from her injuries.
Tuesta's easing back into her training routine before her injury, which included conditioning before school, school practices, club practices and in the gym. Currently, she's taking her training more lightly to prevent another injury, attending practices and training on her own at the park or by playing with her friends.
However, some things will be different. Tuesta dropped club soccer because her next two years of high school involve college recruitment. Tuesta's dream schools include Duke University and University of California, Los Angeles, and she hopes to attend law school if soccer does not work out.
Tuesta's ultimate goal is to play on the U.S. Women's National Soccer team. She credits her dream to the soccer teams she has played on.
"I used to play with boys a few years ago, so seeing all age groups and girls made me feel really welcomed," Tuesta said. "It made me want to be part of a team."
Tuesta navigates this dream of becoming a professional soccer player as a woman of color, an identity typically underrepresented in soccer, according to Erica L. Ayala, a sportswriter that was vocal in her 2019 article about how the U.S. Women's National soccer team has a long way to go in having a diverse team, though Tuesta appreciates that MSD's varsity team is diverse. Tuesta carries the hope that if she makes it to the U.S. Women's National Soccer team, she will inspire young girls of color and of her same ethnicity.
"There's very few to no people of my color and ethnicity, so I feel like [me being a professional soccer player as a woman of color] would inspire a lot of people," Tuesta said.
Tuesta does not participate in any extracurriculars because soccer is her main focus. However, she wishes she had time to participate in the school newspaper.
"If I'm still enjoying soccer [in ten years], I would hope I'm playing abroad in Italy or something," Tuesta said. "If not, I would hope I made it through law school and just be happy."
While it is unknown where Tuesta will be in 10 years, she's certain the world has not yet seen the full extent of her capabilities.