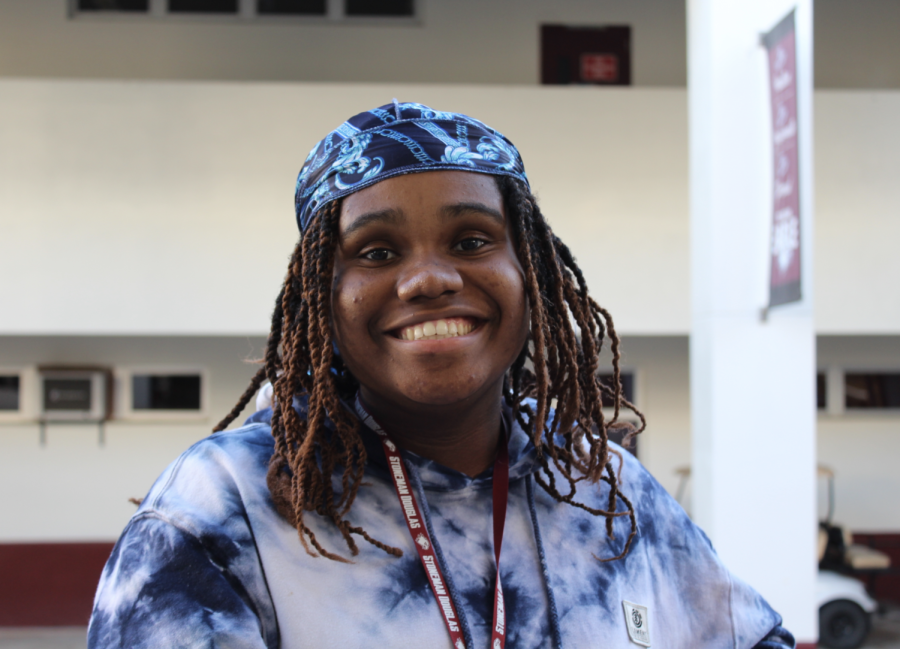 Nya Owusu-Afriyie
Senior Donfred Gerton is a highly active Black Student Union officer at Marjory Stoneman Douglas High School. Gerton wishes to help the union succeed in any way possible, and hopes for it to grow larger and more popular as his work as an officer proceeds.
"What made me want to become a BSU officer was really just my excitement that there even was a BSU on campus to begin with. I wanted this club to succeed before I even joined, with or without me," Gerton said. "I wanted to make sure I could do everything in my power to make sure that it became successful."
Some goals he has, a lot similar to those of other officers, is he wishes to schedule and raise money for a Historically Black Colleges and Universities (HBCU) field trip, a performance with the Black History Month committee at the annual worldfest and an abundance of other activities for the BSU members and other MSD students to take part in.
To Gerton, BSU's goal/mission is to make a statement to not just MSD but other schools as well through the variety of projects they take part in. He believes that BSU's core purpose is to educate and uplift other members within the community of Black culture, history, and more.
"From celebrating our culture, to doing service for our community and those less fortunate, to speaking and debating about a variety of topics and issues plaguing our community," Gerton said. "We want all members and non members to view the BSU as a safe and inclusive space where they can learn, congregate, and have the space to freely be themselves. That's been the goal since day one. That'll always be the goal."
Gerton feels as though BSU is helping to make MSD more racially inclusive and a more sensitive environment. 
"If students at this school aren't aware about the racial discrepancies and disparities that exist within this school, then nothing is ever going to change. Through BSU we have members of all colors and nationalities learning about not only the black experience at this school, but also the black experiences off campus, which I personally believe is the most important," Gerton said.
BSU has become a large program at MSD and Gerton believed it's needed because the black population, aside from Native American, is the lowest in the school. BSU has helped the fewer number of Black Students find a safe space and Gerton has become a huge part of that step.
"For so long MSD was seen as the school that all the white kids go to, establishing a BSU here not only connects the black student body with the BSU's of neighboring schools, but it connects the people of color as a whole at this school," Gerton said.
Gerton is the event coordinator for the Black History Month committee, which is a program intertwined with BSU. Gerton has had the chance to begin working with a Co-Black History Month Show Committee officer, Charlene Noel. He and Charlene had an immediate connection and began working together smoothly, in perfect sync putting on a very successful Black History Month showcase on Feb. 4 entitled "Rise Up: A Looking Glass Into Black Culture."
He is a member of a few other clubs like being a senior officer for Mentoring Tomorrow's Leaders and he's also a senior officer for MSD's politics club.
In Gerton's spare time he mainly enjoys writing and composing music. He also enjoys spending his time working at the youth center in Coral Springs.