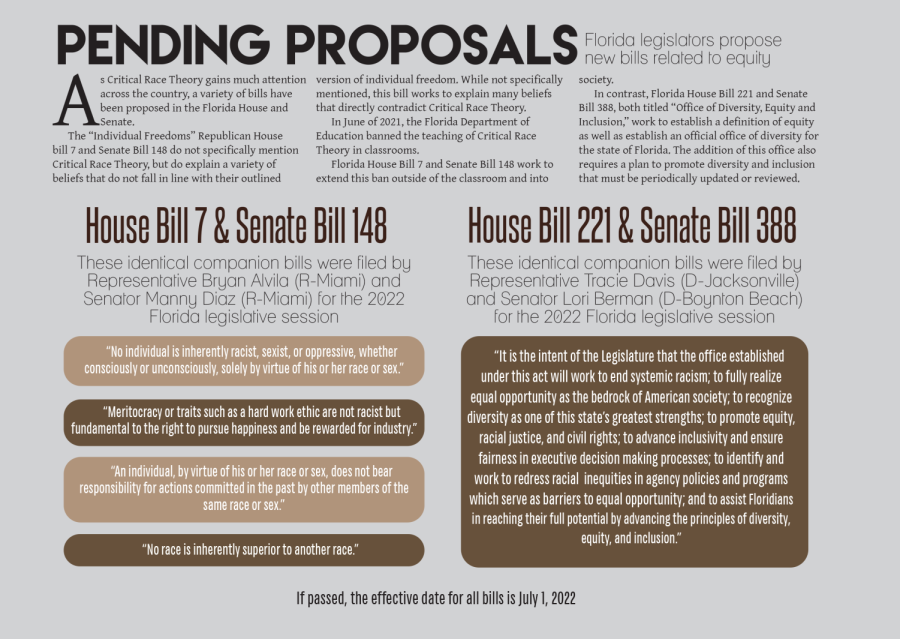 Julia Landy
While grappling with the unknowns of the COVID-19 pandemic, the U.S. also experienced a resurgence of broader social movements for substantial changes throughout society to get closer to a world with less injustices, among the movements is racism. Somewhere in the midst of this ongoing conversation, the discussion over Critical Race Theory was introduced to general society and sparked conversations about what Critical Race Theory is and whether it should be an approved curriculum in the education system.
The controversy surrounding Critical Race Theory began bubbling after Manhattan Institute for Policy Research fellow Christopher Rufo began investigating anti-racism work training. After filing a Freedom of Information Act request, Rufo summarized his perspective in an article published in July 2020 in City Journal. Within the article, he explains he that feels the City of Seattle's anti-racism curricula "endorses principles of segregation, group-based guilt and race essentialism." Rufo's published article in City Journal gained national support from others who felt they also had an issue with the anti-racism training at their own job. Across various anti-racism trainings, many cited the work of authors like Ibram Xolani Kendi and Robin DiAngelo are credited much of their outlooks on race to Derrick Bell and Kimberlé Crenshaw with roots in Critical Race Theory.
Rufo continued to publish a variety of articles in City Journal as he received more and more information on the various approaches taken in anti-racism training across the country. On Sept. 2, 2021, Rufo appeared on Fox's primetime show "Tucker Carlson Tonight."
"Conservatives need to wake up. This is an existential threat to the United States. And the bureaucracy, even under Trump, is being weaponized against core American values. And I'd like to make it explicit: The President and the White House—it's within their authority to immediately issue an executive order to abolish critical-race-theory training from the federal government. And I call on the president to immediately issue this executive order—to stamp out this destructive, divisive, pseudo-scientific ideology," Rufo said on the show.
While on the show, Rufo gave a three-minute monologue discussing the implications of current racial sensitivity and anti-racism training across the country. After his appearance on Fox, Rufo's definition of Critical Race Theory continued to gain national attention.
"I believe that, especially as a teacher of social studies, of history and of government, and even with my background as a debate teacher, I believe it's important to look at multiple perspectives within the issue. So to say that I would teach one perspective at the exclusion of others, I think would be negative no matter what perspectives it is," American history teacher Ryan Cole said.
Critical Race Theory now serves as a major issue due to varying levels of comprehension, awareness and perspectives across the political spectrum.
In a state news release issued on Dec. 15, 2021, Florida Commissioner of Education Richard Corcoran said, "Our classrooms, students and even teachers are under constant threat by Critical Race Theory advocates who are attempting to manipulate classroom content into a means to impose one's values on students, when instead schools should be empowering students with great, historically accurate knowledge and giving those students and their families the freedom to draw their own conclusions."
Many conservative politicians like former President Donald J. Trump have been outwardly against teaching Critical Race Theory in schools. Many dissenters of the theory believe that teaching it in schools creates a more divided society. This belief is fueled by the idea that Critical Race Theory classifies white people as "oppressors" and all Black people as "oppressed." The theory instead uses history and current day politics, practices and events to explain how minorities are still impacted by racism.
"I teach many things in my class that are directly rooted in the Florida State Standards for American History," Cole said. "I think that when we look critically at our history in general, that promotes a learning environment where students and adults are taught to question narratives that have been put in front of [them] their entire lives."
The recent discussions of whether or not there is a place for Critical Race Theory in history curriculum also sheds light on the fact that many Americans are still unclear on the true principles of the theory. According to a Reuters national opinion survey, taken in July 2021, 57% of surveyed adults were unfamiliar with the term, and 22% of those familiar with the term were under the misconception that Critical Race Theory is already being taught in most public high schools across the country. Of those familiar with the theory, 33% thought that Critical Race Theory says that "white people are inherently bad or evil" or that "discriminating against white people is the only way to achieve equality," both of which are false.
"[Critical Race Theory] has the word critical in the title, which implies that it's designed to provide a critique of society. So in a society where we can recognize that racism exists, and I think we can recognize that it exists in the United States, then to be critical of the institutions is a system of improving those institutions," English teacher Holly Van Tassel-Schuster said.