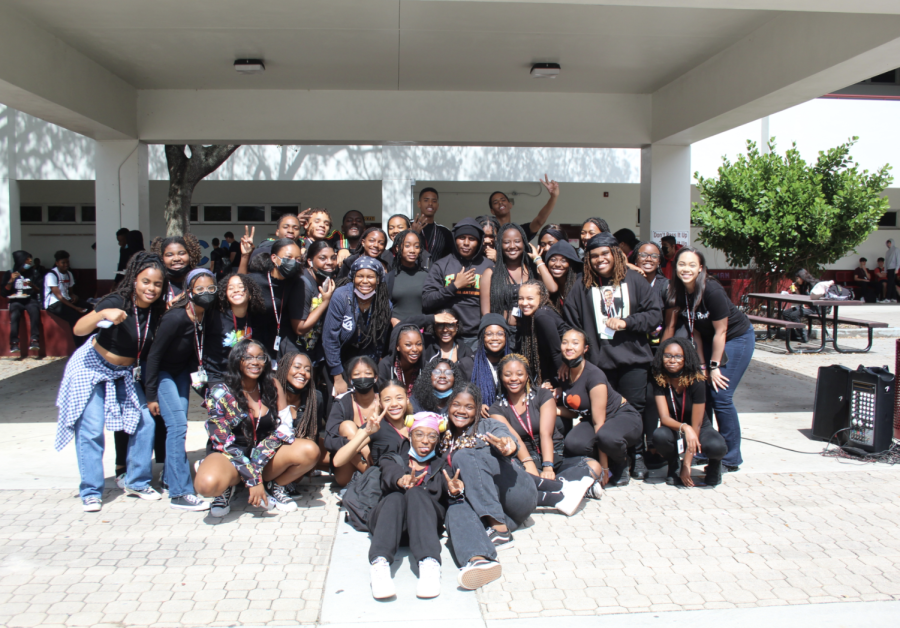 Glory Lee
Marjory Stoneman Douglas High School has held many spirit weeks throughout the school years ranging from ones held by the Student Government Association for Homecoming, Winter Spirit Week, Red Ribbon Week, and many others. This year, for the first time, the Black Student Union hosted their own spirit week to end off Black History Month. 
The Black Student Union was created by students Noldine Belizaire, Roveschney Veliardm, Jada Lemy, and Nesya Small. The club was reestablished during the summer of 2020 after the violent killings of multiple Black individuals. BSU was established to create  a safe haven for Black students at predominantly white institutions. 
After BSU hosted the BHM Show entitled "Rise Up: A Looking Glass Into Black Culture on Feb. 3," the officers
were thinking of ways to continue BHM with more exciting activities leading to a school-wide spirit week.
The spirit week was composed of four different days that were from Tuesday, Feb. 22 to Friday, Feb. 25. The days that were presented were, "Rep. Your HBCU (Historically Black College and University) Day," "Rep. Your  Cultural Heritage Day," "Y2K vs. 90s" and "Blackout Day."
"It was truly a beautiful and exciting experience to bring all demographics together to uplift and celebrate Black culture," President of BSU and junior Noldine Belizaire said. 
"Rep. Your HBCU Day" students wore historically black college and university colors and apparel. "Rep. Your Cultural Heritage Day" students wore their cultural apparel to school. "Y2K vs. 90s" students dressed up in their 2000's or 90's attire. Lastly, "Blackout Day" students dressed in all black as a tribute to victims of racial violence. 
"I participated in the blackout day by wearing all black, as a tribute to victims of racial violence as I almost lost my cousin to police brutality," freshman Addison Zajkowski said.
BSU officers and the BHM committee, members/officers of BSU who were responsible for all BHM activities,went through many efforts to put together this spirit week. Many of them missed several classes this week to ensure playlists and courtyard activities were set up and working correctly.
"We chose to throw a spirit week because Black students already experience a lack of representation and unity at times at school," Belizaire said. "Hosting the spirit week really brought our community closer."
This was the first time BSU has held this spirit week and a lot of time and thought went into the preparation of it. After the great success of this week, the Black Student Union plans to
host a spirit week yearly.