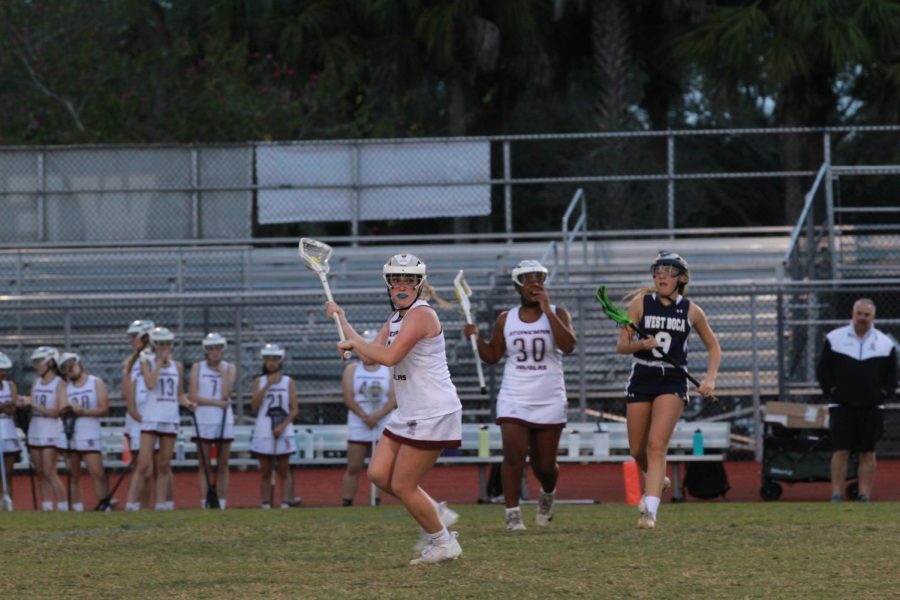 Quinn Braun
On Tuesday, Feb. 22, the Marjory Stoneman Douglas Eagles varsity women's lacrosse team went head to head against the American Heritage Patriots. They came into the game with a 1-1 record, with their last game being a loss.
"We thought we had a good chance of winning going into the game," Maggie Davis (18) said.
The Eagles went into the game shooting as they took a heavy amount of shots to start the game. They took lots of shots to start and eventually attackman Taylor Mcgovern (4) scored on a close shot with a lot of defenders around her as she was near the goal. The Patriots scored to tie the game at one point each. After that initial score by the Patriots they went on to score two unanswered goals as they quickly led 3-1.
The Eagles kept on turning the ball over and the Patriots were always making the best of the turnovers. The Eagles eventually scored and got the deficit back down to 1 on a nice goal by Skylar Gerena (13). The Patriots scored two goals without a response from the Eagles as the Patriots lead grew to three.
The Patriots controlled the ball for most of the time. The Eagles took a timeout and it seemed to work as right after it they scored a goal. Their momentum did not seem to stop after that as they scored another goal to cut the lead down to one once again. They kept on riding the wave as they tied the game up at 5-5.
"We felt we had great momentum after we tied the game but they always either matched our momentum or stoppeted it," Addison Sacks (10) said.
The Patriots easily regained the lead as their offense was just too much for the Eagles defense. They at that point took back the momentum as they scored another goal to make the score 7-5.
The scoring did not stop from there, as the Eagles scored to make the game 7-6. From there both teams scored two goals to take the game to halftime as the score was 8-9 and the Patriots led.
To start the half, the Patriots came out hot as they scored three straight goals very quickly. Their scoring did not stop from there as their offense just could not be stopped. They scored two goals in the next 5 minutes to take the lead to six.
They seemed to ride the momentum until the end of the game as they outscored the Eagles 9-1 in the second half.
The Eagles' next game is against Spanish River High on Monday, Feb.28