[Brief] Men's bowling team defeats St. Thomas Aquinas
Richard Doan
October 4, 2017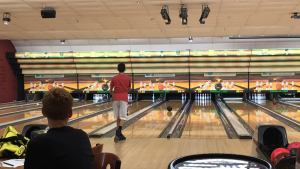 On Tuesday, Oct. 3, the men's bowling team defeated Coral Springs Charter school as they approached the middle of the season at Sawgrass Lanes.
The men varied in performance, ranging from 134 pins by junior Tyler Frydman in his first game to 228 pins by senior Cameron Price in the second game. The men's bowling team had a shaky start, only totaling 803 pins in the initial game with major contributions from senior Ben Campanella at 181 pins and Price's 176 pins. However, with the second bout, the men picked up their pace and totaled 882 points. With their perseverance and spirited effort, they were able to best St. Thomas Aquinas high school.
"I think I can speak for the team as a whole when I say that we are happy with the result," captain Ryan Schachter said. "Coral Springs Charter routinely performs to the highest levels and they proved their reputation today with their hard fought game. Nonetheless, I am happy to play alongside such a strong team and look forward to the next match."
The next match will once again take place at Sawgrass Lanes on Thursday, Oct. 5 at 3:30 pm against Piney Grove high school.