Customers enjoy guided painting lessons
Fallon Trachtman
January 10, 2018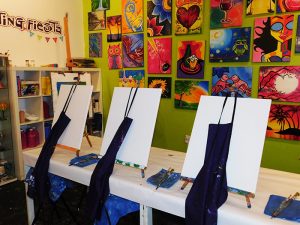 *This story was originally published in the second quarter issue of the Eagle Eye*
Painting Fiesta, located in Coral Springs, is a space designed for painters of all ages and skill sets that supplies the artists with a full set of brushes and paints. Classes are offered to give customers step-by-step instructions to help them create a work of art.
If a private class is taking place, the instructor allows the participants to choose what their class would like to paint, but if it is public then the instructor will choose the creation ahead of time. The lesson then takes off from there.
Participants are given detailed instructions on how to create their piece. It is important to the staff that their customers have an enjoyable experience.For this reason, the classes are taught at a pace that suits the participants and there is always help offered when needed.
"We always have the instructor paint along with the clients to make the directions easy to understand," Painting Fiesta employee Christine Morgan said.
The prices for a class range from $17 to $35. For that price customers are offered canvas painting, wineglass painting and finger painting. Prices rise as the size of the canvas grows and painting on surfaces other than canvases may cause the price to increase as well.
For those interested in booking private sessions, a catalog is given to assist them in deciding what to paint.
"It was a really fun class and I painted even better then I thought I could," sophomore Allie Lazar said.
Painting Fiesta is open for business Mondays from 9 a.m. to 4 p.m., Tuesdays and Fridays from 9 a.m. to 9:30 p.m. and Saturdays from 1 p.m. to 9:30 p.m.
The company occasionally holds discount nights and fundraisers. They have previously hosted two to three-hour fundraisers where, depending on how many people attended, 20 percent to 50 percent of proceeds were given to an organization of the organizer's choice.
"It's a great way to bring people together and end up with something to take home and have forever," Morgan said.