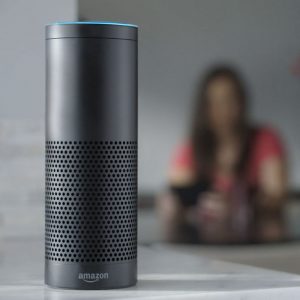 Smart phones, smart watches, smart tablets. Smart technology is consuming the electronics market, giving devices an entirely new purpose. In recent years, a new device has skyrocketed in popularity: smart home products.
The sudden widespread use of home-related smart technology is a product of the fast-moving age of technology we live in. According to a report by eMarketer from spring of 2017, smart speakers are predicted to be in 55 percent of U.S. households by 2022.
Smart home products are products that communicate with each other to allow the owner to seamlessly control the house. Everyday items such as thermostats and padlocks can be connected with each other and controlled via voice or an app through this new technology.
Popular smart devices include smart light bulbs, security cameras, robot vacuums and even flood sensors, though none of these devices compare in popularity to the smart speaker, the most bought smart home device on the market.
While earlier versions of smart home products have been around since the 90s, smart speakers are relatively new to the smart device scene. Introduced in 2014 by Amazon with the "Amazon Echo," smart speakers are wireless, voice-commanded speakers that contain their own AI-controlled virtual assistant. Using Wi-Fi, these virtual assistants can connect to the internet and retrieve information when asked by the user. They are activated by keywords, which are set by default according to their brand, but can also be changed in the settings by the owner.
The "Amazon Echo" series leads the pack of notable smart speakers. According to Strategy Analytics, an estimated 68 percent 2017's smart speaker sales belong to Amazon's Echo series, popularized by its recognizable virtual assistant, Alexa. Google's "Google Home" trails behind the Echo with 20 percent of sales from 2017.
"When I first got [the Amazon Echo] I used it a lot," said sophomore Kennedy Cobb. "I probably used it ten times a day. I would just talk to it."
There are various iterations of Amazon and Google Home's smart speakers. Amazon's "Echo" speaker series includes the Echo ($99.99), Echo Dot ($49.99), Echo Show ($229.99), Echo Spot ($129.99) and the Echo Plus ($149.99), while Google's "Home" speaker series includes Google Home ($129), Google Home Mini ($49) and Google Home Max ($349).
Each device offers different features, with Amazon Echo and Echo Dot offering base features, such as the voice assistant and bluetooth connection, whereas those over $100 include varying features like the screen on the Echo Spot and Echo Show. As for Google Home, the only upgrade seen across its devices (by price) are sound quality and size.
The sudden rise in popularity of smart speakers can be directly linked to the growing popularity of smart home devices. Smart speaker voice assistants are manufactured to connect with other smart devices, allowing the owner to control all of their home appliances by their voice, rather than turning each appliance on manually.
Despite the convenience of smart home products such as smart speakers, a big concern for many consumers regarding these products are their security. Controversy has arisen regarding smart speakers "listening in" on their owners.
"Mine would turn on every night at one in the morning. Just the ring would come on, and it freaked me out because sometimes I would say Alexa and it would turn on, but most of the time I wouldn't say anything and it would turn on," explained Cobb. "[Because of that] I unplugged mine, and I don't use it anymore"
While the microphone installed in smart speakers is on at all times when plugged in, both the Google Home and Amazon Echo only record audio when their wake word is used. They can also be muted through a button on the surface of both devices.
Smart speaker users are wary of the amount of information the devices collect, though only audio recorded after the wake word is used will be stored on the device's cloud server. Audio can also be deleted manually from the cloud servers of both the Google Home and Amazon Echo smart speaker series by going into the settings on each device's companion apps.
Other items such as smart light bulbs and smart thermostats can be hacked or infected by viruses, allowing hackers to control a person's home to a degree depending on how many smart devices they have. These potential dangers cause consumers to question whether they should leave their house up to machines.
As the smart home craze grows, other world-famous companies are creating their own versions of the smart speaker. Global retailers Apple and Samsung are beginning to break into the smart speaker market, with Apple releasing their "HomePod" and Samsung planning to release their unnamed smart speaker in the first few months of 2018.