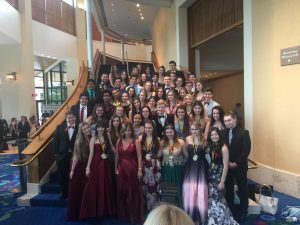 On Tues., May 22, Marjory Stoneman Douglas drama went to the annual "Cappies" gala. Cappies is an event held for drama students that takes place every year, used to acknowledge and recognize kids who participated in theatre.
This event was held at the Broward Center for the Performing Arts, starting at 7 p.m. Around 15 to 26 different schools attended this event, including MSD and Taravella.

Cappies was created after the tragedy that occurred at Columbine to reward students at the school that participate in the theatre program.
This event was purposely done to show the students of Columbine that tragedy could not define them.  Additionally, they wanted to be remembered for their school's achievements and accomplishments.
The Cappies group that represent MSD saw shows from other schools. Some of the reviews can get published. When a review is published, they are rewarded, and they recieve points.

"I thought it was a cool experience; I loved it last year when I was a freshman, but this year was special in a whole new way," sophomore Andrea Pena said. "It was a way for us to kinda escape reality, represent our school, and show everyone that even though we have experienced a huge tragedy we are still strong, and we are not going to stop doing what we love to do. It was also fun because you get to see your other friends from different drama troops."
At the award ceremony, MSD received two awards: Junior Critic, which was won by junior Alex Wind, and Best Cappies team, won by the Cappies club at MSD. The Cappies team has a reputation of winning every year.
The musical Fiddler on the Roof won multiple awards, including best musical. As a result of  this win, MSD was allowed to perform one of their musical numbers "The Dream", at the Cappies gala.
"I think that Cappies is a great experience for high school theater kids because it is very similar to the Tony awards," sophomore Ruby Harris said. "Many of us want to pursue our dreams in theater and hopefully end up on the Tony Awards one day."
The drama kids who attended the Cappies gala felt very proud of their accomplishments after this school year. This only leads the pathway for next year's gala.