Murals at MSD help create safe space and memorialize victims
Leni Steinhardt
May 31, 2018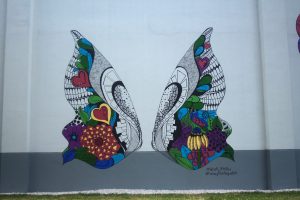 After losing one of her dearest students,  Meadow Pollack, yoga teacher Amy Kenny felt that the school needed a display that would lift up the community and memorialize Meadow and her love of yoga. Kenny then turned to Tara Montague, an artist who combines interactive art and social media to create colorful and powerful murals to not only honor  Meadow but also the 16 other fallen eagles. Each mural is accompanied by the hashtag "whatfliftsyou", which is meant to convey happiness, light and peace.
"I was on vacation in Denver last summer and there was a mural with hearts and wings and I just loved it. I took a bunch of yoga pictures in front of it and then I looked up one of her hashtags "I just thought that her message was incredible and that we needed the artist, Kelley Montague, to come and paint a mural at Douglas," Kenny said.
After the tragic events that occured, Kenny started a nonprofit called "Yoga MSD." This nonprofit sends students on yoga retreats and helps them get their teacher certifications. With the help of others, Kenny started an outdoor yoga place where the murals are located.
In this space, Montague created three murals. Each one has a special meaning and is full of bright and vibrant colors. One of the murals, a huge butterfly wing, is titled, "growing meadow" in honor of Meadow Pollack. Hovering over one of the gym doors are a flock of butterflies flying away and the third mural has seventeen colorful balloons that are dedicated to the seventeen victims of the tragic events of Feb. 14.
"I love doing projects like this because it is such a wonderful community and I am in awe of the Parkland students. I also love that Amy is turning the whole area into this little haven. It is a honor to come and create art in a space that will later become a safe space," Montague said. "I was in the area when Columbine happened. I know how much strength and power there is in community so I wanted to come out and support in any way that I could."
The hashtag "whatliftsyou" was first created three years ago when Montague was invited to create a piece on a rotating art wall in New York. She wanted to do something that was powering, uplifting and would use social media in a good way. So she added the hashtag.
"I had no idea the reaction it was going to get and it was really was amazing when it went viral. Taylor Swift and a handful of celebrities stood with it which was really great because it really got the word out there," Montague said. "Me and my sister now travel the world and we create these large interactive murals and my work is always inviting people to step into the piece. It uses anything that's uplifting and inspiring and that's pretty much how I got started with street art."
Many students quickly took notice of these murals, posting to social media accounts on Instagram and Twitter.
"I first saw the murals on Twitter. I haven't had the chance to take pictures in front of it yet, I thinks it's nice to see more than just white and grey walls everywhere. It's really amazing how much the message truly embodies our school," sophomore Jordyn Hersh said.
One of the more popular murals, the butterfly wings, quickly became a popular post to see on instagram. Many students stood in front of the wings when taking the picture to make it seem that they too had wings. According to Montague, the wings represent strength.
"I love the butterfly wings because it's for Meadow. I told Kesley about Meadow and the mat we had laid out for her. So when she created those wings, it had a lot of meaning for me," Kenny said.
Montague requests that when students or faculty take pictures in front of the mural they use the hashtag in their captain to spread the word. Both Kenny and Montague hope that these murals create a safe space for students and memorialize the seventeen victims in the best way possible.