Samantha's Library promotes literacy among children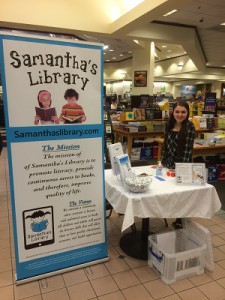 Gillian Marton
December 1, 2015
Samantha's Library, a sanctioned non-profit organization created by junior Samantha Schneid, works to increase literacy rates among children by raising money in order to buy and collect books.
"Right now we're in our initial stages of the organization" Schneid said.  "Our immediate goal right now is to raise money to donate books to children who don't have access to them or to children hospitals."
The organization has targeted specific counties in the South Florida region to maximize the effectiveness of the organization's goals.
Schneid hosted her first event at Barnes and Nobles where the profits from that night were put towards her charity. People also gave book donations, contributing to the success of the event.
"The goal was to host a kickoff event to get the word out about what the charity's goals," Schneid said. "We set up a table at the front of Barnes and Nobles with flyers and a poster. While we were advertised, people would come in to donate and buy books."
Barnes and Nobles used the charity event to bring in customers; this was measured by a percentage of the Barnes and Nobles' profits from that night.
"The money we have right now is in the Samantha's Library bank account and we're going to spend it on books and nooks for children who don't have early access to those things."
"It was exciting to see my friend start an organization for such a good cause," junior Abby Brafman said. "I was at the Barnes and Nobles event and the turnout was great. Everyone was buying books in order to give to the charity".
Anyone who donates to the charity until Dec.15. will be entered into a raffle to win two tickets to the upcoming Billy Joel concert.
According to Schneid, a fundraising event at Barnes and Nobles located Boca Raton is in the process of being coordinated.
As Samantha's library progresses, literacy rates will increase, providing kids with a stable education and bright future.
Visit their website for more information.
http://samanthaslibrary.com