Principal Michelle Kefford accepted into the BCPS Hall of Fame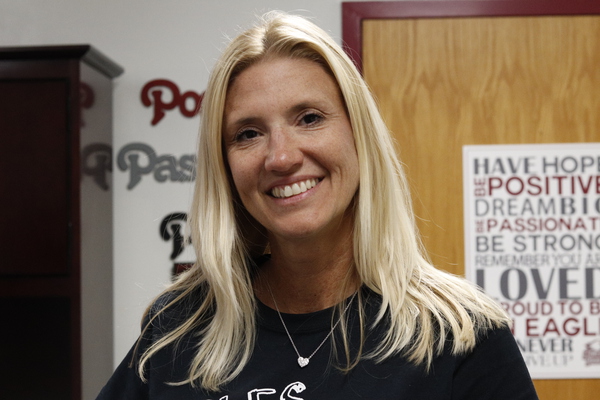 Ivy Lam, Senior Feature Editor
September 30, 2019
On Wednesday, Sept. 18, Michelle Kefford, Marjory Stoneman Douglas High School's new principal, was honored for her acceptance into the Broward County Public School's Hall of Fame. Previously, Kefford was recognized as Florida's 2019 Principal of the Year for her work at Charles W. Flanagan High School in Pembroke Pines.
"I was very excited, very honored. I was nominated for the honor, about a month ago. And I received notification, I guess, about two weeks ago, that I had earned the recognition," Kefford said. "And it's actually very cool what they do, they recognize you, they have a very nice breakfast and you come with your family or your colleagues. And then you get a star on the Walk of Fame, which is right in front of the school board building in downtown Fort Lauderdale." 
A special breakfast is included for recipients of the honor. The Publix Supermarket Charities Hall of Fame breakfast is presented by Memorial Healthcare System and recognizes Broward County Public School alumni who have made significant contributions to the community. This breakfast will be held on Friday, Oct. 11, at 7:30 a.m. at Global Grille in Fort Lauderdale, Florida. Following the breakfast, guests are invited to BrightStar Credit Union's Walk of Fame honoree star unveiling at the KC Wright Administration Building.
"It's very humbling to be recognized for the service that you do and the work that you love to do. I love what I do, so it's very rewarding to be able to be honored for doing something that you love," Kefford said. "So it's just a great organization [Broward Education Foundation] that I have, and we'll have through this … an even better relationship so that we can help support our schools, especially Marjory Stoneman Douglas."
Since 1999, Kefford has been apart of the MSD community; first, as a biology teacher. Students and teachers alike have agreed she's the right person in the right place. 
"I would describe Principal Kefford as a person who's very excited to come to work each day,"  senior Rachel Nattis said. "I worked at the school over the summer and from the minute she stepped into the door as principal at [Marjory] Stoneman Douglas [High School], she was excited to be here and wanted to make the most of her experience and wanted to make sure that each student has fun at school."
Fellow MSD co-workers have commented on Kefford and her many achievements. She has been praised for her impact and contribution to Broward County, as seen by her acceptance into the BCPS Hall of Fame.
"It wasn't a surprise to me that she would win something [BCPS Education Achievement Award] like that," Office Manager Liz Arata said.
Kefford's dedication and perseverance has been witnessed a multitude of times by her staff. Her appearance at MSD has introduced opportunities to bond with her staff members through events such as Mid Week Muffins with Michelle, which provides coffee and muffins for staff before and after school.
"Principal Kefford is an amazing woman that is always out there for her students. She does everything she can for her staff and for her administrative staff. She is just truly a wonderful, wonderful human being," Assistant Principal Jay Milmed said. "As an assistant principal, I've worked very closely with all of my principals but with Ms. Kefford, it's just something about it, we just click, we get each other, we understand each other. And after nine years, she's probably one of my best friends."
Earlier this year, Kefford became Florida's 2019 Principal of the Year and her acceptance into the prestigious Hall of Fame is only another addition to potential achievements in the years to come.