MSD varsity football claims victory in long-awaited Pig Bowl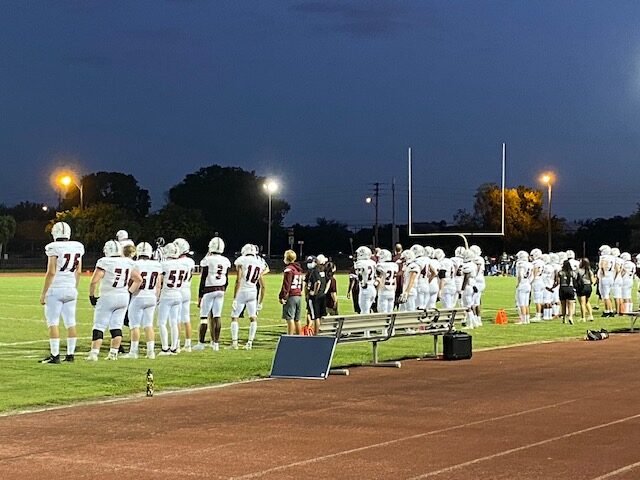 On Thursday, Oct. 29, the Marjory Stoneman Douglas varsity football team headed to Coral Springs High School for a long-awaited season kickoff after being postponed due to COVID-19.
Coaches, players and fans were eager to start the shortened season; moreover, the game against Coral Springs High School would be the first of four regular-season games. With limited attendance and safety precautions in place, the first game of the season would be different than those of previous years. However, the MSD Eagles were still just as motivated to secure a victory.
Thursday's game was known as the 30th annual Pig Bowl, where the Eagles and Colts battled out their rivalry on the football field. The game was also a "white-out," in which MSD students attending the game were encouraged to dress in all white to show their support for the team.
Kickoff struck at 7:00 p.m. with the Coral Springs Colts receiving the ball and claiming the first possession.
The Eagles took control early on, with a second quarter touchdown caught by wide receiver Hervin Louis (3) giving MSD a 7-0 lead and the first score of the game.
Later in the second quarter, the Colts scored a touchdown of their own, but missed the extra point, making the score 7-6 which put pressure on the Eagles.
Almost immediately after, the Eagles put the final points on the board with another touchdown from running back AJ Darring (26) giving the Eagles a 14-6 lead. They held this score until the end of the game.
Darring was a standout player of the game as his touchdown was among many rushes and catches he made to help put the Eagles on top.
"I've been waiting to show off my talent. I've been thinking about that my whole season and my whole career. From ninth to tenth to eleventh grade, I didn't get to play much, but I got to play this year. That's what I was looking forward to," Darring said.
With the second half of the game being a difference of 8, the Eagles were looking to secure their victory. Luckily, a huge play was made by defensive back Jaydin Fernandez (2), who made a critical interception in the fourth-quarter. The Eagles defense held strong in the second half to secure a victory.
As the Eagles held the Colts to 6, the Eagles celebrated their victory. However, the Eagles still had a lot to prove, with the team only scoring 14 total points.
"Defense held it down, but the offense has to do their job. We gotta tighten up," Louis said.
The Eagles finished the Pig Bowl victorious, setting their record to a favorable 1-0.
The Eagles are looking towards their next game which will be at home against Coral Glades High School on Thursday, Nov. 5 at 6:30 p.m.