9/11 Ceremony impacts students
Lauren Blodgett
September 13, 2016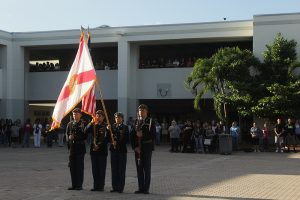 On September 9, during second hour, students of Marjory Stoneman Douglas High School gathered for a commemorative assembly to honor the 15 anniversary of 9/11. The event took place in the school's main courtyard, packed with students both upstairs and downstairs. Nearly half of the school attentively listened to administration and police enforcement as they discussed the the acts of terror committed that fateful day.
While a ceremony honoring 9/11 occurs annually at MSD, Assistant Principal Denise Reed organized this year's event with increased intent; she did such to assure remembrance on the MSD campus. As the student body at MSD becomes younger with each year, their distance from the tragedy grows. Thus, Reed hopes to remind students to never forget 9/11, regardless of the increasing proximity to the event.
"[America] is the greatest place in the world to be," Reed said. "Whether you were involved or not you still remember where you were at that moment, and those emotions [of patriotism] were running through your mind."
The event began with a quick moment of silence to pay tribute to the lives of those who died in 9/11. Then, senior Karina Diaz preformed the national anthem. While the courtyard was filled with students, all those in attendance remained quiet through these proceedings as if to show respect. Following this, the JROTC color guard, led by senior Kenny Lassiter performed the progression of the flags. Then, Police Officer Bradford Peterson spoke.
"It isn't just about the citizens we lost but also the heroism that was shown" Peterson said.
Peterson also discussed Richard Wentz, former resource officer at MSD. Wentz was a retired member of the New York City Police Department who helped victims out of the World Trade Center on Sept. 11, 2011. He passed away a few years ago from cancer, a result of "first responder effect." Although the volume on Peterson's microphone was low and it was hard for many to hear what he was saying, students stayed silent to hear hear Peterson's reverent discussion of Wentz.
Both students and staff members alike were visibly effected by the assembly.
"It definitely touched students to hear people talk about it," Senior Alyssa King said. "It's a great way to pay our respects to those who have passed, and to always remember it since it's a part of history."
As the nation came together on that September day, so did students and staff of MSD. As seen at the ceremony for remembrance of 9/11, this devastating day will remain forever in the hearts and minds of the students and staff that make up MSD.