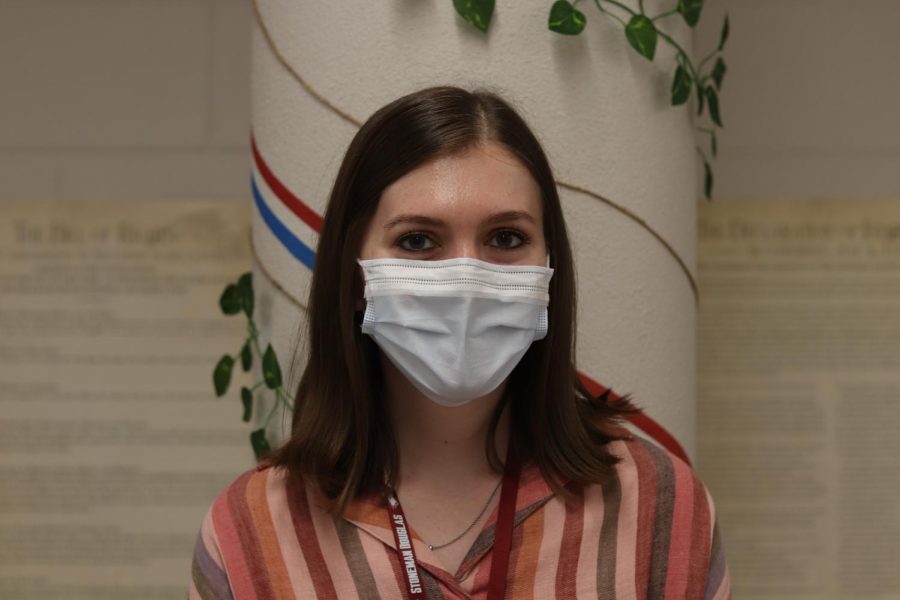 From social science to sticker incentives
Why be boring when you could give out stickers? This is the approach of Sofia Capezza, one of the several new teachers to join the eagle nest at Marjory Stoneman Douglas High School this year, as a social studies teacher.
Originally majoring in political science at the Florida State University, it is not surprising that Sofia thoroughly enjoys teaching social studies and politics to the next generation of voters and leaders in this country. After discovering she craved more direction with her career path, Capezza strove to earn her bachelor's degree in social science education to become a teacher. Capezza currently teaches both world history as well as government and economics for 10th and 12th grade.
When asked why she was inclined to apply for a teaching position at MSD, Sofia reflected on her days in high school and her acquaintances' opinions on our school.
"..The esteem around Douglas when I was growing up was like it was the best school in the entire district…all the good kids went there, all the smart kids went there, they would win all the sports games, their DECA members won all the trophies," Capezza said.
Sofia and her schoolmates at Coral Glades High School always thought very highly of MSD and the type of people who attend school there, making her job at MSD just that much more exciting and fulfilling.
Outside of the classroom, Florida native Sofia Capezza, is one of our youngest in the nest and enjoys a multitude of activities such as spin classes, cooking, arts and crafts, and painting. Capezza's young and modern lifestyle choices are not only displayed through her hobbies, but also her teaching style and habits.
"..Being young myself, I would like to think that I'm a little bit relatable to some of my students," Capezza said. "And I also think that I can help them see different perspectives that some of their other teachers may not be able to give them."
Capezza's bubbly and upbeat personality does not disappoint when it comes down to classroom activities. One of the more unique aspects of her classroom, compared to that of most high school teachers, is an incentive reward system prized through the means of stickers.
If observed doing a good deed in Capezza's class, a small sticker will be rewarded. Once a student acquires five tiny stickers, they can trade them in for larger vinyl stickers that can be adhered to a water bottle, binder, or computer for decoration, or if students do not favor stickers, they get to choose the before-the-bell music. If a student trades in 10 stickers, they can earn a homework or deadline extension pass. Finally, if a student trades in 15 stickers, they get rewarded five extra credit points on a test.
Although childish, Capezza believes this method of rewards helps motivate the students to work their hardest, especially the first year back to in-person education. It is clear that Capezza truly values group activities and has a focus set on the most human interaction possible.
"Everybody was very welcoming, even during planning week before school even started, I felt very welcomed by the social studies community and department," Capezza said. "Everyone was willing to help out if I needed anything. I love being at Douglas and having my own classroom and everything I worked for in college finally come to fruition."
Although the transition from virtual learning back to in-person learning has been hard on every teacher in the Eagle's nest, Sofia and all the other novice Eaglets this year have the full support of the teachers, students and staff here at MSD.