Broward leads the way with mask mandate
With many students starting school in-person this fall, the debate on mask mandates and recommendations is being had by many across the country. Florida has seen an exponential increase in COVID-19 cases, hospitalizations and deaths. On Monday Aug. 23, Florida reported a total of 42,143 COVID-19 cases. With a steady increase in cases, many school districts were faced with the decision of whether or not mask mandates should be put in place in their district.
On July 27, the Center for Disease Control (CDC) and the American Academy of Pediatrics announced a recommendation for masks to be worn by all students, staff and visitors regardless of their vaccination status.
The following day, the Broward County Public Schools Board voted in favor of a mask mandate on all school campuses and school board property for all students, staff and visitors. The board's decision to mandate masks made them the first in the state to take this stance.
On July 30, in response to the School board's decision, Florida Governor Ron DeSantis issued Executive Order 21-175 with the goal of establishing "Parents' Freedom to Choose – Mask in Schools."
"​I feel the majority of students, staff and visitors have done a great job complying with the mandate," Marjory Stoneman Douglas Assistant Principal Tariq Qaiyim said. "Those that are not in compliance have complied after a gentle reminder."
In his order, Gov. DeSantis states that "despite recent CDC 'guidance, forcing students to wear masks lacks a well-grounded scientific justification." Gov. DeSantis also mentions the state's ability to withhold specific state funds from district school boards if the State Board of Education determines any district to be "unable to comply with the law."
After announcing his plan to withhold board member salaries as well as Superintendent salaries, many questioned Gov. DeSantis' power to not pay employees. Gov. DeSantis has now explained that while he cannot withhold the salaries of Board members and Superintendents, he does plan to withhold the exact amount of salaries from district funding which would put the district under pressure to find funding elsewhere.
"If you listen to some of the stuff that's being percolated around the CDC, there's a movement to try to impose more restrictions on the American people," Gov. DeSantis said in July during a speech in Cape Coral, Florida. "I just want to say in Florida, there will be no lockdowns. There will be no school closures. There will be no restrictions or mandates in the state of Florida."
On Aug. 10, the Broward County Public Schools Board upheld their original decision to mandate masks on all school board property for students, staff and visitors with the intent of revisiting their decision after Labor Day.
"I believe the mask mandate has made me feel a lot safer in the school," Marjory Stoneman Douglas senior Landon Reuter said. "Although I am vaccinated, I truly believe that masks are helpful and [they] ease my mind and stress about contracting this deadly virus."
Once many school districts decided not to comply with his executive order on mask mandates, a collection of parents sued DeSantis claiming his order was unconstitutional. After a four day deliberation, on Friday, Aug. 27, Leon County 2nd Judicial Circuit Court Judge John Cooper ruled Gov. DeSantis' executive order did not have standing. Judge Cooper cited the CDC as the "gold standard" in reference to the evidence presented in trial that outlined the CDC'S recommendation of universal masking of students and staff regardless of vaccination status.
A statement was issued from DeSantis' spokesperson which established their plan to appeal the Judge's decision.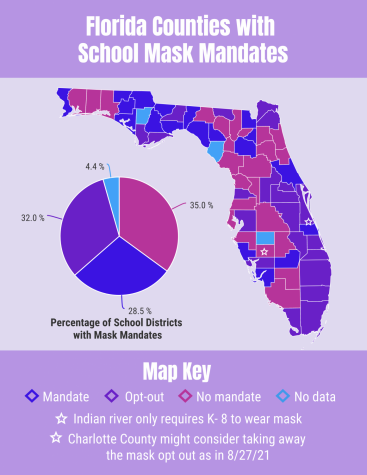 After Broward County Public Schools decided to put a mandatory mask mandate in place, many districts across the state followed. With Florida continually breaking COVID-19 records, many hope these mandates and recommendations will help slow the spread of the virus.
Similar to Broward County Public Schools, Alachua County Public Schools also put a mandatory mask mandate in place for the first two weeks of school. Currently experiencing high COVID-19 rates in each county, both school districts will keep their mask mandates in place.
Miami Dade County Public Schools has a mask mandate, however it does allow parents to opt their students out for medical reasons. Duval County Public Schools district strongly recommends masks but also allows parents to take an opt-out for their student. Currently, 4,700 Duval County Public School students have opted out of wearing a mask.
After starting with a mask optional policy on Aug. 10, the Palm Beach Schools District had 224 confirmed COVID-19 cases only seven days later on Aug. 17. With a steady increase in cases, the Palm Beach County Schools District replaced their mask optional policy with a mask mandate starting on Monday, Aug. 23. With their new policy, only disabled students and students with a 504 plan are eligible to opt-out.
Similarly to Palm Beach School District, Leon County School District also started with a mask-optional policy, allowing parents to fill out an opt-out form for their student. With a rise in COVID-19 cases within the district, Leon County School District has reverted to a mandatory mask mandate for students grades K-8, exempting High school students because of their access to COVID-19 vaccinations.
Hillsborough County Public Schools first "strongly recommended students to wear masks" but quickly changed their decisions after making national headlines for having over 5,900 students and staff in quarantine for testing positive for COVID-19 or isolating because of exposure to someone who is positive. Hillsborough County Public Schools put a mandatory mask policy for students and staff in place starting on Wednesday, Aug. 18 for 30 days.
Orange County Public Schools was the most recent school district to put a mask mandate in place. On Tuesday, Aug. 24, the board decided a mask mandate would go into effect starting Monday, Aug. 30, for 60 days. Parents will have the option of filling out a medical exemption form for their student.
Consequently, many school districts have decided to revisit their position on mask mandates throughout the fall or as necessary.