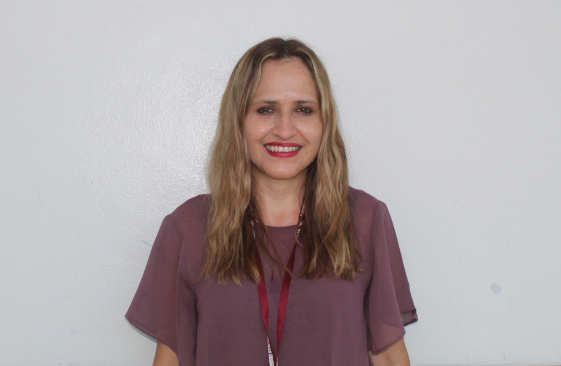 For the love of language
New teacher Luz Aguirre passes on her love for Spanish culture to her students
For several students walking past the 900 building located across from Marjory's Garden, a colorful door full of Spanish facts may catch their eye. Located in Room 908, this insightful door belongs to Spanish teacher Luz Aguirre. Despite being a new addition to the Marjory Stoneman Douglas High School family this school year, Aguirre has already adapted to her new environment.
Aguirre moved to Florida from Colombia 12 years ago. Prior to her arrival at MSD, she taught at a Colombian school called Las Palmas in which she was introduced to the education field and to a youth community she taught for eight years.
"I became a teacher because I like interacting with students and helping them learn new information," Aguirre said. "Compared to Colombia, I now have the tools I need to make the class more technological. It is easier to connect to students through email or Remind."
Aguirre graduated from Nova Southeastern University, a private institute located in Fort Lauderdale-Davie, Florida. She graduated with a master's degree in Advanced Placement Spanish Literature, enhancing her industry expertise and credibility. Her love for Spanish culture, such as with social and historical lens, encourages her to share her knowledge and skills with her students.
Spanish culture is well known for its performing arts (music, dance and song), tourist attractions, traditions and much more. With a true Spanish background, consisting of real-life experiences and memories from her life in Colombia, Aguirre is specially equipped to share her unique observations and judgments in the classroom.
"My favorite part of this job is when I can teach kids the beauty of the Latino culture," Aguirre said. "Students should see the classroom as a fun room, not a room where they are forced to learn something for the sake of grades only."
Aguirre applied to MSD because she wanted to make a difference within the lives of the student body. Her main motivation for entering the education industry and for continuing to work hard as an educator is to make her students happy in the difficult world we live in.
"My experience at MSD has been positive. It has been a great honor and opportunity for me," Aguirre said.
Moreover, Aguirre maintains a work-life balance by taking frequent breaks. She ensures that her mental health is taken care of by logging off her computer often to enjoy quality time with her family.
"I enjoy traveling, walking my dog, and sleeping," Aguirre said. "I love spending time with my husband, daughter, and two pets."
Although in-person learning has only recently returned, the influx of students throughout the school has improved the attitudes and mentalities of both students and teachers alike. Although it is her first year at MSD, Aguirre anticipates passing on her love for Spanish culture to her students through entertaining discussions and informative lessons.