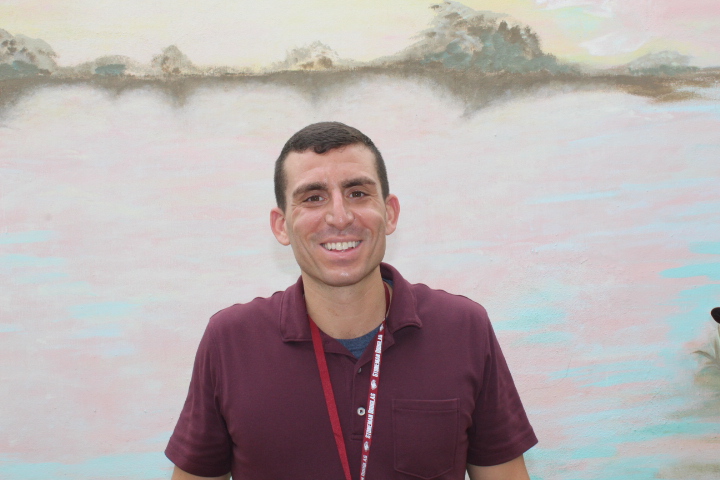 Jack of all trades
Jeremy Melito, life long teacher, native New Yorker, aspiring assistant principal, and self proclaimed athlete, is the Social Studies Curriculum Support Specialist and one of the newest members of the Marjory Stoneman Douglas High School staff. 
Melito was recommended to the job by an old professor for the purposes of gaining leadership experience outside of the classroom. Though Melito's official assignment at MSD is to see to the needs of the Social Studies department, he is expected to substitute for teachers on occasion. 
"They [the students] can look to me, and I might not have the answer to every single question they have,  however, they can count on me for extra help, extra resources, whatever it is they need," Melito said. "I just want them to know that they can go to me for extra help if they need, or whatever they need." 
Melito first began his teaching career overseas in Spain for a year. He then proceeded to teach for four years in Thailand before coming to the United States to teach for six years at Pompano Beach Middle School. Melito has landed comfortably into the Eagles nest, not as a teacher, but as an aspiring Assistant Principal.
Due to an overwhelming workload that often requires him to work all seven days of the week, Melito does not have a lot of free time outside of school. On the rare occasions that he does find a moment of respite, Melito enjoys traveling. 
"I love to travel, you know? It's like my main thing. Whenever I get the chance, I go travel somewhere," Melito said. 
Melito's huge sense of adventure has resulted in an impressive travel record of 33 different countries including Spain, Thailand and many more. One of the things keeping Melito's adventurous spirit in South Florida is the beaches, though he doesn't get to enjoy them very much due to work and COVID. 
Melito keeps himself occupied with exercise, stating a particular enjoyment for bike riding. Additionally, he likes to cook and even worked in restaurants when he was younger. 
Melito, being a new staff member, does not have a lot of experience with the MSD environment. Despite this, he  has been able to identify a very important element of the school as his favorite.
"The kids. [The kids have] been really awesome and, of course, the staff here. Everybody's just been great and so supportive," Melito said.
Melito and his colleagues expressed concern about him not being an official teacher here at Douglas, saying that he might not be able to connect with the student body as well if he's a part of administration. Fortunately though, he has had a saving grace in the form of student forgetfulness. Thanks to the large number of students regularly forgetting their IDs, it has resulted in them going to the office for a temporary one, allowing Melito to find many students to connect with. 
"People are like 'oh it's kinda tough  being out of the classroom because you're not gonna have the opportunity to be around the kids', and I thought about that for a second. You know I kinda spent the last ten years or so in the classroom, but no! I think I met all you guys at the IDs in the morning, and I already know names. It's been really awesome," Melito said.
Melito hopes to connect with students in the classroom, and not just from the frustration of the front gate but through many other avenues at MSD.