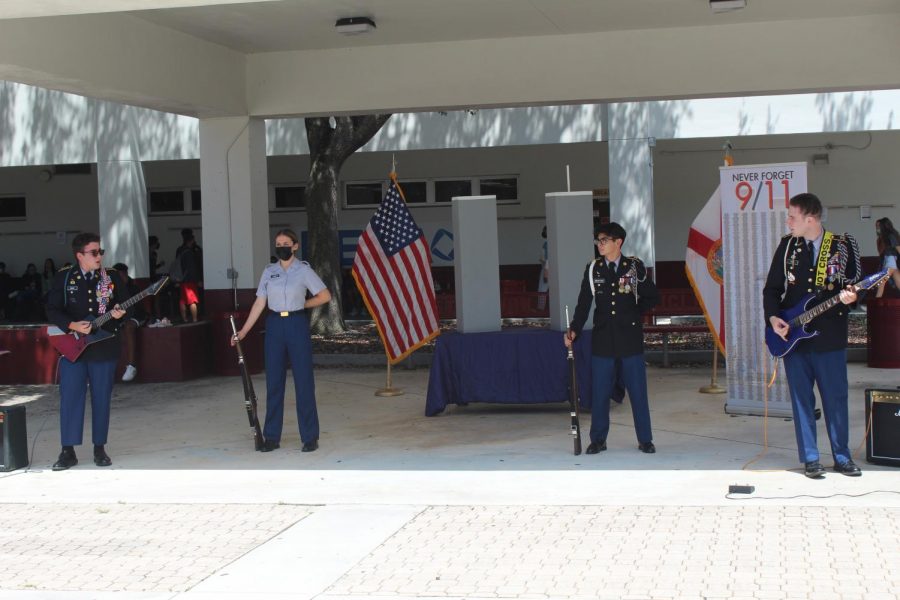 20th anniversary performances during lunches honor lives lost on 9/11
The lives lost on the Sept. 11, 2001 tragedy were honored by Marjory Stoneman Douglas High School throughout both A and B lunches with moving performances. Following tradition from previous years, these events were organized by MSD's Junior Reserve Officer's Training Corps (JROTC) program. 
As the memorial evolves throughout the years, this year's newest addition included the playing of the national anthem on electric guitars by Battalion commander Christopher Krok and s4 Cadet Captain Mason Wank. 
"The national anthem was [JROTC's] idea this year," Krok said.
While no MSD students were born yet on Sept. 11, 2001, school staff members are still haunted by that day and strive to live on the legacy of all those who lost their lives.
"None of the students were alive on 9/11, but we [will] never forget what happened on 9/11, because it absolutely impacted not only our country, but the entire world," JROTC teacher and Colonel Mark Anders said.
Before recently joining MSD staff, Anders served in the military for 20 years and was deployed to Iraq for three and a half years, allowing him to recognize the impact and prevalence of the tragedy itself.
"The importance is [the memorial] to ensure we don't forget what happened," Anders said. 
Honoring the lives lost on 9/11 each and every year ensures its memory is never forgotten.