More Stop Than Go
Return to physical school and influx of new students magnifies traffic problems on roads in and around campus
October 29, 2021
It's 7:15 a.m. The air is cool but the humidity has already kicked in. The sun has only just come up, but the roads are filled with bumper-to-bumper cars. This is a normal morning at Marjory Stoneman Douglas High School, where the perfect storm forms twice a day.
This story was also reported on by WMSD-TV News.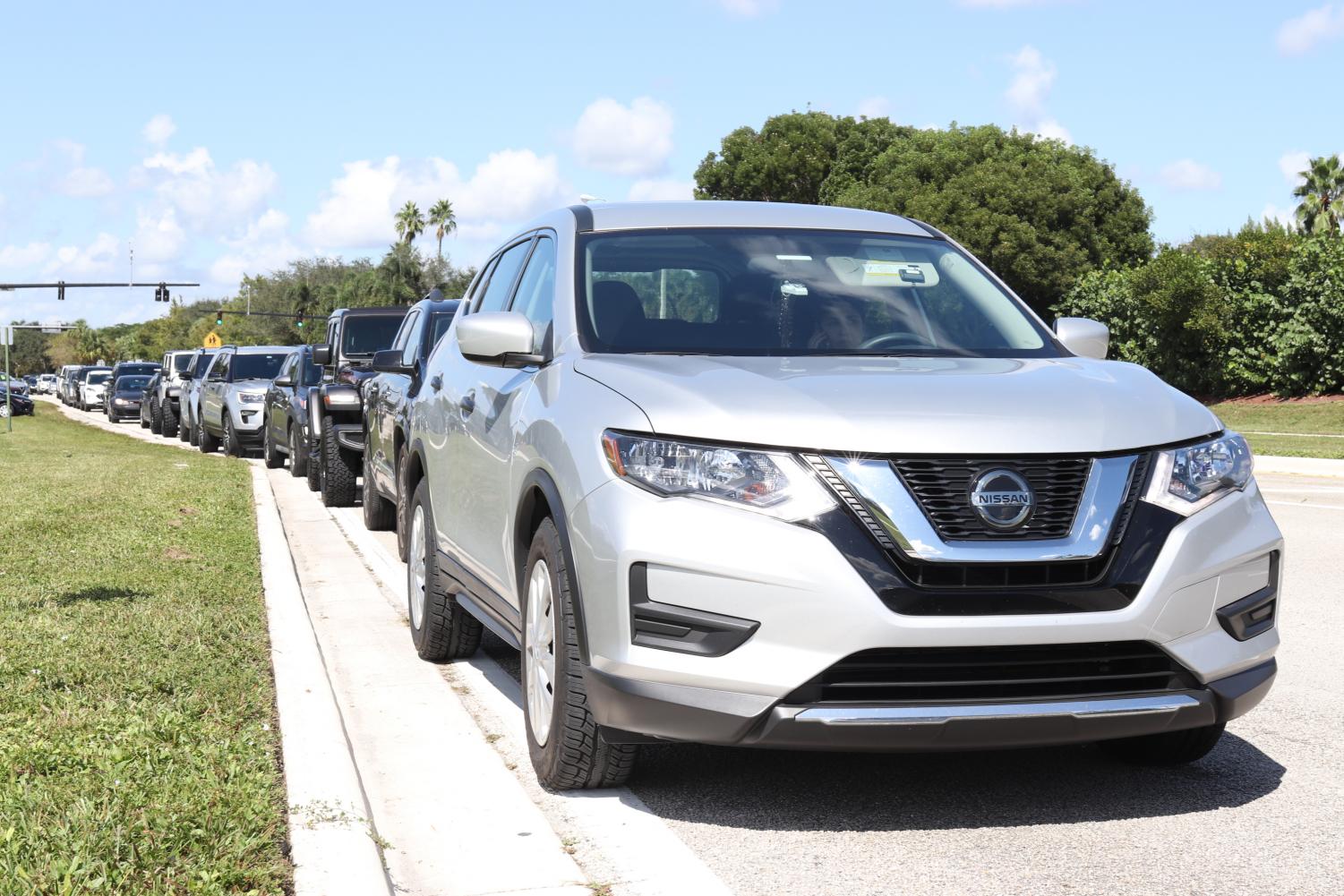 Stagnant Streets
With over 225 more students enrolled this year compared to last year, a vast increase in the student body translates into overcrowded classrooms, hallways, buses and streets. According to a survey of 380 MSD students, around 22% of students get dropped off through the school's car line, 24% park in the senior and junior lots and 19% ride the bus.
With the ongoing COVID-19 pandemic, an increased number of parents have resorted to taking their child to school, instead of allowing them to ride the bus or carpool with other peers. This, of course, causes an increase in the number of cars in the car drop-off line as well as an increased number of cars occupying roads near MSD.
Additionally, with the vast majority of students not attending physical school for the 2020-2021 school year, some parents, as well as the parents of freshmen and transfer students, are unfamiliar with the routine of transporting their students to school.
"I think it's a combination of more students and parents and students, [and] being off for a year and a half, not remembering or realizing how bad it gets, and that's just going to take time to work itself out," Assistant Principal Jay Milmed said.
More than 72% of students agree that there is a lot of traffic around school, both before and after school.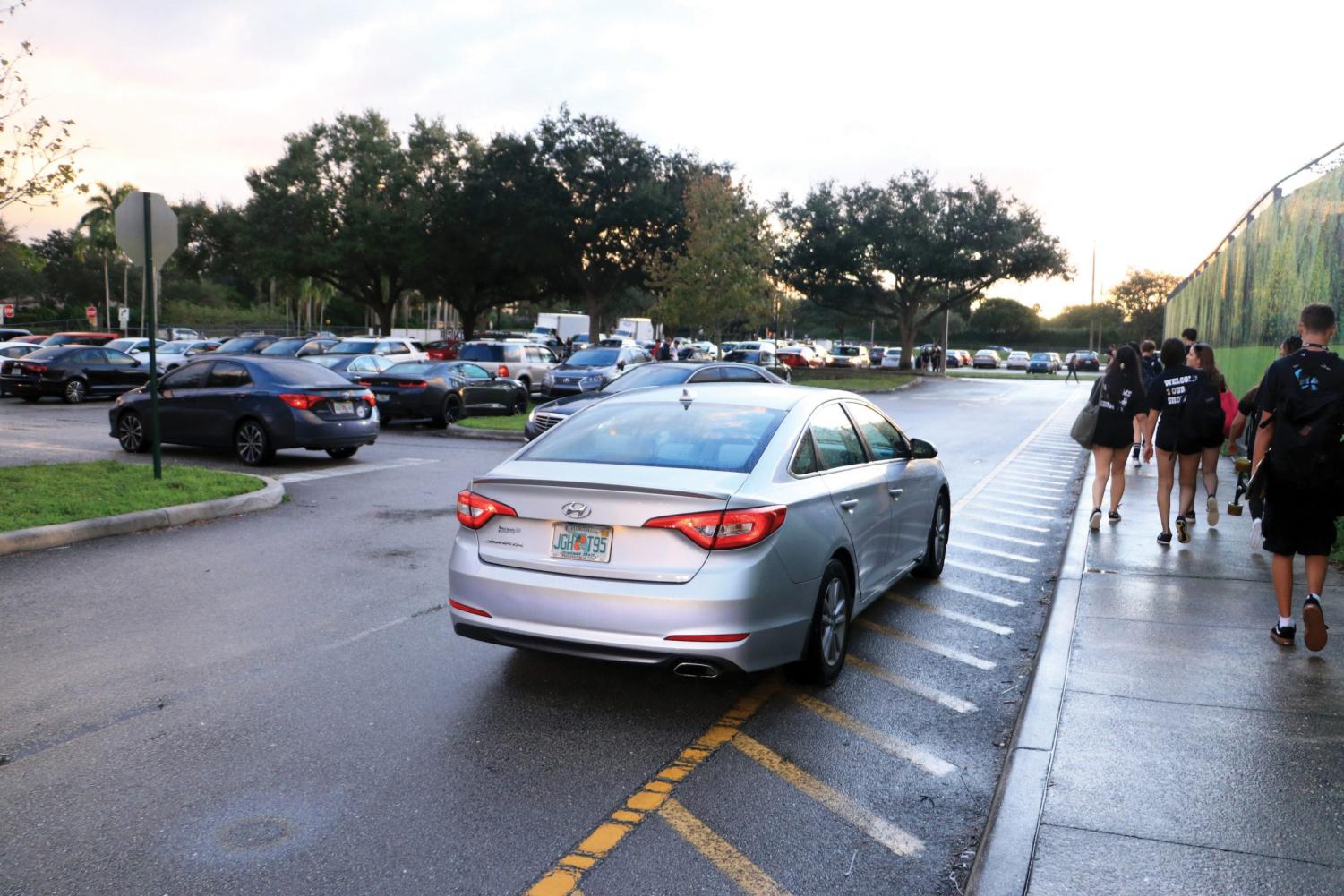 Darian Williams
Morning Mayhem
"The traffic in the morning is very hectic. I have to leave my house 45 minutes before school starts, to then wait in the line for 25 [minutes]," sophomore Arlanni Velez said. 
The main way parents themselves drop their students off in the morning is by utilizing the car line. Once inside the gate, parents and students are directed by Principal Michelle Kefford and Broward Sheriff's Office Deputy Dean Seymore. Situated on a fairly small landscape, the car line fills up quickly, pushing the surplus of waiting cars onto the main road.
Besides the small capacity of the car line, buildup is also caused by a lack of efficiency from both parents and students within the loop.
"[Staff] is trying to move cars forward, and kids are taking 3, 4, 5 minutes to get out of their car by taking their book bag and [going] to the trunk; if everything is ready and you just hop out of the car, traffic will move faster," Milmed said.
About 52% of car line students state that it takes them more time to get to school than in previous years. Roughly 62% classify the car line's efficiency as "well" and about 33% rate it as "poor," leaving only around 5% calling it "efficient."
Immediately next to the car line is the bus loop and teacher parking lot. Due to their close proximity to the car line, their turning lanes and entry points often become mixed with parents' cars, resulting in slow entry to the school by buses and teachers.
"In the morning, usually around 7:05 or after, it gets really busy on Pine Island heading north, because there's the drop-off line in the front, and then the teacher lot, [which] causes a large back-up, so [my husband and I] usually get stuck in traffic trying to turn into our parking lot," English teacher Andrea Kowalski-Rospierski said. 
The intersection at Pine Island Road and Holmberg Road serves as the central hub for getting to school. Located between the car line, the senior lot and the three closest residential neighborhoods, it becomes very easily congested with parent drivers, student drivers, buses, regular citizens and walkers and bikers crossing the street. It also proves to be a consistent place where parents drop their children off in places besides the car line.
"It is a little dangerous, depending on where they get dropped off. If they get dropped off along the sidewalk and stay on the sidewalk, it's not bad," senior Gabriel Tio said.
With the many newfound tensions clogging up MSD's transportation network, more parents than ever have chosen to use questionably-permissible methods when it comes to bringing their students to and from school. Both before and after school in previous years, parents have utilized the nearby Walmart parking lot to drop-off and pick-up their children. However, this year parents have found spots closer to campus, like turning lanes in the intersection and the side of the roads.
About 20% of students get transported in a car but outside of the car line, with approximately 61% of those being dropped off on the side of Pine Island Road and Holmberg Road in the morning and about 36% being picked up on these roads after school. Other hot spots include the junior lot and the adjacent North Community Park, and the aforementioned Walmart lot. Additionally, some students get picked up a different way than they get dropped off, and vice versa, like through the car line, bus loop or getting a ride with a friend.
This tactic not only severely bottlenecks traffic by causing numerous temporary roadblocks per day, but is also frowned upon by MSD administration.
"You should not be dropped off on the side of the road anywhere. You shouldn't be dropped off at Walmart; [parents] just need to get through the [car] lines faster," Milmed said.
A recent change has been made to the junior lot in the mornings: the entrance gate closest to MSD is now closed. A BSO officer monitors the entrance to the other gate, located farther away from the school on Westview Drive, only admitting those with an MSD parking pass. This change was made in an attempt to prevent those who have not paid for the privilege to park in the lot from parking there for free. 
This has proved heavily disruptive to traffic flow in the junior lot area. There is now a large line that forms to enter the lot, and also some students who were dropped off by their parents within the junior lot now are dropped off on the side of the road. 
The severe traffic in the morning regularly causes many students to be late to their first classes. 
"A lot of students show up to school late because of the morning traffic and the tardies are unexcused which creates a problem with their attendance," senior Sophie Etchevers said.
While announcements are made when buses are late so that bus-driven students are excused from getting what would otherwise be tardies, other students may suffer at the hands of the now notorious traffic.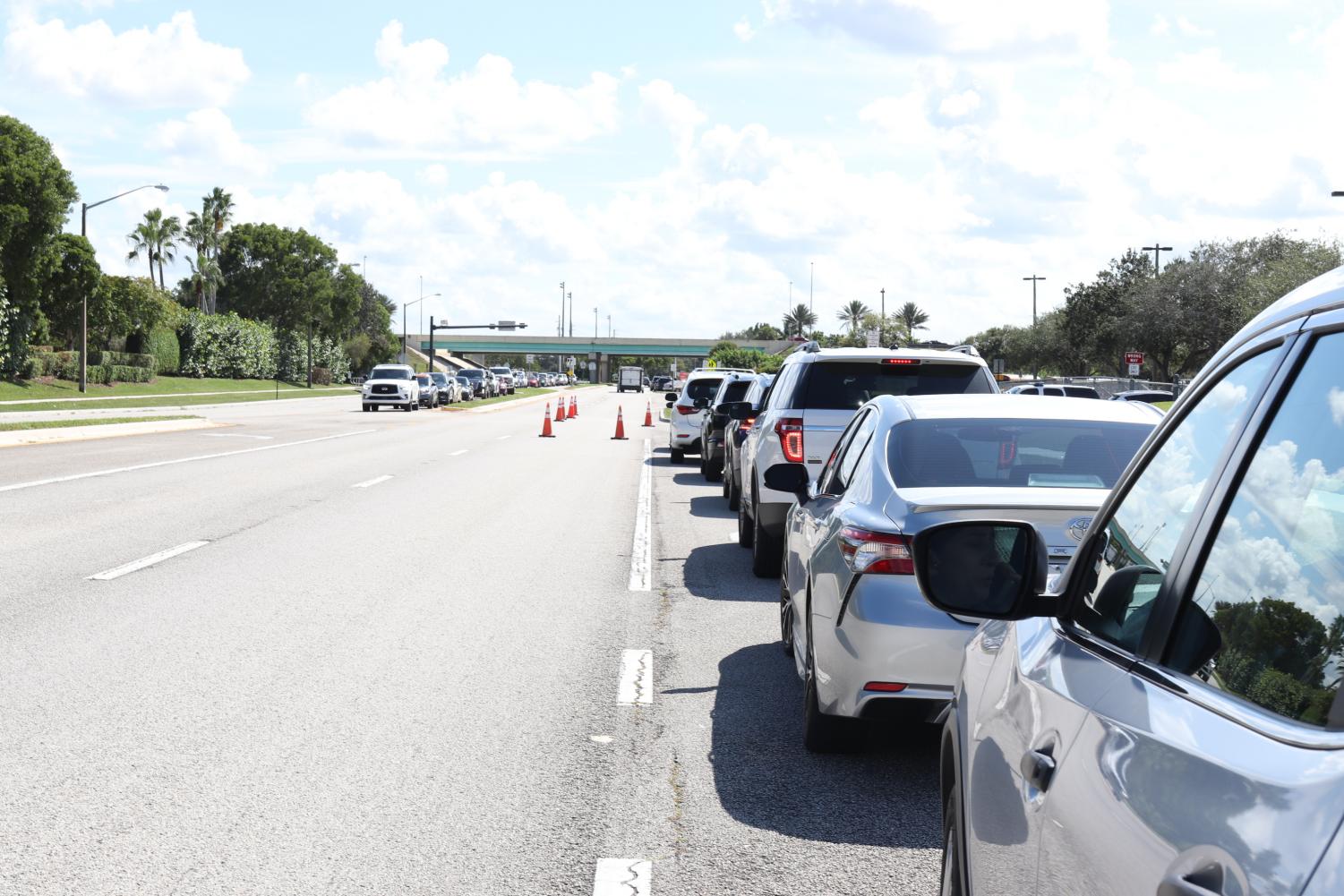 Two-lane Maze
At dismissal, students file out of class to the senior lot, junior lot, car line and bus loop in hopes of getting ahead of the crowd. The formation of the car line begins well before the dismissal bell, causing major congestion at the Pine Island Road and Holmberg Road intersection.
Similar to the morning, some parents choose to pick up their students on the side of the road. However, since parents need to wait for school to end, they often park themselves along the road. 
Holmberg Road becomes a circadian obstacle with a long line of parents directly outside of the senior lot. The waiting parents pull to the right side of the road, allowing regular traffic to go by on the left, creating a two-lane road in what is supposed to be a one-lane road. Double the amount of cars on the road slows things down, simply because of twice the automobile volume and because cars need to slow down to make sure they narrowly avoid the stationary parent lane.
The senior lot becomes a major point of conflict in the afternoon. With hundreds of seniors trying to leave the lot simultaneously, as well as parents picking up their students on the side of the road and waiting to enter the car line, cars come both in the lot and instantly out of the lot daily. 
"It takes way too long to leave, and sometimes the traffic is so bad they make me go in the opposite direction of where I live," senior Yali Har-Nov said.
To help reduce traffic, MSD and BSO allocated a school resource officer outside of the lot to direct exiting seniors, parents and other ongoing traffic. The officer acts like an impromptu stoplight, timing out the movement of lanes to be more organized.
After 2:40 p.m., the junior lot is host to not only departing juniors and seniors, but also parents picking up their students. Due to the small size of the lot, it easily becomes congested with these parents, who are not supposed to utilize the lot as a pick-up zone. 
"[The junior lot] is very hectic and kind of dangerous. There's always somebody about to run into someone else because pathways get blocked off by parents," junior Gabriella Reiss said.
Like other traffic issues this year, stoppage in the junior lot is not a new issue, rather one that has been multiplied by hundreds of new students and a lack of familiarity.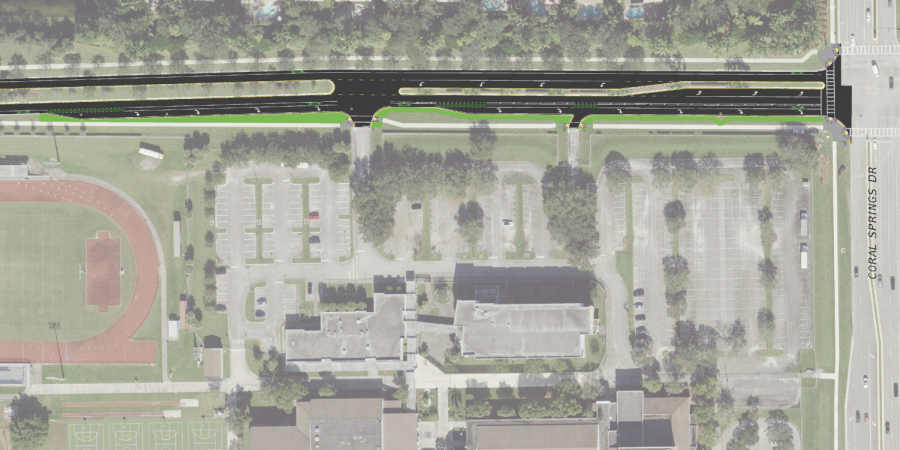 FDOT
End of the Road(blocks)
Due to the severity of the situation and the frustration it causes, many have proposed solutions to alleviate the traffic problems around campus. There are a variety of ideas put forward. Several survey respondents suggested making a second car line, which would obviously need to be constructed, but would theoretically move things twice as fast.
A proposed solution held by various students and staff members is to simply space out when cars begin arriving to campus. 
"The biggest thing for me is just having people come earlier. Everyone seems to like to show up at 7:25 [a.m.,] and it's going to back traffic up," Milmed said.
By more evenly dividing when parents are dropping off and even picking up their students, there would be less of a buildup spiking at specific times right before and after the school day. 
Some propose having more organization and structure to the drop-off and dismissal systems. 
"They should have more organization, like one of the gates should be for people going to the right and one for people going to the left," Har-Nov said.
About 60% of seniors say the police officer directing traffic out of the senior lot has decreased traffic, but the other 40% report increased traffic at that particular junction. Numerous survey respondents recommended simply better systems in place to manage traffic, whether that be through increased BSO officers, school security workers and crossing guards controlling traffic or structured timing with car line, the senior lot and bus loop.
As for the junior lot, the issue of parents picking their children up after school upsets the many students that park there, who want a ban enforced on non-students being in the lot during dismissal times.
"There should be some sort of restriction on parents of underclassmen picking their children up [in the junior lot,] [they should] pick their kids up in the car line where they're supposed to," Reiss said.
However, another mentality shared by MSD staff and students is one of submission. They reason there are simply too many factors to handle when it comes to MSD's transportation, so it would just be easier to get used to the gridlock rather than fight it.
"I don't think there is a way to alleviate traffic. The reason for the traffic is overpopulation in our school," Velez said. 
On Thursday, Sept. 30, both a virtual and in-person meeting were held at the City of Parkland Library by the fourth district for the Florida Department of Transportation to review a proposal, contract T4602, to improve Holmberg Road. This would be done by repainting bike lanes, repaving the street and upgrading signs and street markings. Additionally, a right-hand turning lane for the central entrance to the senior lot would be constructed, allowing seniors (and perhaps parents who wait on Holmberg Road after school) to be out of the way of general traffic.
"[The City of Parkland] submitted an application to the Broward Metropolitan Planning Organization. Back in 2016 Parkland had proposed this, and the DOT is doing the project on behalf of the city. We expect it to start construction next summer," FDOT district project manager Brad Salisbury said.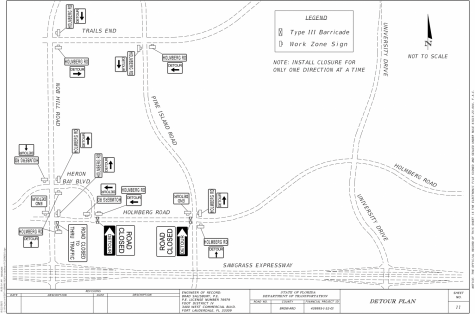 The improvement project is estimated to cost $600,000 and will be finished in the fall of 2022, barring any construction delays. This timeline was chosen to minimally disrupt road usage during the school year.
Currently, the traffic caused at and around MSD is at a standstill. Unable to make substantial changes to school start and end times, road expansions and employment of bus drivers, MSD administration is only able to continue the current measures already in place. For the safety of students and overall improvement of transportation efficiency, one must hope significant fixes are made to alleviate what many consider to be a traffic disaster. 
This story was originally published in the October 2021 Eagle Eye print edition.