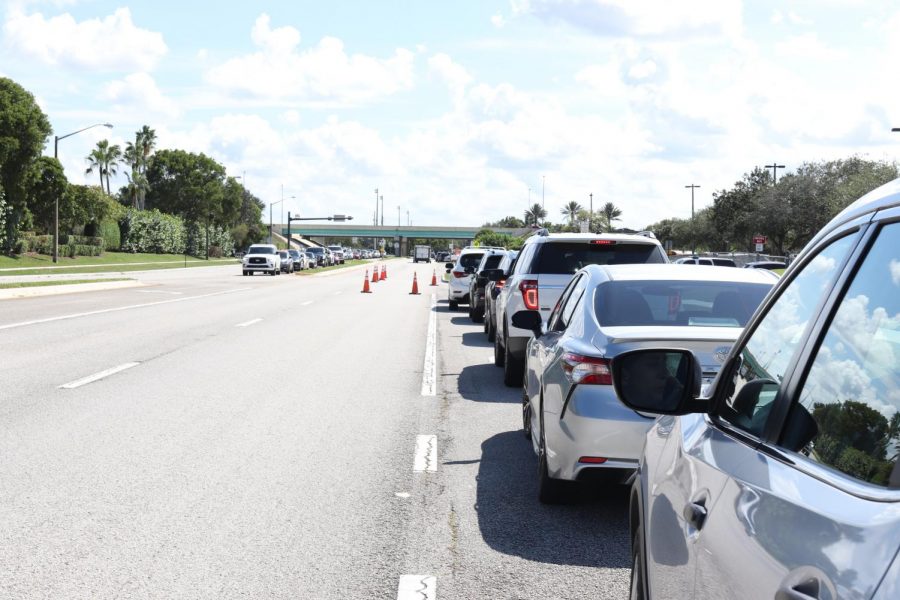 Two-lane Maze
November 3, 2021
At dismissal, students file out of class to the senior lot, junior lot, car line and bus loop in hopes of getting ahead of the crowd. The formation of the car line begins well before the dismissal bell, causing major congestion at the Pine Island Road and Holmberg Road intersection.
Similar to the morning, some parents choose to pick up their students on the side of the road. However, since parents need to wait for school to end, they often park themselves along the road. 
Holmberg Road becomes a circadian obstacle with a long line of parents directly outside of the senior lot. The waiting parents pull to the right side of the road, allowing regular traffic to go by on the left, creating a two-lane road in what is supposed to be a one-lane road. Double the amount of cars on the road slows things down, simply because of twice the automobile volume and because cars need to slow down to make sure they narrowly avoid the stationary parent lane.
The senior lot becomes a major point of conflict in the afternoon. With hundreds of seniors trying to leave the lot simultaneously, as well as parents picking up their students on the side of the road and waiting to enter the car line, cars come both in the lot and instantly out of the lot daily. 
"It takes way too long to leave, and sometimes the traffic is so bad they make me go in the opposite direction of where I live," senior Yali Har-Nov said.
To help reduce traffic, MSD and BSO allocated a school resource officer outside of the lot to direct exiting seniors, parents and other ongoing traffic. The officer acts like an impromptu stoplight, timing out the movement of lanes to be more organized.
After 2:40 p.m., the junior lot is host to not only departing juniors and seniors, but also parents picking up their students. Due to the small size of the lot, it easily becomes congested with these parents, who are not supposed to utilize the lot as a pick-up zone. 
"[The junior lot] is very hectic and kind of dangerous. There's always somebody about to run into someone else because pathways get blocked off by parents," junior Gabriella Reiss said.
Like other traffic issues this year, stoppage in the junior lot is not a new issue, rather one that has been multiplied by hundreds of new students and a lack of familiarity.