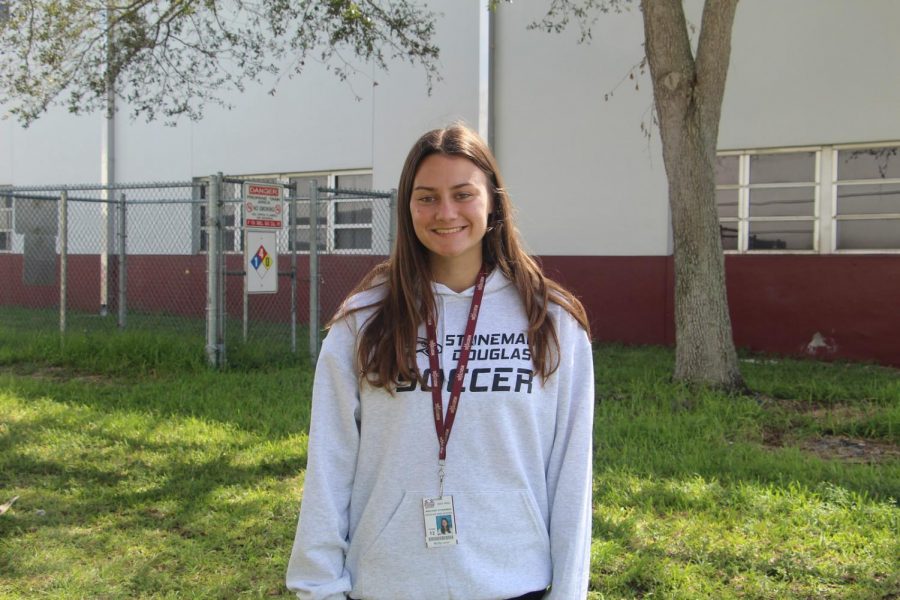 Making fun a priority
Co-Vice President Molly Conn hopes to boost morale and have fun while on the SGA board
Since freshman year, senior Molly Conn has wanted to be on the Student Government Association's officer board, and this year she has finally achieved her goal.
Conn is now the co-vice president of the 2021-2022 SGA officer board, alongside Co-Vice President Dylan Minevich. She looks forward to the year ahead and is overjoyed to be involved in student government.
As co-vice president, Conn attends meetings and helps other members make decisions and find solutions to problems. Throughout the school year, she is responsible for helping make choices on things SGA wants to do for students.
One thing Conn looks forward to during her co-vice presidency is boosting morale.
"COVID-19 was detrimental to school spirit," Conn said. "I really want to raise the bar and have a fun year."
Though it is a tough task, the co-vice president is ready to take on the challenge of lifting school spirit with hard work and determination. She plans on putting a great amount of effort towards this goal to leave the student body with an amazing year.
"I will and do put 110% into everything I do, which is why I was a good candidate," Conn said.
Her hard work does not only show through her SGA work as Conn is an active member of a variety of clubs, including the French Club and the women's varsity soccer team. She enjoys doing these clubs along with student government, because it allows her to be around students she can't see during school.
Though she spends a great deal of her time in school and participating in extracurriculars, Conn uses her outside of school time to play on her travel soccer team and volunteering in projects around the community.
"I play for Team Boca currently, and I have been playing travel soccer since I was 9," Conn said. "One of my favorite volunteer events was at the Coral Springs Police Department's Youth Summer Camp over the summer of 2021."
Once Conn's high school journey concludes, she plans on going to college. She hopes to pursue a career in the medical field, specifically as an orthopedic surgeon. Conn will continue to persevere and stay digilent this school year until she must leave the eagle's nest.