MSD puts on annual Multicultural Show
On Friday, Dec. 3, Marjory Stoneman Douglas High School hosted their annual Multicultural Show. This show is hosted every year by the Spanish Club and showcases different cultures and performances from students.
The show was held at school on Friday during 5th and 6th period. Teachers could decide whether they would permit their students to attend the show.
The show was also held that same day at 7 p.m. in the auditorium. The show could be attended by students, parents, friends and anyone else in the community interested. Tickets were $7 per person and could be purchased beginning Nov. 29 here.
Many clubs and groups were showcased in the show, such as Spanish Club, Indian Student Association, Step Team and K-pop Dance. Each of the clubs have prepared for around a month and put a lot of work into their performances; practices were after school and even on the weekends.
Full rehearsals for the show have been from Monday, Nov. 29 to Thursday, Dec. 2 from 3 p.m. to 8 p.m. in preparation. Thursday was also be a dress rehearsal to prepare for the show.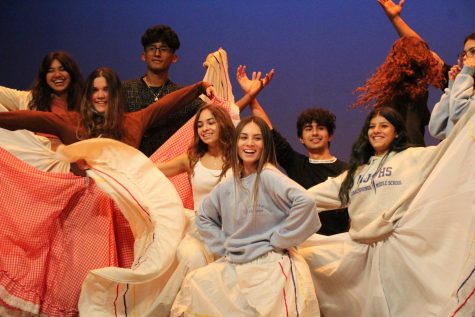 Students who participated in the show will receive service hours. It has been said that they will receive about 70 service hours; however, this fluctuates depending on the amount of time put in. This will benefit students in need of hours for graduation, considering they will receive over the 40-hour requirement.
"I am performing in the show with the Indian Student Association and I would say that I am a little nervous for the show but excited to perform what we have been learning," freshman Adam Shaik said. "I think people will enjoy our performance since our dance is culturally unique and I believe the audience will enjoy the overall show since it consists of multiple cultures performing dances."
Since the Spanish Club hosted the show, all funds generated will go to the club, who then will distribute those funds to organizations and causes of their choosing.
Many anticipated the Multicultural Show and what cultures and performances will have been shown throughout the event. The Spanish Club and students worked hard on getting ready for the show, and they hoped for a great outcome at night in the auditorium.