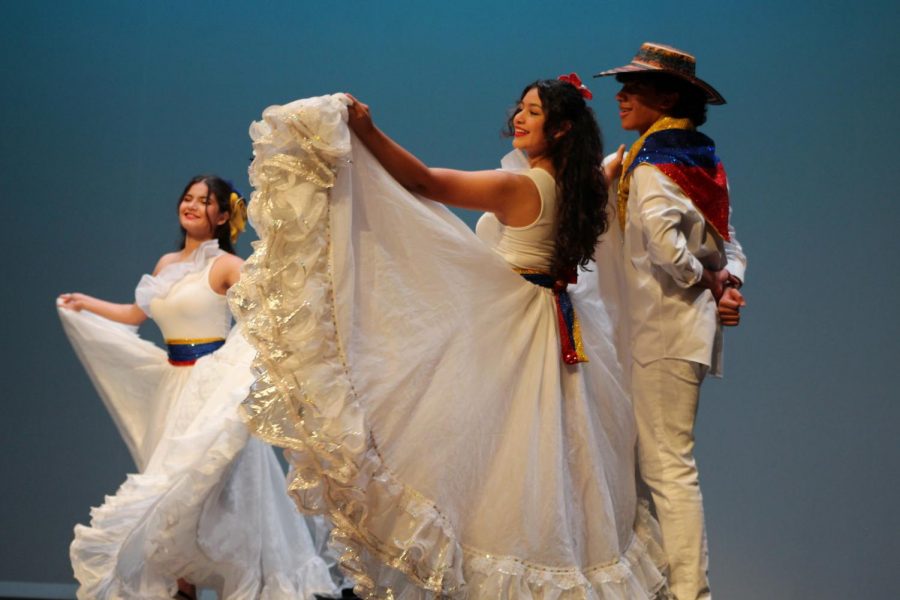 MSD's Spanish Club works hard to prepare for the annual Multicultural Show
With the annual Multicultural Show taking place on Friday, Dec. 3, members of the Spanish Club at Marjory Stoneman Douglas High School have been working tirelessly to ensure everything is perfectly prepared for their performance.
With the theme of the show revolving around bringing together different cultures from across the world, Spanish Club members have been working on different dances and routines that will be featured within the acts.
"This year's theme is Peter Pan, [which represents] flying to another country and seeing how different cultures compare their beauty through dances," sophomore Paola Gutierrez said. 
Rehearsals for the show took place throughout the week of Nov. 29 to Dec. 3, lasting for hours after school. On some afternoons, members have stayed as late as 10 P.M, working hard to ensure everything was perfectly prepared and ready for their performance.
"It's been stressful on us all, but at the end of the day, the outcome makes it worth it," Spanish Club President Carolina Estevez said. "The practices we have here are a lot of fun."
A big part of the rehearsal process is preparing costumes for each dance. With different Latin-American dances such as flamenco, salsa and bachata, a dancer typically wears a costume that compliments the style and movements of the dance itself. 
The Spanish Club planned out the costumes for each of their dances, ensuring each outfit complimented the style of dance featured. For example, in one dance called cumbia, which originates from Columbia, dancers wear long dresses to make it easy to move the dress with their hands. Another dance performed in the show is Salsa, in which traditionally red or black dresses are worn. 
"The costume depends on the dance and what the style is," Multicultural Director Anabela Chico said. "It's really about what looks better for [the speed] of the dance." 
Despite how stressful and tiring rehearsals have been on everybody, the Spanish Club has still managed to build strong bonds and friendships with one another through the long hours they've spent together practicing.
"I have met so many amazing people in this club in general," Gutierrez said. "[The show] makes everyone come together and truly shows how much we have all bonded."
Gutierrez is an officer within the Spanish Club and the Assistant Multicultural Director for this year's show. She performs in both bachata and salsa dances. 
"I am an excited person to dance and get to show off my moves," Gutierrez said. "It was recently one of my first times dancing in front of everyone, and it felt like a rollercoaster I didn't want to end."
Gutierrez has been deeply invested in the show, and has been a big help while planning and rehearsing. For next year's show, Gutierrez will take a step up from Multicultural Assistant Director to become the new Multicultural Director.
With this year's annual Multicultural Show providing new friendships for everyone as well as an amazing bonding experience, the Spanish Club looks forward to future shows ahead of them.