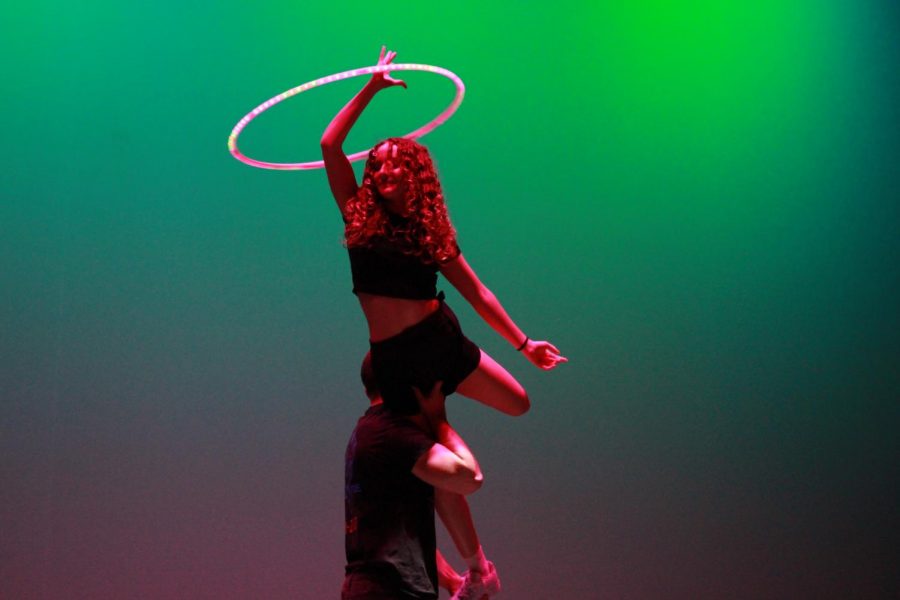 The LED Dance Club brings a unique artform to the Multicultural Show
With the Multicultural Show returning to Marjory Stoneman Douglas High School, many clubs have been rehearsing endlessly throughout November to prepare for it. The event takes place every year and showcases many clubs and cultures, such as Spain, Korea and India.
The show took place during 5th and 6th period on Friday, Dec. 3 for students whose teachers signed them up, and also at 7 p.m. on the night of that same day for anyone in the community, especially family and friends, who buys a ticket. 
One club who individually stuck out from the rest with their flow-light dancing is the LED Dance club, showcasing their complex hoop tricks and bioluminescent dancing. The club is run by Chelsea Briggs, who teaches English 3 and 4 at MSD. 
The LED club has performed for other school events like the homecoming week pep rally, so this is not their first time having to prepare for a show. Their rehearsals usually take place every Tuesday outside of Briggs' classroom and last about an hour.
"[My] favorite part was practicing the stunt I performed, which consisted of starting to front flip my girlfriend after I lifted her into the air while she spun a hoop and then did a backflip to get back down," senior Sean McHenry said.
The members within the club feel that they have grown closer and have been able to build a stronger bond throughout the duration of their rehearsals.
"[Students, family, and friends] can finally see [the dance they will be showcasing] all on stage. [The performers] feel a connection with each other because they can see that they are doing a good job with all the training they did without the lights; when the audience sees them go on to perform, it really brings a sense of community," Briggs said.

When planning the event, Briggs feels that it is always stressful; however, this year has been more organized due to the organization of the Spanish Club and the tech team. This is also Briggs' 5th year doing the show, so she is experienced with its formatting. 
The LED Dance Club multicultural performers wore all-black costumes because the dark color helps ensure nothing on them is overbearing when they perform. The rationale behind this decision is to permit the lights they twirl and spin to appear more colorfully and vividly. They also dance with various colored flags and light-up hoops to create an entertaining show. 
Due to the dance club being small with 20 members, Briggs feels that they are very underappreciated and hopes that the multicultural performance will attract more people. She hopes that it will share their unique and different community of flow art and help people gain a better understanding of the abstract concept.