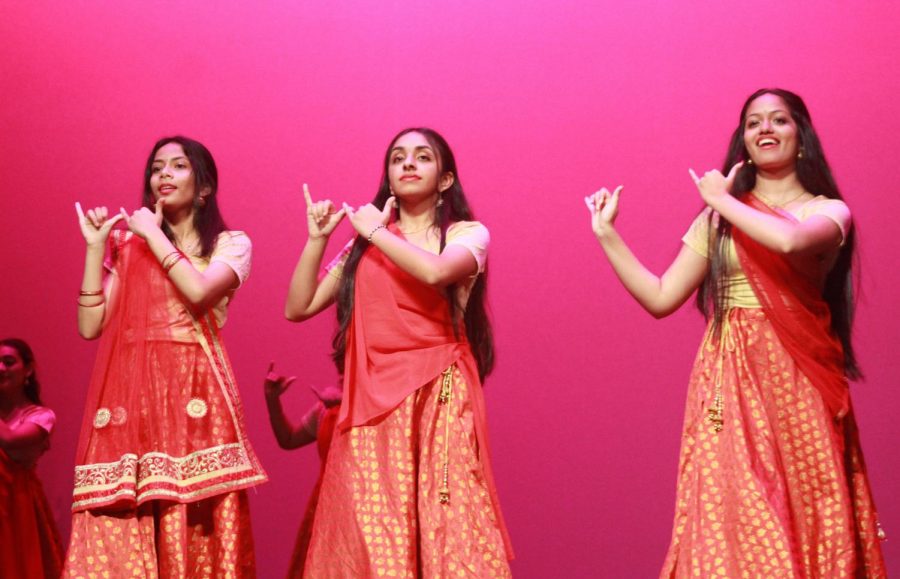 Indian Student Association performs for the first time in MSD's annual Multicultural Show
The annual Marjory Stoneman Douglas High School Multicultural Show was showcased to the public on Dec. 3, 2021. Many clubs presented their cultures, leaving the audience in awe. One very special club that performed in the show was the Indian Student Association. The club presented a Bollywood dance which featured 3 boys and 11 girls. 
Indian Student Association was founded by senior Sarah Kathuria, who is the co-founder and president of ISA. The club was founded during the 2019-2020 school year. Before those years there was a Bollywood dance that had no connection to a club and was a separate entity that the girls would just do for the Multicultural Show.
This year, ISA officers thought it was a good idea to combine the two since it would be easier to recruit dancers and help gain the show some attraction. At this point, ISA already boasted around 45 members.
Practices for this dance number were held weekly, usually on the weekends, in the Watercrest clubhouse. As it got closer to the show they met more frequently, and even had after school practices, to prepare for the show. 
Rehearsals took place the week of the show from Monday-Thursday and started right after school till 8 p.m. During these rehearsals the team did run-throughs of the number on stage to help with coordination, spacing, and much more to help prepare them for the day of the show. 
The dance was choreographed by senior Grace Vaddakel who has been choreographing the Bollywood dance since her sophomore year. The team also had an assistant choreographer, sophomore Devika Vikas, who helped choreograph the dance alongside Vaddakel.
Costumes for the show were arranged with the help of junior Karishma Advani and Haya Shaikh, who helped order the costumes off of Amazon and get them shipped in time.
"I loved performing for the Multicultural Show, it's something that really lets me express my heritage and it feels really cool to perform something like Bollywood in front of my peers," Kathuria said. "I'm definitely not a dancer but multicultural was something I looked forward to every year, so I'm really sad that this was my last show but I know the younger girls are gonna do a great job at keeping the Bollywood segment alive and keeping it a fan favorite."
Something that was special this year about the dance was that the group presented not only a girls' dance number, but also a boys' dance number. In previous years the group only performed a girls' dance but this year boys also performed which brought up the idea of having a boys' number in the continuing years. 
This year's Multicultural Show showcased many cultures. The Indian Student Association put their time and effort into creating the best dance they could. ISA plans to continue to perform beautiful and entertaining dances in the future years.