MSD women's varsity soccer caps off an outstanding season with a win over the Park Vista Community High School Cobras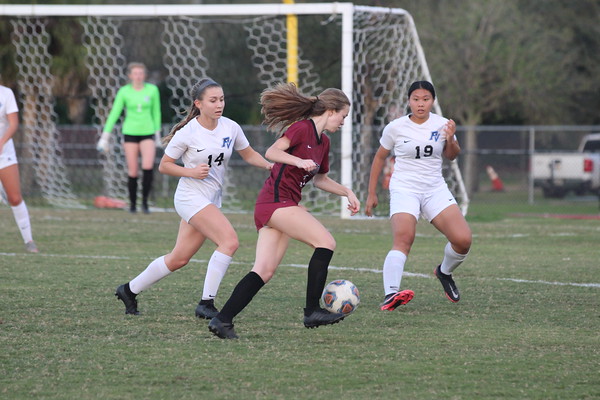 On Wednesday, Jan. 19, the Marjory Stoneman Douglas High School's women's varsity soccer team finished off a great season with a 1-0 shutout win over Park Vista Community High School. They kept possession of the ball the entire time and played shutdown defense in the game just as they did throughout the entire season.
"We played great defense and scored enough to win the game," midfielder Gianna Rizzo (9) said.
Their first game of the season was against Fort Lauderdale High School, and it showed how exciting the season would prove to be. They won 8-1, completely overpowering the Flying L's.
The second game of the season proved that the first one was not a fluke. They won 10-0 against Monarch High School, playing better than they did in the first game.
The Lady Eagles' offense was supreme and looked unstopable. They scored at will and had a total of 18 goals in the first two games.
The MSD team came into their game against Cypress Bay High School with a lot of confidence. They didn't play as well as they have before, but they still won 1-0 and showed elite defense.
The next game against Pembroke Pines Charter High School was expected to be the toughest yet. As they were unbeaten, the Lady Eagles played amazing defense as expected but had trouble scoring, so the game ended in a 0-0 tie.
Next, MSD prepared to play against J.P. Taravella High School and put on an amazing performance. The Lady Eagles won 8-0 in another shutout win.
The team went on a two-game away trip where they played Western High School and Cardinal Gibbons High School. They beat Western 1-0 and tied Cardinal Gibbons 1-1.
Next up was North Broward Preparatory School and Nova High School, which the Lady Eagles played tremendously against. They beat North Broward 4-0 and Nova 12-0.
MSD proved how good they were in every game as they blew out almost every team they went up against.
Throughout their successful season, however, the Lady Eagles did lose an away game against St. Thomas Aquinas High School with a score of 3-0, which ruined their undefeated season.
They now prepare for the playoffs as they went 10-1-3 in the regular season and almost remained unbeatable. Their next game is taking place on Jan. 27 at 6 p.m.