Sophomore Manahil Kashif opens henna business
According to Pew Research, only 60% of Americans know what Ramadan is, and even less have heard of Eid al-Fitr. Considering more than 1.6 billion people celebrated Eid last year alone, it might be time to dust off the Quran and take a history lesson.
Eid is one of the most widely celebrated holidays in the Muslim community, as it marks the end of Ramadan, a month-long holiday that requires fasting from dawn until dusk. For sophomore Manahil Kashif, it was the catalyst that led to her making hundreds of dollars in just four months.
Kashif grew up in a Pakistani family and was raised as a Muslim woman. As such, her family was very in touch with their religion and took pride in practicing many traditions that linked them to their culture. A particular tradition that stuck with her was Mehndi, commonly known as "henna."
"Every Eid, we would use henna tattoos to decorate our hands," Kashif said. "My mom would always do it for me, and I loved how cool it was and how long it stayed on."
Henna is a temporary tattoo that is made using ink that sits only on the surface of the skin, instead of piercing it the way a regular tattoo would normally do. Made from the henna plant, it has unique staining properties which leaves an orange stain behind on skin and is applied via a piping bag. It has been practiced in Pakistan, India, Africa and the Middle East for over 5,000 years and can be primarily found in various religions such as Hinduism, Sikhism and Islam.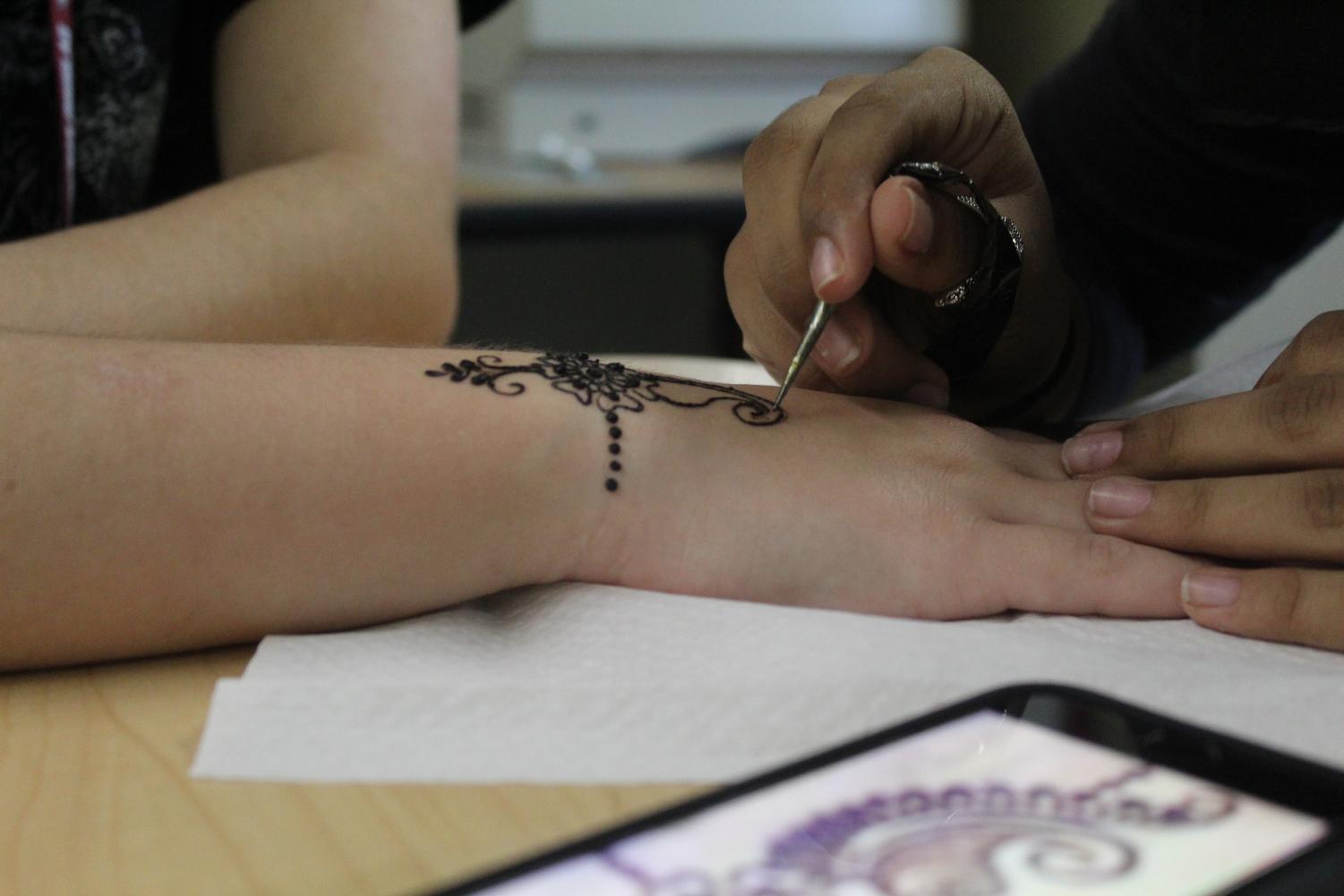 Henna holds great significance for Kashif and her family, hence her love for the art. However, as she began to grow older, it took on a different meaning for her.
"When I was 7, I started practicing on myself and on my friends and family. Even though it started off very ugly, the community I was surrounded by was very encouraging and helped me and told me to keep working," Kashif said.
Fast-forward five years later, Kashif started to see more and more henna stalls run by predominantly white people at amusement parks such as Busch Gardens. Since this is a cultural staple for many Muslims and Pakistanis such as herself, she was taken aback by how people weren't appreciating the art at all. People who were neither ethnically nor religiously affiliated with the art were charging over $20.
Knowing this, Kashif decided to start her very own henna business using the knowledge that she has acquired over the years. The goal was to teach people what cultural appropriation is and to teach them how to appreciate her culture instead. Not only is it being given by someone who is intimately familiar with the history behind it, but she also charges half the price of the average rate for henna tattoos.
Since she is a Muslim herself, she only buys her products from Desi-run stores (a person who is of Indian, Pakistani or Bangladeshi birth). Sure enough, within a week of the business being started up, she made $100.
This trend of success has continued long after that very first week, and now, her business has grown to the extent where she has appointments almost every single day. With each person who requests a tattoo, she not only delivers, but also tells them the history behind the tattoo, as well as the significance it holds.
"I'm very comfortable getting the tattoo from her," sophomore Angelina Kennedy, who is a returning customer, said. "It is extremely quick and of such good quality and service for a great price."
Ever since she first delved into the world of henna on her seventh Eid al-Fitr, Kashif has never stopped pursuing her passion, even if she faced adversity by doing so.
"There was a lot of racism growing up, especially when I started wearing my hijab in middle school," Kashif said. "I really wanted to fit in, so I didn't wear my hijab at all in sixth grade, and I wore only American clothes. But in seventh grade, I decided to step out of my comfort zone and wear my hijab. I realized how much I loved it, and I've been wearing it ever since."
But now, even with these obstacles, Kashif and her business are thriving. She established a reputation for herself around the school and has made more than $200 from the first semester alone. Using this opportunity to give back, she also gives 15% of the proceeds to Masjid Jamaat Al'Mu-mineem, her local Mosque.
Thanks to both the community that constantly supports her, as well as her natural gift, Kashif continues to do what she loves as she goes into 2022 hoping to sharpen her skills even more.