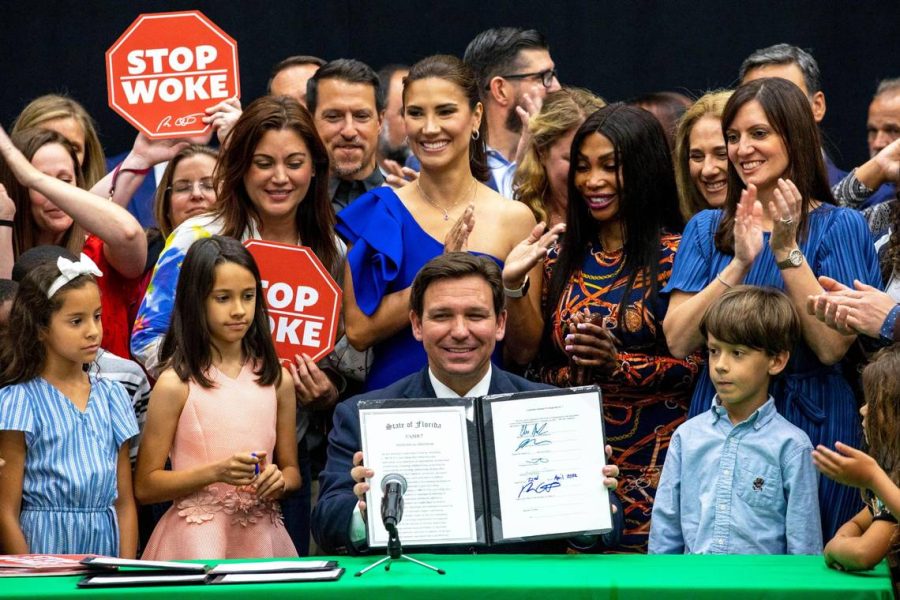 Tribune News Service
Florida Gov. Ron DeSantis outlaws teaching Critical Race Theory in the state of Florida
The Stop the Wrongs to Our Kids and Employees Act (HB 7), known commonly as the Stop W.O.K.E. Act, prohibits the teaching of Critical Race Theory within Florida schools and places of employment. On Friday, April 22, Florida Gov. Ron DeSantis signed HB 7 into law in his attempt to prevent the implication of "Critical Race Theory-inspired 'training' and indoctrination."Initially proposed last December, this act specifically outlaws workplaces from requiring employees to complete any training that compels them to believe that "discrimination based on race, color, sex, or national origin" derives from the idea that people of a certain race or sex are either oppressed or oppressors, or inherently racist consciously or unconsciously due to their race or sex. It also outlaws the teaching of these concepts in schools, which includes educating people about the consequences placed upon them due to racist actions committed in the past by other members of their same race. 
Although the term "Critical Race Theory" is never explicitly mentioned in the act, a quick look at the tenets of Critical Race Theory reveals the direct impact the act was designed to have on the teaching of Critical Race Theory in the state of Florida. Prior to this, on June 10, 2021, the Florida State Board of Education banned schools from teaching Critical Race Theory claiming that the legislation would protect students from learning "distort[ed] historical events."
DeSantis himself admitted this goal by saying that the act was designed to work toward his goal of taking "a stand against the state-sanctioned racism that is critical race theory."
"[This legislation] is unfortunate due to the fact that it is just keeping us ignorant," government and economics teacher Solymar Quesada said. "Ignorance is the strongest use of propaganda, and it is the best way to keep people 'in line,' if you will because the second you start communicating about what's actually going on, people start acting, so I have a feeling that whoever is behind this is trying to stop the individuals from acting accordingly to get what is right [and] to do what is right."
Critical Race Theory is a term that describes the idea that the concepts of race and radical discrimination play a large role in today's society. It describes how race is a social construct, rather than a biological occurrence with stereotypes that shift over time, allowing overlap between different minority groups. The theory centers around the idea that by learning about how race plays a role in government and culture, marginalized people are able to introduce others to a new perspective, thus bettering conditions for minorities in our global society. 
The Stop W.O.K.E. Act directly goes against Critical Race Theory by making it explicitly illegal for employers and teachers to educate their employees and students about how America's history has contributed to the role that race plays today in the country. 
Of the concepts that the act declares unlawful to teach, lines 99 to 103, which states "merit, excellence, hard work, fairness, neutrality, objectivity and racial colorblindness are racist or sexist or were created by members of a particular race, color, sex, or national origin to oppress members of another race, color, sex or national origin," most directly contradict the ideas of Critical Race Theory according to the six tenents.
While Critical Race Theory is not inherently taught in K-12 schools in the state of Florida, the Stop W.O.K.E. Act closes the door to opportunity for teachers to expand their curriculum by implementing such lessons. In doing so, critics say this expands the likelihood that courses offered in grades K-12 will not be culturally responsive. 
"I don't think teachers really teach about [Critical Race Theory directly] in the first place, so is it going to have much impact? Probably not," social studies teacher Sofia Capezza said. "I don't think there is any teacher out there thinking 'I am going to indoctrinate my students, that's my goal for today. I want them to think the way I think.'"
Despite the focus of the legislation on Critical Race Theory, some teachers worry it will have broader impacts. Culturally Responsive Teaching, not to be confused with Critical Race Theory, which is Critical Race Theory, employs the idea that through adaptive teaching, positive relationships, knowledge of culture and contextual learning, classroom environments will be made more welcoming and inclusive for students from a variety of backgrounds. 
While including the teaching of Critical Race Theory is not specifically required for a learning environment to be considered culturally responsive, the discussion of different cultures and how cultural differences influence the Floridian community are. Lines 93 to 98 of the Stop W.O.K.E. Act prohibits teaching the influence of actions that previous members of one race made on the culture of the current members of that race, which legally limits the sharing of multiple perspectives within lessons.  However, Lieutenant Governor Jeanette Nuñez outlines the purpose as being to "end corporate wokeness and Critical Race Theory in our schools [by] prioritizing education, not indoctrination."
"
[I do] not formally [integrate Critical Race Theory], but [I teach it] through conversations where the students bring up the topics, so we of course have discussions about it. It's important to learn about any and all fascists of life because we are not going to sit here and repeat the errors of our ancestors. In Germany, it is compulsory to learn about the Holocaust and what their government did, so why are we hiding from what we did?"
— government and economics teacher Solymar Quesada
In the world of business, companies such as Disney which currently have their employees undergo a "diversity and inclusion program" will have to adjust their training program to comply with state law. Not long after the act was signed on April 22, five individuals filed a lawsuit in the state of Florida arguing that "applying this law in the workplace would restrict free expression by suppressing viewpoints." While the case has yet to conclude, the lawsuit is just one example of resistance against DeSantis' controversial decision.
"As a social studies department, we are just trying to do the right thing," Capezza said.  "We are just trying to teach students about what happened. We are not trying to indoctrinate them one way or another, we are just trying to inform them of all the facts."
Although some teachers will inevitably still ensure that their classroom learning environment is culturally responsive, the Stop W.O.K.E. will make it a lot more difficult for schools and administration to require such lessons.