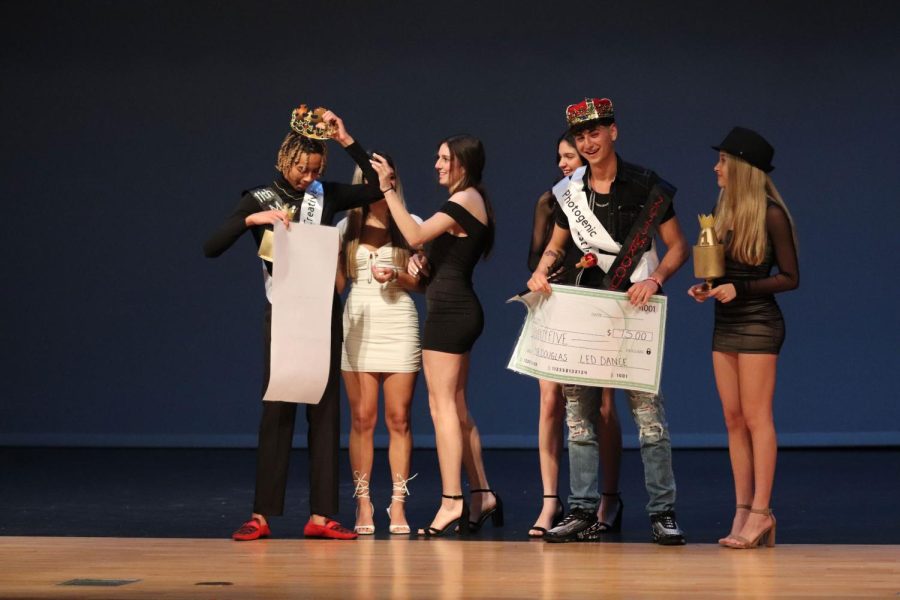 MSD hosts its annual 'Mr. Douglas' male beauty pageant
Advancing past the official state pageant, the 50 winning contestants proceed to the national stage where they compete for the title of Miss USA. In the school environment, the conditions are similar as stage lights illuminate the flashy costumes and props of each class representative. Satire and song combined, four boys battle it out on the stage for the title of Mr. Douglas.

The Marjory Stoneman Douglas High School annual Mr. Douglas male beauty pageant was hosted in the John Rusnak Auditorium on Wednesday, Jan. 25 from 6-8 p.m. Students from each grade level were selected as potential contestants weeks prior to represent their respective grade level. Teacher recommendations were also taken into consideration, especially students with extroverted personalities.

Tickets cost $5 if bought prior to the show; they increased to $7 if bought at the start of the event itself. All proceeds went towards the LED Dance Club for their props and costumes each year. 

The idea of Mr. Douglas originated from advisor Chelsea Briggs' high school experience.

"I run LED Dance Club. Because we're a small club, we needed a fundraising idea," Briggs said. "When I was in high school, we had a Mr. Titan because I went to Nova High School, so I thought it'd be fun to bring that into Douglas."

This year's contestants are senior Charles Dellaira, junior Caleb Hensley, sophomore Max Grinko and freshman Liam Morrow. The beauty pageant is divided into different categories for each section of the contest; this includes a silly swim section, a Q&A segment and a talent portion. The pageant began with introductions of each contestant.

Vincent Ciullo & Chelsea Townsend

The silly swim consisted of an individualized swim-themed skit, the Q&A consisted of the hosts asking each contestant a series of questions to gauge their opinions and the talent portion was a free-for-all showcase for the contestants to show off. For instance, Grinko performed two short piano pieces while Dellaira performed a dance duet with fellow football player Gabe Lenamon.

"My favorite act was probably the Lizzo one [performed by Charles]. It was just iconic and I've never seen anything like it. It's very well choreographed," freshman Alexa Gordon said.

During intermission, other acts entertained the audience. In addition to performances by the MSD LED Dance Club and Ladies of Destiny Step Team, there was a teacher lip-sync battle between duo Nicholas Cochenour and McKenzie Malone and duo Sarah Howell and Coral Bachen. Cochenour and Malone won over the audience, securing the win.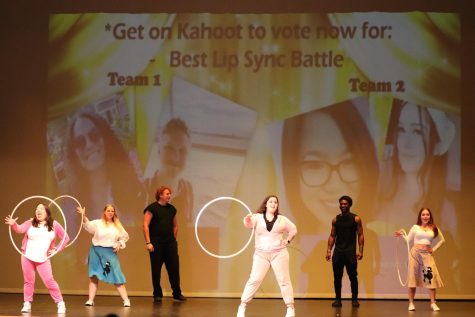 Participants had run-throughs with lighting on January 18, 23 and 24.
"Mr. Douglas is one of my favorite events in the whole school year, and they should definitely continue doing it," junior Madison Ott said. "I am currently shadowing lighting people, but I am in theater tech, so being there was really interesting."
Additionally, senior Zach Goldberg and juniors David Lerner and Caleb Hebert served as hosts for Mr. Douglas. Their job was to narrate the entire show and smoothly transition from act to act.
"I wanted to be a part of the show, but I didn't get the chance to be one of the contestants, so I thought hosting would be fun," Lerner said. "I like, you know, acting silly. Being able to be with friends is a cool experience and I think the swimsuit part is the best part of the show."
The winner of Mr. Douglas was Dellaira, who earned $75 and the title of Mr. Douglas. The runner up was Hensley, who earned $50. Grinko came in third, earning $25, and Morrow came in fourth, earning $20.
"It felt good knowing I finally won my senior year," Dellaira said. "My favorite memory was being with my boys and practicing all together."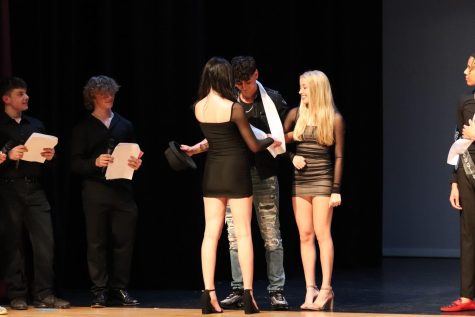 Mr. Douglas serves as one non-academic school-spirited activity where students can get together and have a good time while supporting their fellow students. The event will continue serving as the primary fundraiser for LED Dance Club for years to come.