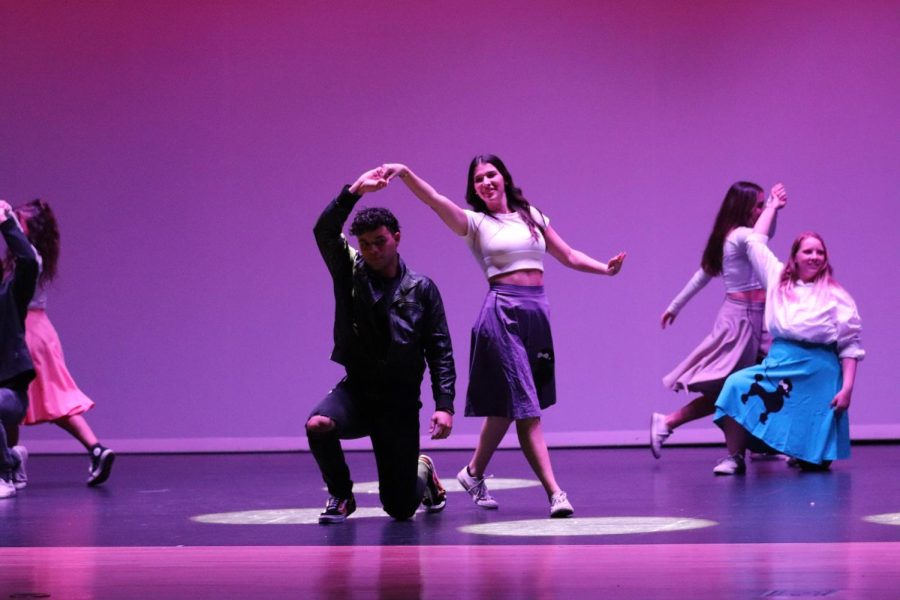 LED Dance Club raises money for their club through 'Mr. Douglas' pageant
Dancers fly through the air spinning vivid colored flags. Colorful hoops illuminate the dark stage. Utilizing props and clothing, the Marjory Stoneman Douglas High School LED Dance Club took audience members through the decades during their 'Mr. Douglas' performance.

"Mr. Douglas" would not have been possible without the support and dedication of Chelsea Briggs, the event's organizer, and sponsor of the LED Dance Club. 

"[All the money] goes to the LED dance program," Briggs said. "We use that money towards our props and our costumes for each year."

Before the awards were given out, the LED Dance Club performed for the audience. The performance was broken up into six parts, each referencing a different decade.

Vincent Ciullo & Chelsea Townsend

The first part alluded to the 1920s. Dancers wore flapper costumes inspired by the decade and danced to "A Little Party Never Killed Nobody" by Fergie. The choreography referenced the popular Charleston dance moves of the time period.

The second part took heavy inspiration from the 1950s. Dancers wore poodle skirts, leather, and Converse shoes as they danced to the song "Summer Nights" from the movie "Grease." Members incorporated the hand jive into their number, a dance move associated with the 1950s and the movie "Grease."

The third song, "Dancing Queen" by Abba, showcased the 1970s. Dancers wore outfits referencing the hippy movements of the decade, using light-up hoops and fluorescent flags in their performance.

The fourth song performed was "It's Tricky" by Run-D.M.C. Performers wore street-style clothes inspired by the 1980s and 1990s, with choreography taking direct reference from the popular hip-hop and rap music videos of the time. 

The fifth act was inspired by the late 1990s and 2000s. Dancers wore jeans and headbands, dancing to "Doo-Wop" by Lauryn Hill and "Work the Boat," a remix of Aaliyah's "Rock the Boat" and Rihanna's "Work."

The final act referenced the 2010s and the "modern" era. Dancers came onto a dark stage twirling LED hoops, while "I'm Good (Blue)" by David Guetta and Bebe Rexha played. Then, the lights turned on, revealing Briggs as one of the dancers. Briggs continued the act with a solo performance showcasing her talents. 

"I think we did pretty good honestly," sophomore and club member Seraphina Roy said. "I'm really proud of our dancers and how it came together. I performed at 'Mr. Douglas' last year, and I had a lot of fun last year and this year."

Vincent Ciullo & Chelsea Townsend

At the end of the show, the seniors of the club surprised Briggs with a bouquet of flowers and thanked her for all of her support for them and their club. "Mr. Douglas" will continue to be held not only to raise funds for LED Dance Club, but to bring together students and kindle school spirit.