MSD students express concern over rise in gun violence in the U.S.
Harvest Music Festival, 60 murdered. Pulse Nightclub, 49 murdered. Virginia Tech University, 32 murdered. Sandy Hook Elementary School, 26 murdered. First Baptist Church, 26 murdered. El Paso Walmart, 23 murdered. Robb Elementary School, 21 murdered. Marjory Stoneman Douglas High School, 17 murdered.
"Gun violence is a major problem in America. It's so disgusting to see headlines almost every day of people killed by a gun. It's hard to grasp how many people have died," freshman Saoirse Popen said. "You didn't know them; they didn't know you, but they're dead and now a statistic."
In 2023, over 6,900 gun-related deaths and 90 mass shootings have already occurred, including a shooting in Half Moon Bay, California that killed seven people on Jan. 23 and a shooting at Michigan State University that killed three people on Feb. 13.
The high numbers already in 2023 directly correlates with the uptick of gun violence and mass shootings in recent years. One of the deadliest years on record for gun violence, 2022 saw over 44,000 gun-related deaths and 648 mass shootings, according to the Gun Violence Archive.
The Robb Elementary School shooting in Uvalde, Texas on May 24, 2022 was one of the deadliest in 2022, where 19 students and two teachers were killed. It was the third-deadliest school shooting in the United States, following the 2007 Virginia Tech shooting that killed 32 students and faculty and the 2012 Sandy Hook Elementary School shooting that killed 26 students and staff.
These mass shootings added more fuel to the national outcry for gun control, which led to the nationwide return of March For Our Lives protests. MFOL is an organization founded by the student survivors of the deadly shooting here at Marjory Stoneman Douglas High School on Feb. 14, 2018. On June 11, 2022, MFOL held additional protests across the United States, including the main march in Washington D.C.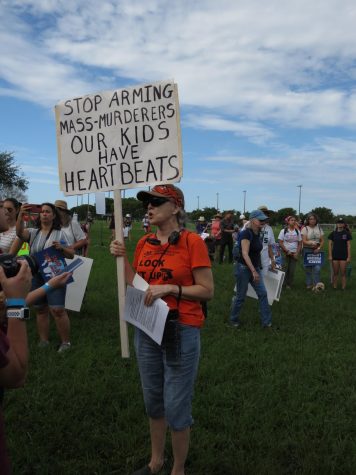 "A shooting should not have happened at my school, but it also should've stopped at my school," MSD yearbook adviser Sarah Lerner said in her speech at the Parkland MFOL protest on June 11, 2022.
Pew Research Center data from 2021 shows that 48% of Americans see gun violence as a major problem in the U.S. A survey of 362 MSD students shows that 81% of MSD students also believe that gun violence is a major problem in the U.S. today.
"Currently, in the United States, firearm-related injury is the leading cause of death for adolescents and younger," junior Jason Johnson said. "It is unbelievable that more children die yearly from gun violence than car crashes."
The significance of gun violence incidents to MSD students was also evidenced by a survey earlier this year where 77% of MSD students said gun violence was one of the most important issues to them in the 2022 midterm elections.
Gun violence was a critical subject of debate in the 2022 midterms, as voters became increasingly frustrated with the alleged shortcomings in stopping gun violence.
The mounting pressure by organizations such as MFOL in the wake of the Uvalde and Buffalo shootings led to the passage of the first sweeping gun violence legislation in decades in June 2022: the Bipartisan Safer Communities Act. The act increased background checks on those under 21 attempting to purchase guns, gave funding for "red flag" laws, cracked down on gun trafficking and provided funding to communities for mental health resources.
The act also closed the "boyfriend" loophole, long criticized by gun violence prevention activists. Now, any person convicted of domestic abuse cannot own a firearm. Previously, the law only prevented those convicted of domestic abuse from someone that a victim was married to, had a child with or lived with from owning a firearm. The law now additionally applies to those convicted of domestic abuse from within a dating relationship.
On Feb. 14, President Joe Biden announced that the Justice Department will be distributing $231 million to states to curb gun violence and includes funding for "red flag" laws.
Florida already has a "red flag" law and system in place, passed in the wake of the shooting at MSD. The law gives police the ability to ask a judge to temporarily restrict someone's ability to own and carry a firearm if they are considered a danger to themselves or others. Following the Uvalde shooting, politicians and activists looked to Florida's law to find possible solutions. Sen. Chris Murphy suggested that it could be a solution moving forward for the federal government.
The "red flag" law was one of the many pieces of legislation passed in Florida in response to the MSD shooting. The largest legislation was SB 7026, the "Marjory Stoneman Douglas High School Public Safety Act," to address gun violence, including in schools. One of its most controversial elements was its later-added clause in the Coach Aaron Feis Guardian Program section of the law that would allow teachers to be armed on campus.
Only 17% of MSD students support arming teachers as a solution to school gun violence. Among the counties that rejected this initiative are Broward County Public Schools, Miami-Dade County Public Schools and Orange County Public Schools.
The Florida legislature is currently considering HB 543, which supporters refer to as the "constitutional carry" bill. The bill would allow people to carry a concealed firearm without a government-issued permit. HB 543 is relatively unpopular among MSD students, 63% do not support the bill. If passed and signed, the "constitutional carry" bill would go into effect on July 1.
"With the…governor of Florida, a lot of new laws and restrictions are coming about which don't really make sense and are ridiculous," junior Inzley Lwin said. "For example, the gun law that permits anyone to carry [firearms] without government-issued paperwork."
While mostly unpopular among gun control activists, the bill has divided gun rights advocates. Some gun rights activists want to see the "constitutional carry" bill include open, unconcealed carry, but other gun rights proponents believe HB 543 is a good step towards securing Second Amendment rights.
A controversial subject in the argument of gun control, the Second Amendment gives Americans the constitutional right to bear arms. Critics argue that the amendment is causing more harm than good by giving people access to potentially dangerous firearms.
"
The Second Amendment was created in a world where the common person did not have access to firearms with the potential to mow down crowds of people. The amendment has become less about self-defense and more about letting people feel empowered [to] carry…weapons of mass destruction."
— junior Oliver Grushka
Conclusions similar to Grushka's have led to a feeling by many students and Americans in general that the Second Amendment does not apply to the U.S. today. In fact, former Supreme Court Justice John Paul Stevens wrote in a 2018 op-ed that the Second Amendment is a "relic of the 18th century." One in five Americans supports repealing the Second Amendment, according to a February 2018 YouGov poll.
"The Second Amendment is an outdated piece of the Constitution that has been misused for generations," senior Damian Francis said. "We've changed the Constitution to become more applicable many times in the last centuries of our government, I think it's truly idiotic that this is an exception."
Forty-four percent of MSD students believe the Second Amendment is intended to give people the unrestricted right to own firearms and guns, but a follow-up question shows that 72% believe that there should be restrictions placed on the Second Amendment.
"At the time of the creation of the Second Amendment, the world was a different place," freshman Madison Hamilton said. "The Second Amendment needs to be restricted to properly suit today's people's needs and wants. It is the only way we can fix this problem we have in our country."
A popular solution among MSD students is stricter background checks. The goal of universal background checks is to close any loopholes in purchasing a gun and require background checks on every gun sale and transfer.
"If places would just do a background check or a mental health check, it could keep the wrong people from buying guns. We could also just simply raise the age requirement to buy a gun," sophomore Katie Dellaclava said. "Most of these mass shooters are young men [that] have access to guns when they aren't mature enough or…aren't mentally well."
According to a 2022 Politico poll, 88% of Americans support universal background checks. In addition, a poll by the University of Chicago and the Associated Press found that 71% of Americans support stricter gun regulations.
"[There should be] stricter gun laws [and] entire bans on certain firearms. Civilians have no need to be carrying around weapons used in the army," sophomore Ava Argieri said. "To fix gun violence, guns should be harder to access and even harder to obtain. The restrictions and work it takes to get a gun should be much harder."
Gun violence continues to be on the rise in the U.S. today and is expected to continue on that trend. While it is unclear what future local, state and national actions will be taken to regulate or protect the right to own a firearm, the majority of MSD students hope to see action taken.
This story was originally published in the March 2023 Eagle Eye print edition.