City of Coral Springs honors its 60th anniversary through recreational festivities and continued growth
Palm trees and parades. A pleasant ambiance and vibrant community. The City of Coral Springs is a city that attracts people from many different places. A hotspot for business and services in South Florida, the suburban town is filled with a diverse selection of things to do. Coral Springs is seen by people as a modern paradise for everyone.
"Coral Springs is an amazing place to live. It has a good community, being very inclusive and diverse," freshman Jasmine Amaya said. "I've lived here all my life, and it has advanced in many ways, like Wiles Road getting renovated, and parking lots having charge stations for electric cars and many new small businesses just starting up. The city has a lot of culture and history behind it."
Founding/History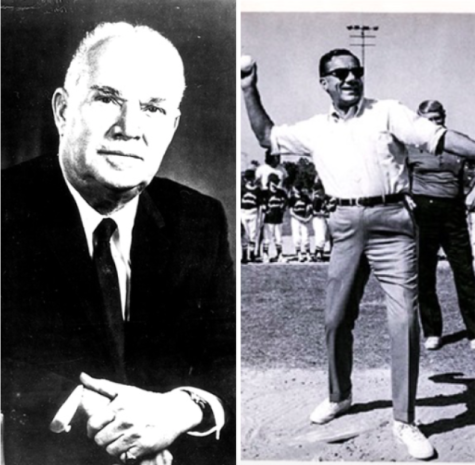 The City of Coral Springs is now known as a hustling center for commerce and families. Before its development as one of Florida's first planned cities, Coral Springs was 20,000 acres of marshes used for bean farms and cattle ranches. Developer James S. Hunt and Coral Ridge Properties' Joe Taravella wanted to convert the empty land into an aesthetically pleasing cityscape.

Purchasing land from farmer Henry Lyons, the two began to develop the land. There grew concerns that the city would be unpopular due to its distance from the land already developed in South Florida. However, Hunt assured skeptics that Coral Springs would be an attractive destination for families, despite its location. In the city's zoning laws, Hunt added clauses that limited the diverse look of buildings, which created a uniform look of the city. 
On July 10, 1963, Hunt and Taravella's city charter was approved by Florida's Legislature and was later signed by then-governor C. Farris Bryant. The charter included a system of streets that would link the city's neighborhoods, parks and schools together. The main goal of the developers was to build a commercial and industrial hub that would create jobs and boost the local economy. To generate interest in the land, talk show host Johnny Carson was recruited. Carson hosted a land sale barbeque, which made Coral Springs seem like a family-friendly neighborhood.
Coral Springs' initial residences were constructed in 1963, and the city was formally founded in 1964. People flocked to the area in large numbers to take advantage of accessible housing and employment opportunities. Though built on the Eerglages, the city was distinctive from others in the area due to its focus on environmental sustainability. During its planning, developers wanted a ity with plenty of open space, and today the Office of Sustainabilty ensures Coral Springs continues to develop with clean energy.
 The natural ecosystem was the inspiration for the architecture, giving Coral Springs its distinctive look. Swamps, wetlands and streams from the Everglades were some of the natural areas the city was developed around.
From its beginnings as a simple vision by pioneering developers, Coral Springs has become a rapidly growing city that has retained its own unique close-knit, small-town charm. The possibilities available within the city are endless, making for a connected community for residents and visitors alike.
Recreation
As the city's motto, 'Everything Under the Sun,' suggests, Coral Springs is filled with an abundance of recreational activities to partake in. With the city's wide variety of amenities, it is easy for citizens to find something of interest.
A frequented location that residents enjoy is the Sportsplex, located just east of the Sawgrass Expressway off Sample Road. This facility hosts a multitude of fields and courts for sports, including basketball, baseball, soccer and football. For any sports enthusiast, the Sportsplex is the place to visit
Another attraction is the Florida Panthers IceDen,  a skating rink found within the Sportsplex. It serves as the state ice hockey team, the Florida Panthers', official training center. The facility features two National Hockey League regulation-size ice rinks and offers ice hockey, figure skating and public skating sessions to individuals of all ages and skill levels. On select Friday nights, a public skate event is hosted with a live DJ, music and strobe lights, which attracts many families and young adults from around the community.
In a separate area of the Sportsplex is the Sawgrass Nature Center, a non-profit organization devoted to rehabilitating injured animals and educating the public about the significance of conservation. Visitors are able to see live animals and learn about their behavior and habitats.
A center for learning and entertainment, the Coral Springs Museum of Art is amongst the most popular entertainment venues in the city. This museum contains a grand theater, where several performances take place and occasional art exhibits for spectators to enjoy. Additionally, art, film and photography classes for children are taught within the museum.
A local hotspot in the evenings, The Walk of Coral Springs is a commercial center for dining, shopping and entertainment. The pedestrian-friendly, walkable design of the plaza makes it a popular destination for social activity. The Walk is located off University Drive and has over 50 businesses and restaurants for residents and visitors to explore.
Another popular destination is the Coral Square Mall. Located on the Atlantic Boulevard and University Drive intersection, the indoor mall has a selection of over 120 stores and kiosks. Since its opening in 1984, Coral Square Mall has been a go-to hang-out spot for people of all generations. The mall also has an arcade zone, which is a busy, illuminated area for people to enjoy video games.
Events
The City of Coral Springs is well known for its extravagant events and parades, which attract residents from all parts of South Florida. For instance, the Coral Springs Festival of the Arts is among the most highly awaited events. Held annually in March, the event promotes and highlights notable artists across the county. From craft shows to dance performances to literary presentations, the festival offers something to do for art enthusiasts of all ages.
One anxiously awaited event among residents of the city is the Coral Springs Worldfest. Organized by the Coral
Springs Multi-Cultural Advisory Committee, the festival celebrates cultural diversity in Coral Springs and its surrounding communities. At Worldfest, attendees can taste foods from across the globe, watch cultural performances and learn about the traditions and customs of different cultures.
During the holiday season, a Christmas-themed event is hosted in Coral Springs, called "Downtown in December." This celebration features nearly a holiday parade, 20 food trucks, fake snow machines, Christmas treats and tree lighting to get participants into the holiday spirit.
Popular Spots in Coral Springs
City Demographics (Source: 2020 Census)