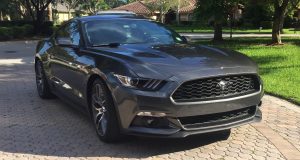 According to senior Kyle Wills, his obsession with cars first started in fourth grade. When he lived in Atlanta, Georgia his dad brought him to an exotic car dealership where he was able to see some of the coolest cars in the world.
"The owner of the dealership thought that it was neat that a nine-year-old was so interested in vehicles," Wills said. "He even gave me the keys and let me turn on any car of my choice."
Now, Wills drives a black Lexus IS250 with black leather interior seats. Wills claims his car is very fast and can accelerate quickly. Although he loves his car, his dream car is the Nissan GTR.
Junior Nick Vaccarezza's passion for cars also started when he was a little kid. He has always been intrigued by Ford Mustangs, and now has one of his own.
"When I first got my car, I was so excited to drive it. I've dreamed of having this car since I was a kid and now to finally have it is cool," Vaccarezza said.
Vaccarezza drives a two-door, grey Ford Mustang with a very loud engine. He loves his car but dreams to have a Lamborghini Aventador Superveloce some day.
The trend doesn't exclude girls either.
Junior Nicole Smith fell in love with cars in seventh grade. One day while watching Transformers with her dad, she noticed the Camero in the movie. Smith thought this was a cool car and later asked her dad about it. He told her all about the car and the features it contained.
From that time on, Smith had been interested in cars and now has a Dodge Charger of her own. It is blacked out with black rims, wheels, interior and also has an electric blue stripe down the side. Smith's dream car is a Nissan GTR or a Daytona Charger.
"My passion for cars has only grown stronger throughout the years. I love my car and can't wait to see what my next one may be," Smith said.
All of these students have been nominated in the Soaring Oscars for "Most Obsessed With Cars."
It will be a close race as to who really is the most obsessed with cars here at Marjory Stoneman Douglas High School.