Senior Alexandra Greenwald receives scholarship to University of Iowa for gymnastics
Suzanna Barna
November 9, 2017
*This story was originally published in the first quarter issue of the Eagle Eye*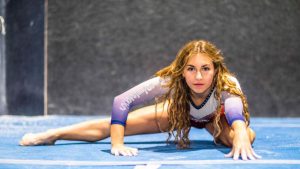 Alexandra Greenwald is a level 10 gymnast who competes for American Twisters Gymnastics. Since she was 3 years old, Greenwald has committed blood, sweat and tears to gymnastics, practicing for four and a half hours six days a week. Greenwald dedicates her long term success to her supportive mother.
"I could dedicate my success to my mom because she is always encouraging me and helps me get through my frustration in order to become a better gymnast," Greenwald said.
Greenwald competed at the Junior Olympic National Championships in Indianapolis, Indiana in May 2017. She entered in all four events: vault, bars, beam and floor. Greenwald placed fourth on bars and eighth overall.
After interest from multiple coaches, Greenwald toured various colleges. When she visited the University of Iowa, though, Greenwald had found her dream university.
"I instantly felt at home. The coaches and girls on the team were so welcoming, and the training facility was one of the best in the country," Greenwald said.
Earning a full athletic scholarship to the University of Iowa, Greenwald looks forward to helping the Hawkeyes at Nationals. Greenwald also aims to be an All-American gymnast, placing in the top four in any event at the NCAA national championship. In college, Greenwald plans on studying medicine to become a pediatric oncologist.