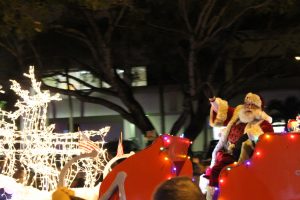 The annual Coral Springs Holiday Parade occurred on Wed., Dec. 12 at 7 p.m. on Sample Road. In order to spread holiday cheer, the theme for this year was 'Holiday Express'.
The Coral Springs community came together to watch the parade. Many families brought foldable chairs or festive blankets to enjoy the event comfortably. Along with each float, city volunteers were giving out candy canes and toys. Among the crowd, there were both devoted fans, who come every year, and newcomers of the parade.
"We [my family and I] enjoyed it. It is a good community event. We've come since we've lived here; the last 22 years," Coral Springs resident Philippa Sunnergren said.
Stretching from Coral Springs Drive to the newly renovated City Hall, the parade featured special appearances from over 60 floats. Some participants used decorated cars and trucks, while others used kiddie trains and school buses. Shriners Hospital for Children took an unexpected approach and showed up in mini vehicles. The parade lineup consisted of school marching bands, non-profit organizations such as Shriners Hospital for Children, and local businesses such as DanL Dance Center.
The Marjory Stoneman Douglas High School Eagle Regiment performed in the parade, playing the last half of their winning state championship routine. To spread holiday cheer, the band wore Santa hats and decorated their uniforms with christmas lights.
"I've done the parade for the past five years. It's always a great experience to march with the band," Eagle Regiment sophomore tuba player Alec Nutter said.
The JROTC programs from Coral Springs High School and MSD also participated, marching in their uniforms.
"This was my first year in the parade. It was really cool to be a part of it," freshman cadet Justin Rossman said.
Other highlights of the night were the Make A Wish Foundation appearance with their Birthday Express Train, featuring those with birthdays in the month of December, and the skillful performance by Drake School of Irish Dance.
Roads began closing at 5 p.m. to set up the event until 10 p.m. after the parade. Police officers were located all over the event, ensuring safety and redirecting traffic.
The Coral Springs Holiday Parade unites the community for a night of holiday festivities and joy.