Artist, Michael Albert, comes to MSD art classes
Leni Steinhardt
January 29, 2019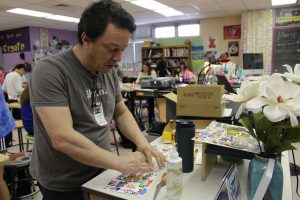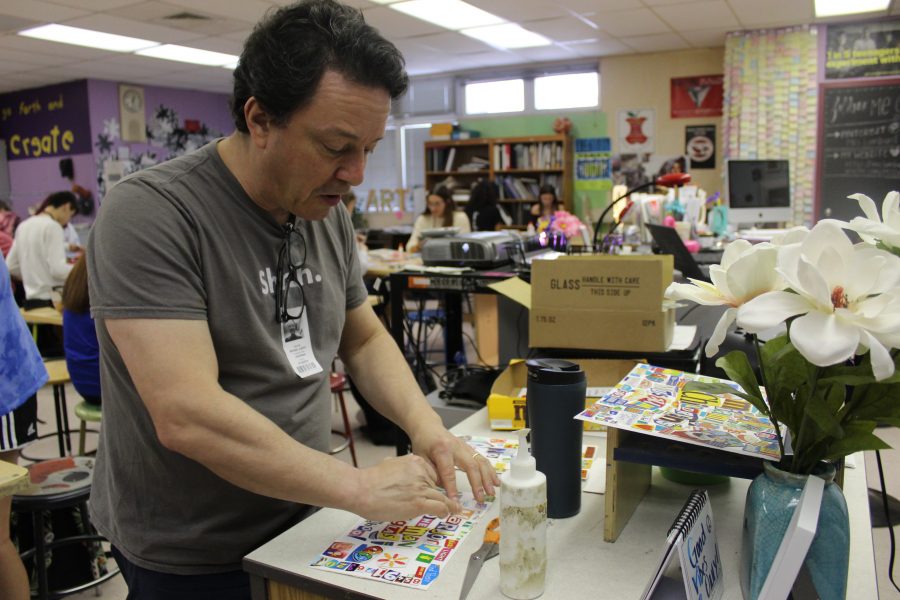 On Wednesday, Jan. 23, 2019 artist Michael Albert was invited by the art department at Marjory Stoneman Douglas High School to come to various art classes and explain his craft, collaging, which he specializes in.  
Collaging is a special art technique where the artist pastes different paper cut-outs onto various surfaces and glues them together to make a new whole piece of artwork.  
"I love to do college. I think the cutting and pasting to me is very relaxing and even therapeutic. I love using materials you would otherwise throw away, and doing something with it," Albert said.
However, Albert's form of collaging is unique and different from other artists. Albert recycles paper from commercialized boxes such as cereal boxes and old film rolls, in order to save the environment and to show his unique perspective on making old items, new again.
"I hope it inspires someone to make someone look at their future career in a different light, and make them say 'hey, look what that means doing, he take the garage we throw away every day and make a career out of it," Albert said.
Within his collages, Albert forms various sentences and stanzas such as the preamble and creative photo illustrations such as the creation of the North American map, using cut out words from boxes.
"A cut up cereal box to me is art being taken to a higher level. These types of projects are so relevant to our everyday lives and I want to create art that other people can appreciate. So when you pick subjects and use materials that they understand that to me is a way to connect with people. It's an interpretation to me of items and things that people already know," Albert said.
Albert was first given the idea to come to MSD through Jacquelene Lieberman, art teacher at MSD and Albert's first cousin's wife.  
"I hoped they gained an awareness that there are different types of art out there and that they learned that something small can turn into something big like a career, something Michael has done. It changes their perspective of what college can become, more than just cutting up magazines, it's creating something that means something, especially with words," Lieberman said.
Today, Albert travels the country going to local libraries, schools and museums discussing the importance of his work.
"I'm inspired by having the opportunity of sharing what I do with people that are interested. These are all students that chose to take art, so their interested in that subject. So it's definitely wonderful for me to have a chance to show them what they do. Here's a room full of people doing the exact project that I came up with. There all so relaxed and coming up with their own ideas. Nobody seems to be frustrated or agitated," Albert said.
Albert never foresaw his life being where it is today. Starting at a young age, Albert was very creative but did not necessarily known that art was the path that he wanted to pursue. He majored in finance at New York University and it wasn't until he was visiting museums throughout the city, that he got the idea to focus on art.
"There isn't one set path in life. The whole idea of it, is if I do this then this is going to happen, is proven again and again that that's not the case. You have to plan for the future but live for the day," Albert said.
Over the past 30 years, Albert has become a self-taught artist and has recently created a book, documenting his greatest works.
While at MSD, Michael explained his profession and the story that brought him to where he is today. He then opened the floor to the students to pick their own recycled boxes, that he brought to the school, and advised them to make their own "cerealism" collages.
"Having an actual artist here at school like Michael Albert gave me personally a different perspective on art and I think the concept of using everyday items like cereal boxes for art sparked everyone's creativity with the project we did. I learned that hard work and dedication is essential in life. I also learned that art comes in so many different forms and unique styles, but overall that it's important to be really passionate and happy with what you pursue in life," junior Rachel Padnis said.
After 32 years of making art, Albert feels that seeing high school students creating original pieces is life changing and influential. He is happy to be taking recycling to a higher plane.