MSD senior and teacher join forces to create memorial garden
Leni Steinhardt
April 5, 2019
For over 28 years, Marjory Stoneman Douglas High School students have come and gone, calling MSD their home. Yet, now when many students feel the weight of trauma, guilt and grief as soon as they walk on campus, it may be difficult for them to call their school their home–to feel like it is anything but the site of a tragedy. Many students feel the need for a place on campus to reflect, to ponder and to grieve for years to come.
AP Psychology teacher Ronit Reoven and senior Victoria Gonzalez felt this deeply and decided to take initiative. The pair were compelled to change the scenery and create a safe place, now known as "Project Grow Love." This growing public memorial allows the MSD community to find peace and memorialize those who were lost on Feb. 14, 2018.
"It started Christmas Eve. Mrs. Reoven had the idea just to put any type of flower," Gonzalez said. "First, she wanted to put a Poinsettia because of a holiday season, but we decided to plant silk flowers instead so they would last longer. So we put three bunches down on the ground, and then the day after Christmas came, and I said, 'why don't we just dig into the ground and put these plants in? It's not like anyone is going to rip them out.' I then posted to my Twitter, inviting the whole community to come out and join us, and then the garden appeared."
Currently, the school has three areas where students can go to reflect. This includes Marjory's Garden, Project Grow Love and a sitting area located outside of the gym. But no permanent memorials will be created until the 1200 building is removed, which will not occur for several years. 
"Many people and organizations have ideas for memorials; we are just not ready for that step just yet," Principal Ty Thompson said.
The name, Project Grow Love, coined by Gonzalez, was created to encompass the growth that students can experience while working on the garden and showing love. Through the garden, both Reoven and Gonzalez hope that it will become a therapeutic process for visitors.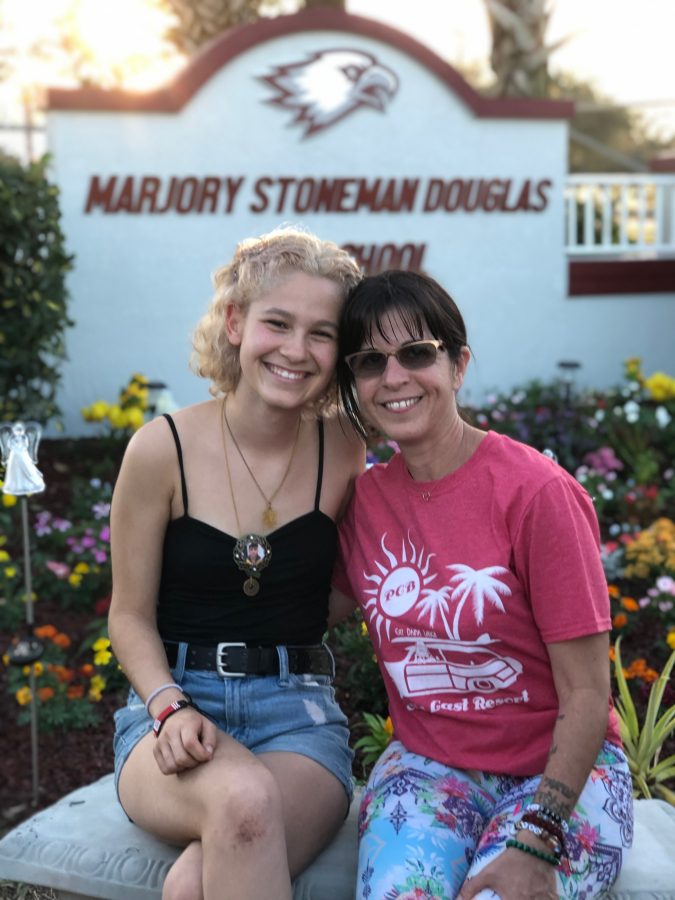 "I think it helps people heal. It's showing a place for people to come to pay their respects, but also remembrance to honor the lives that were lost," Reoven said. "To have some beauty come out of a tragedy, to show growth, renewal, bloom, I think it's a combination. Even though it's an intersection, and there tends to be some traffic there, it happens to be a peaceful area. When you get out of your car and walk up to it, you are almost in another place. You feel a sense of peace."
Since Gonzalez's tweet, the MSD community has come together to create a place where people can go to relax, mourn and reflect.
"I love the project. It is an appropriate space for the community to be able to visit and reflect; since the public does not have access to campus, so I am very thankful for this project," Thompson said. "I want to thank Mrs. Reoven and Victoria for spearheading this project and to all the students who have contributed and maintain this beautiful space."
Various items have been donated to the garden, including painted rocks, butterflies painted with the 17 victims' names, a tribute pole, 17 light up angels, a bird bath and a bench for visitors to sit. Everyday, flowers are being added as well.
"I planted purple flowers because purple makes me happy," junior Noa Golan said. "I wanted to be a part of the amazing project because it means growth and happiness to me. This garden is a symbol that even from something dark and cruel beautiful things can bloom and grow."
In addition, a new sign was added to replace the old and severed one. This was organized by parents within the community and Rich Walker, a Parkland City Commissioner who had a connection with The Bergen Sign Company, who installed it.
"Every other day there will be something else new there," Reoven said. "So every other day, you know, we'd show up and there was a new surprise, and it's a mystery as to who brought it, but it's a good thing. It's great."
However, in order to maintain Project Grow Love, Reoven and Gonzalez need funds to buy supplies. As a solution, Gonzalez designed a t-shirt, which is purple and has a flower blossoming out of a heart molded by hands over the words, "Project Grow Love." Students and staff can purchase the t-shirt for $5 in Reoven's portable, C3.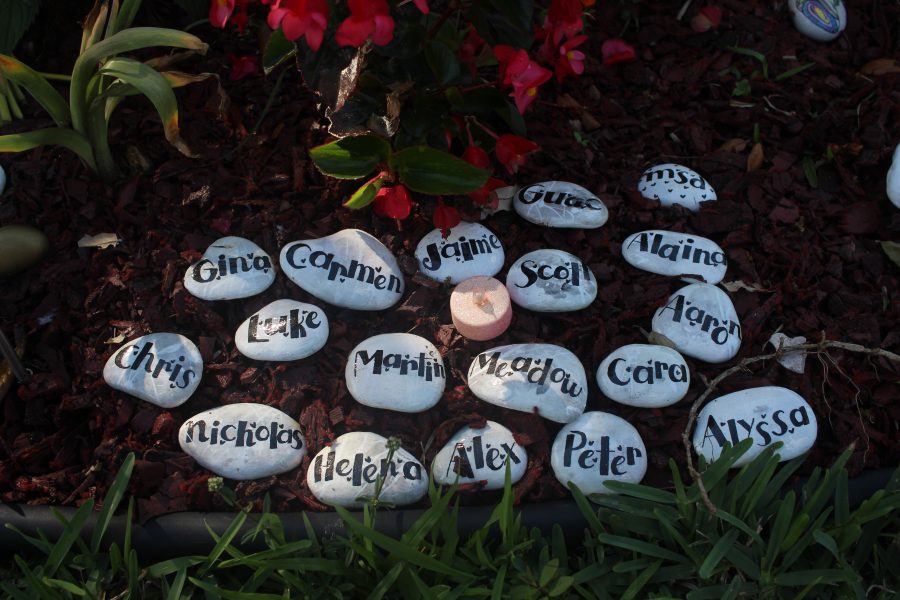 "Everything that has gotten Project Grow Love started are donations and contributions from people in community and business owners," Reoven said. "So up to this point, it has truly been a community effort, but there's only so much you can expect to get for free and now we are at a point where the garden is blooming and beautiful and to have that continue, we needed funds to purchase supplies and such to keep it going."
Though there is not much room to expand and plant flowers, both Reoven and Gonzalez emphasize the importance of helping maintain the garden. The hope for next year is to work with the students maintaining Marjory's Garden, as their sponsor, Astronomy teacher Brandon Jeter, has been helping with Project Grow Love.
"The whole community has been coming out to help, and I have no doubt that they will maintain it after I graduate," Gonzalez said. "This garden isn't just for our school, it's for the community."
Their one request for the community is for people to bring special stones, garden items, pull weeds out of the grounds and replace dying flowers with new and fresh ones. They hope that people will put in their own labor of love.
This story was originally published in the April 2019 Eagle Eye print edition.