March's Musician of the Month: Hunter Frybergh
Ivy Lam, Senior Feature Editor
March 10, 2020
Hunter Frybergh, a junior at Marjory Stoneman Douglas High School, has been a trombone player for six years. He was born in Coral Springs, Florida, moved to Long Island, New York for six months and then returned to live in Parkland, Florida.
After his move back to Florida from New York, Frybergh enrolled at Park Trails Elementary School in Parkland. When he returned to Broward County, he was supposed to be in kindergarten at the time, but went to first grade instead. His love for music first began in his first year at Westglades Middle School.
"In sixth grade on my birthday was when I first picked up the trombone," Frybergh said. "[I've been] playing it ever since and I'm very passionate about it now."
Despite hearing about all of the great clubs his older brothers were involved in, Frybergh wanted to be completely different from them and find his own specialty. He does not regret his decision of pursuing music and trusts that he has chosen the right track for his future.
"I'm never gonna feel the same way about anything else like I do music," Frybergh said. "My favorite thing about being a musician is that no matter what you're feeling at any moment, no matter what you're going through in your personal life, all that matters is what's on the page."
During his freshman year, Frybergh went through experiences that changed his perspective on life, particularly the events of Feb. 14 and its aftermath. He realized how the opportunities being a musician has given him not only changed his view of band, but has impacted himself.
"Being in music, I have done probably more stuff than 90% of high schoolers in the country have done in high school bands," Frybergh said. "My freshman year, after the shooting, I was lucky enough to watch my colleagues perform at Carnegie Hall… that to me was the inspiration that made me know this is what I want to do."
In addition to witnessing the band's endearing performance in New York at Carnegie Hall, Frybergh was also given the chance to perform at the Midwest Clinic in Chicago, Illinois last year. Furthermore, he partakes in numerous music-based clubs and extracurriculars like the Tri-M Music Honor Society, the Eagle Regiment marching band and MSD's Wind Symphony band. Frybergh was also previously in MSD's jazz band for two years but stopped taking it to focus on his academics.
Additionally in his journey with music, Frybergh is a two-year student conductor under the direction of University of Miami retired orchestral director Thomas Sleeper. Outside of music, he works a part time job as a busboy to save up for life after high school.
"No matter what you do in life, whatever major skill you have, you need to hang on to it. And you need to master it. Because when you do, that's when it gets fun," Frybergh said.
In his last year of high school, Frybergh awaits his final year with the Eagle Regiment marching band. He plans to educate his younger bandmates and prepare them to the best of his ability before he leaves MSD.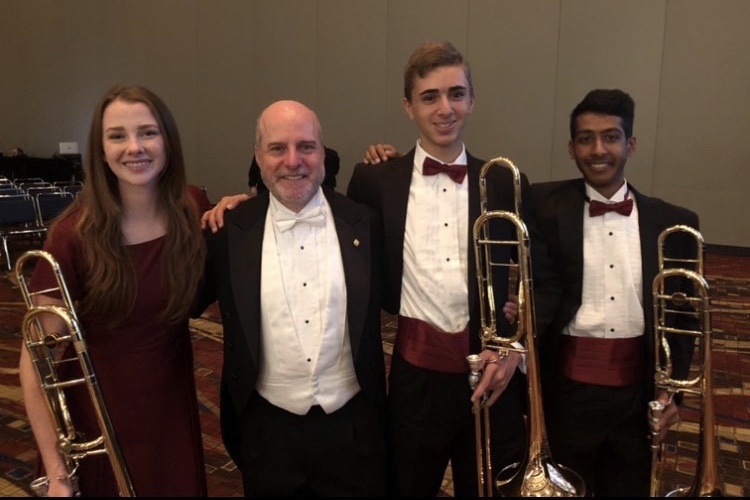 "I plan to be a music educator in the future. [I want to] start off as a high school band director because that's where the fun gig is, [and then] get a little more money and become a college professor within time," Frybergh said. "[I'd like to] get my master's degree, my doctorate and all that stuff, and then live my life as happy as I possibly can."
Besides his accomplishments with MSD's band program, Frybergh has recently auditioned for the New World Symphony this past week in Miami, Florida. He is set to play a side-by-side concert with them composed of symphonies such as Beethoven's Fifth Symphony, on Saturday, April 25 at 8 p.m. inside the New World Center.