Senior Josh Riemer wins Environmental PSA Award at Florida's largest student film competition
Ivy Lam, Senior Feature Editor
April 5, 2020
On Friday, April 3, the 25th Annual Palm Beaches Student Showcase of Films announced that senior Josh Riemer's public service announcement on ending plastic pollution earned an award via Facebook Live. Riemer received the Keep Palm Beach County Beautiful Incorporated Environmental PSA award worth $1,000.
"We have so many people in this country and in this world throwing their plastic on the side of the road. There's not enough recycle cans. I've been to so many places where there's only trash cans as far as I can see, I've tried to find the recycling cans and they're just not there and people don't care," Riemer said. "The whole idea for the submission was to end plastic pollution because this plastic is harmful to Earth. It's not biodegradable, and if it ends up in the mouth of an animal, which is where it's not supposed to be, [it] could harm them."
The Palm Beaches Student Showcase of Films is the largest student film competition and award show in the state of Florida. The event was planned to be a red-carpet award show at Lynn University. The special show would have had press, been broadcasted live and featured famous presenters, but the night was cancelled due to the COVID-19 pandemic. The award night would have also given the winners the privilege to be called up on stage to give a short speech if they received first place in their category.
"My PSA was selected as a finalist from a bunch of different submissions and then it went on to win, which is an even bigger honor. So that was pure shock, [I] couldn't believe it," Riemer said. "It's my name on the award because they wanted one name, but it's me and two other people. They did just as much work, it was like a full moon from morning till night. We all put in a ton of work for this project, it was just as much them as it was me."
Along with Riemer, two other Marjory Stoneman Douglas High School students, sophomores Eric Harris and Xavier Williams, assisted and starred in the film. Harris dressed in an eye-catching red suit and served as the lead in the 60-second film by presenting facts, statistics and advice on how to dispose of plastic items properly. Additionally, all three contributed to the script of the short film. Riemer majorly worked behind the camera, filming and editing the piece.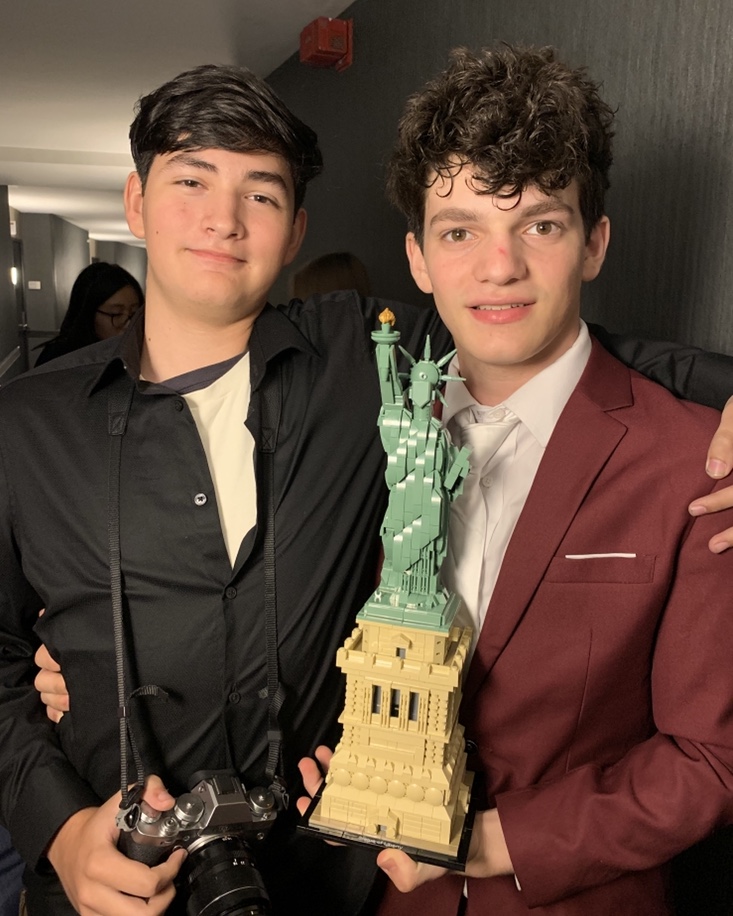 "I was introduced into the Palm Beach competition from my friend Josh Reimer, who asked me to help him with a PSA he was doing by driving him to the locations we needed to go to, [serving as] the sound guy [and acting] in one scene," Williams said. "The project has boosted my confidence in doing TV for the next two years."
Riemer thought it was only fair to split the earnings among the two sophomores and himself. He plans to use his share of the money for college.
"When I learned that the film won an award, I was pretty proud. The project has genuinely shaped how I perceive my goals," Harris said. "With my share [of the money], I believe I'll use it for the advancement of achieving my dreams, through the means of equipment and such."
Riemer grew up in central New Jersey, but he says his film career really started when he came to Florida in seventh grade. In middle school, he was a part of the school news and was introduced to a new world of lights, cameras and action.
"I got to high school and I joined the film program. From there, I kind of started making videos," Riemer said. "Even more, I found a career in that and enjoyed making money, but I've enjoyed practicing my craft as well."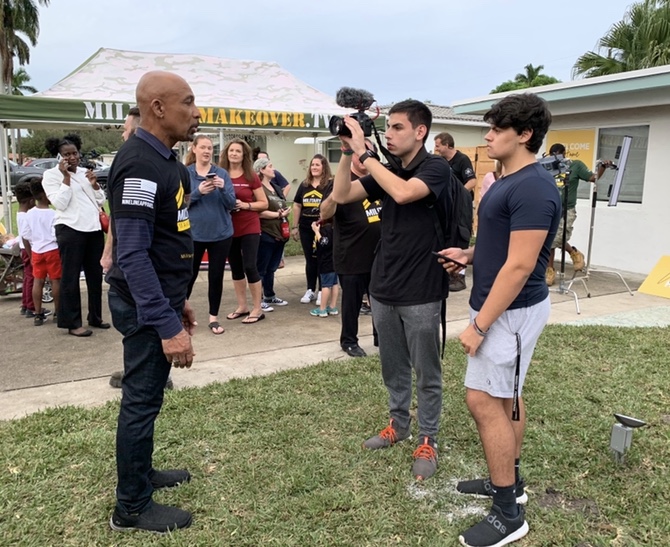 Many people inspired Riemer to dive into filmmaking. Some of these individuals include J.J. Abrams, Steven Spielberg, Quentin Tarantino, Ron Howard and Martin Scorsese. These directors have inspired him in the ways they tell a story through film. He especially appreciates the fact that a lot of the filmmakers write their stories in addition to directing them, sometimes even starring in them. Riemer also enjoys keeping up with the actors and directors on social media or behind the scenes on YouTube.
"I just love watching [them] because it helps seeing the director doing his job, moving the camera, how they wreck the scene and how they direct their picture," Riemer said. "It's amazing because it humanizes the director, the role of the director and seeing them in what you watch. That's what made me want to be a director, not just seeing the end product, but seeing the work in progress. I think it both demystifies the role of the director and gives you a better understanding of what they do."
Other projects Riemer has partaken in include a documentary he made on the art exhibit, "Anguish in the Aftermath," by Ian Witlen. The documentary went on to win an award at the premiere Film Festival at Westport High School and an All Florida Award for the Florida Scholastic Press Association Spring submissions. It is even up for "Best of the Best," a high ranking given at FSPA states competition.
This past summer, Riemer had the opportunity to intern in Los Angeles, California at a trailer production company called Rogue Planet. He lived there for seven weeks and shadowed numerous trailer editors, who are the people in charge of cutting trailers for movies and television shows. During his time there, Riemer witnessed many trailers being made for big-budget movies such as "Terminator: Dark Fate," "Gemini Man" and "600 Underground."
Besides his achievements with filmmaking outside of school, Riemer is the president of TV Club at MSD and also participates in astronomy nights and events that the Astronomy Club hosts.
"If I had to choose between film and astronomy, it would be a hard choice as a career," Riemer said. "The only thing that differentiates them is that I hate math with a passion that I can't go into astronomy. I love astrophysics, I just don't love the math part of it. I'm always learning about new space innovations and the astronomy community."
After his senior year at MSD, Riemer is on his way to Valencia Community College in Orlando, Florida to major in film. He chose the school for their beautiful campus, incredible film program and amazing people. Riemer doesn't feel any loss not going to a four-year college and hopes to get his two-year degree there and then move to L.A. to start working, possibly taking a gap year in between.